Three Things you Need to Know About Rockets by Jessica A. Fox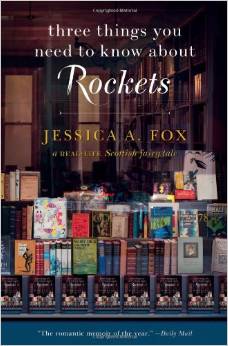 Jessica Fox was living in Hollywood, an ambitious 26-year-old film-maker with a high-stress job at NASA. Working late one night, craving another life, she was seized by a moment of inspiration and tapped "second hand bookshop Scotland" into Google. She clicked the first link she saw.
A month later, she arrived 2,000 miles across the Atlantic in Wigtown, on the west coast of Scotland, and knocked on the door of the bookshop she would be living in for the next month .

This book had me from the above back cover copy.  Could it be because it takes place in a bookstore or because I spent time in Scotland during college and still have a soft spot for its enchantment or a certain young Scotsman?  Nonetheless, this memoir is a fun, escapist read…and you've got to admire a writer who dares bring such a title to a publisher.
It takes awhile for the story to take off (i.e. going to Scotland), but the background of L.A., NASA, and film writing was interesting.  Her melt-down and eventual lay off were nicely developed.  But I was finally glued to the book once Jessica is actually in Scotland, working at the bookstore and experiencing much of what I did – deciphering the accents, dealing with "American" stereotypical reactions, experiencing the gorgeous countryside and getting to know and understand  the  hard to get to know and understand people.
Jessica's voice starts out a bit youngish —  after all she is in her twenties, but at times she seemed adolescent in her actions and thoughts.  Her boyfriend Euan is a whiny, wimpy – dare I say – nutso boyfriend, whom I would have dumped,  fast. But Jessica forges ahead with trying to make the relationship work – despite his passive-aggressive behavior.  I found myself rooting for her while also secretly hoping she tells him off and slams the door behind her.  It's a slow delight, to watch her mature during her time in Scotland, her reactions to things, her voice, her moods all grow and enlarge as the book progresses.  That's a real challenge in memoir writing —  to realistically reflect one's own voice expanding and growing.
I underlined some great sentences:  " Grant's house was something he was constantly working at but never quite completing — like Sisyphus attempting DIY"; "You're so American, always wanting to talk about feelings";  "(Outings) reminded me of childhood where outings, no matter where or with whom, were filled with possibility and opportunity for excitement.".
A small joy — each chapter starts with a quote from a book and its location in the Wigtown bookstore – (aptly named "The Bookshop").
In the end nothing is totally resolved – except she is staying in Scotland.  An enjoyable memoir whose storyline interested me on many levels – her NASA career, adapting to Scotland, the used bookstore, the town, and of course the story of her relationships with not only her crazy boyfriend, but also the quiet and hard-working locals.   I also enjoyed the very realistic glimpse into rural Scotland and the used book business in Wigtown.