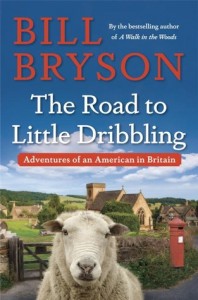 I've not posted here at Book Barmy for a bit, because I've been away.  I've been to England, Scotland and Wales with one of my favorite pals, Bill Bryson.
You know of my fondness for Mr. Bryson's writing and I that have happily devoured almost all his books.  The Road to Little Dribbling is his newest and it updates his 1995 classic Notes from a Small Island, in which he takes a farewell journey around the United Kingdom before moving back to the United States with his family.
Now it's 20 years later and Mr. Bryson is once again touring the U.K. but this time as a citizen – which in his mind gives him license to grumble — and grumble he does.
But, sorry, I'm getting ahead of myself.  This trip of remembrance doesn't exactly retrace his 1996 journey.  This trip is planned as the most direct route from one end of the country to the other – and Mr. Bryson being Mr. Bryson chooses Bognor Regis a quaint village at the the Southernmost tip as his starting point and for his finale in the Northern reaches of a stormy Scotland, a village aptly named Cape Wrath.
I had a great time traveling through the UK with Bill (seems silly to keep calling him Mr. Bryson after all our time together).  He is full of witty observations and has a delightfully wry sense of humor even in the face of travel troubles or disappointments.  When revisiting one of his favorite seaside hotels…

The hotel still strived for an air of elegance, but it was based much more on memory than merit.
Nevertheless, Bill finds mostly delight in his rambles through small villages, bus trips along suburban sprawl and driving a rental car along endless tangled back lanes. I knew we were meant for each other when he thinks nothing of a four mile walk for a cup of tea in a picturesque Cornwall village:
It was all very fine, in the cafe I had a refreshing cup of tea and a lovely dry piece of cake – cautiously flavorful in the British style, satisfying, but not so delicious that you would want a second piece for a month or so.
We also share a fondness for those obscure, out of the way sites not on the itinerary of tour groups or travel guides.  He visits Leighton House in London:
In terms of decor it feels a little like a cross between a pasha's den and a New Orleans bordello.  It is full of Arabic tiles, silk wallpapers, colorful ceramics, and lots of art, much of it involving bare-breasted young women, which I am always up for.
Nonetheless, a few major tourist sites,  such as Stonehenge and the Natural History Museum are re-visited with Bill's insightful and varying opinions on their changes in the past 20 years.
As always, when traveling with Bill there is much to learn.  We visit Slapton Sands, an unknown and secret D-day rehearsal site – where Allied troops could practice coming ashore.  Tragically, the Allied side neglected to line up protection for the exercise and nine German torpedo boats attacked and killed 749 American soldiers  — all while Eisenhower helplessly watched the carnage.
Bill's age, or dotage as he calls it, (he's 64) sometimes raises its cranky head as this from inside one of the newer trains to traverse the U.K.
British train interiors used to be heavy and gloomy in a way that perfectly suited the dull, cheerless, stolid business of commuting.  Now trains are full of bright oranges and reds.  This one was rather annoyingly festive, like a children's fairground ride.  I felt as if I should have had a tiny steering wheel and little bell by my seat.
Upon discovering he was in the wrong town, due to an inaccurate train schedule
…so I went and stood in a long line and explained my problem to a man who had once answered a British Rail ad that said:  "Wanted: cheerless bastard to deal with the public".
My travel companion loves the quirky, small dusty museums often run by equally quirky British "societies"  – from the Water Tower Appreciation Society to the Clay Pipe Research Institute.  He even dips his toes into the   fervent British obsession with trains, train routes and train-spotting.  I must say some of his museum ventures bored me a bit, but it's always fun to hear his commentary afterwards.  In fact, my only quibble with this book – oops I mean journey – was that it got a bit dry and pedantic at times.
The Road to Little Dribbling* is not just about travel, it endearingly reveals how Bill came to England from Iowa, found a job, fell in love with a student nurse and eventually became a dual citizen.  His early days in England are full of confusion and delight.  You could buy ham or cheese sandwiches but not ham and cheese together – "perhaps just too tasty", Bill reflects.  And he delights in the fact that British post offices were bureaucracy gone mad;
…one could conduct 231 types of business in a typical post office at that time – from renewing (mandatory) television licenses to paying your car tax.  All that was required that you be white-haired, hard of hearing and able to spend up to an hour hunting through a tiny coin purse for a 20p piece.
As a younger man, when he questioned the creaky British weights and measure system, the following conversation (supposedly) occurred (with Bill you never know where he has embroidered for humor):
"Of course they (weights and measures) make sense", he said with a sniff.  "Half a firkin is a jug, half a jug is a tot, half a tot is a titter, half a titter is a cock-droplet.  What's not logical about that?"
Bill goes on to ponder;
There really is no talking to them about it.  Any more than why they think that cricket is worth five days of close attention or jam makes a cake delicious.  It's just the way they are.
As we close in on the final chapters in our journey with Bill, it becomes clear that despite his general crankiness about Britain, he truly loves the country and its people.
The pleasant fact is that the British are not much good at violent crime except in fiction, which is of course as it should be. Statistically, a Briton is more likely to die by almost any other means — including accidentally walking into a wall — than to be murdered.  And if that's not a happy thought, I don't know what is.
+++
Once for a magazine article, I asked the the chief information officer at Ordinance Survey, the government department responsible for whatever geographic certainty Britain can muster, for a definitive figure for the the number of British islands and he disappeared for several days.  Eventually, after much hunting around, he told me that the closest he could find to an official figure was 1,330, but he frankly doubted that that was anywhere near right.  I think it's rather charming that Britain doesn't quite know how much of itself there is.
+++
I could only fit in the first three days (of a hiking trip with old friends), but that took us right across the Lake District – 42.4 miles.  It was a murderous slog over craggy hills, but the weather was glorious and I don't think I have ever encountered so much continuous beauty while clutching my heart and begging for mercy.
As always when writing about Bill Bryson's books, I tend to over-quote endless passages from his books.  But I can be excused because his writing is always so right on point – wry, funny and illuminating all at the same time.  He's a great travel companion and just let me quickly pack a bag, because I'll go anywhere with him.
I'll close with my favorite passage:
There is something in the pace and scale of British life – an appreciation of small pleasures, a kind of restraint with respect to greed, generally speaking — that makes life ineffably agreeable.  The British really are the only people in the world who become genuinely excited when presented with a hot beverage and a small plain biscuit (cookie).
*There is no such place as Little Dribbling, Bill coined it to represent all the eccentrically named villages of Britain.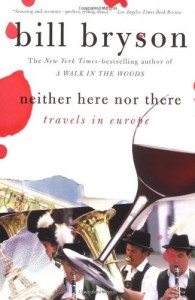 I was in need of a book that would give me an escape and make me laugh. That's when I'm grateful for Bill Bryson.
Neither Here nor There is a book I keep to re-read in just such circumstances and when I opened it again the other day — it did the trick — I immediately started to giggle.

From the back cover:
Like many of his generation, Bill Bryson backpacked across Europe in the early seventies — in search of enlightenment, beer, and women. Twenty years later he decided to retrace the journey he undertook in the halcyon days of his youth. The result is Neither Here Nor There, an affectionate and riotously funny pilgrimage from the frozen wastes of Scandinavia to the chaotic tumult of Istanbul, with stops along the way in Europe's most diverting and historic locales.
Mr. Bryson starts his mid-life crisis journey in Hammerfest, Norway (as far north as you can get in the world by public means of transport, he says) and re-traces his 1970 trip through Europe encountering language barriers, seedy train station hotels and delightful characters along the way.
I could quote this book for pages but will restrain myself to my favorites, get your hands on a copy and find your own:
The best than can be said for Norwegian television is that it gives you the sensation of a coma without the worry and inconvenience.
Romans park their cars the way I would park if I had just spilled a beaker of hydrochloric acid on my lap.
In the evening, I went looking for a restaurant.  This is often a problem in Germany.  For one thing, there's a good chance that there will be three guys in lederhosen playing polka music, so you have to look carefully through the windows and question the proprietor closely to make sure that Willi and the Bavarian Boys won't suddenly bound onto a little stage a half-past eight.  It should have been written into the armistice treaty that the Germans would be required to lay down their accordions along with their arms. 
The problem is that the pedestrian cross lights (in Paris) have been designed with the clear purpose of leaving the foreign visitor confused, humiliated, and, if all goes according to plan, dead.
She gave me one of those impassive Gallic (as in French) shrugs – the kind where the chin is dropped to belt level and the ears are pushed to the top of the head with the shoulders.  It translates roughly as 'Life is a bucket of shit, monsieur, I quite agree, and while I am prepared to acknowledge this fact I shall offer you no sympathy because monsieur, this is your bucket of shit'. 
As you may have now surmised, Mr. Bryson is not afraid to be politically incorrect (he calls France's population 'Insufferably French) but he is also a devoted traveler and relishes the wonder and beauty of other cultures and lands.
One of the small marvels of my first trip to Europe was the discovery that the world could be so full of variety, that there were so many different ways of doing essentially identical things, like eating and drinking and buying movie tickets. 
I arose each morning just after dawn, during that perfect hour when the air still has a fresh, unused feel to it, and watch the city (Rome) come awake — whistling shopkeepers sweeping up, pulling down awnings, pushing up shutters.
The Thomas Cook European Timetable  is possibly the finest book ever produced.  It is impossible to leaf through its five hundred pages of densely printed timetables without wanting to dump a double armload of clothes into an old Gladstone and just take off.  Every page whispers romance:  Montreux-Zweisimmen-Spiez-Interlacken or perhaps Beograd-Trieste-Venezia-Verona-Milano.  Who could recite these names without experiencing a tug of excitement?  Who could glance at such an itinerary and not want to climb aboard?  (Sadly, this guide is no longer published or even on-line – they went out of business in 2013.)

This re-read made my travelers feet itchy.  Mr. Byrson travels with open eyes, a sense of adventure, child-like wonder and a marvelous sense of humor.  A required skill set for every traveler.
N.B.  Neither Here nor There is also educational, you'll learn important facts about each country.  For example, did you know that Liechtenstein is the world's largest producer of sausage skins and dentures?
N.B.2 Stay tuned, we're planning a trip to Switzerland  …hmm perhaps this itinerary — Montreux-Zweisimmen-Spiez-Interlacken
In times of trouble I turn to comfort reading.  You know what I mean — books where the problems are understandable, humans are mostly kind to one another and much is resolved over a nice cup of tea.
First, a few requirements, these comfort books must be well written, the stories well developed and the characters multidimensional.  No insipid chick-lit or light romance for me (not that there's anything wrong with that…).
In case you too, are feeling a bit down during these sad days, here are some suggestions.  These are my favorite comfortable read authors… many of whom I keep on my shelves to re-read when I'm gloomy.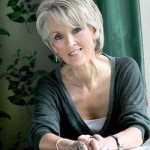 Joanna Trollope writes sparklingly readable novels often centered around the nuances and dilemmas of life in present-day England. She is witty, with a truly acute ear for dialogue. Her novels are never long enough for me. I have read most all her novels — some more than once, because she makes me laugh, think and also sometimes groan, at the complexities of modern life.  Her novels take modern life head on; divorce, errant children, flawed friendships and fallen expectations – but all woven with great human resilience.  Recommended: A Village Affair

Marcia Willett is a veddy veddy English author.  Her settings are a major pleasure in reading her books — cottages or large manor homes in the English countryside.  Her plots revolve around the emotional pull of families and friends.  Her characters are always interesting.  The families are complicated, but loved. Friends are irritating, but cherished.   Secrets are revealed in aga-heated kitchens with a pot of tea and fresh baked crumpets. Recommended:  A Week in Winter
I've mentioned Bill Bryson before here at Book Barmy, but I turn to him to cheer me up as I snicker, snort and laugh out loud at his writing.  My favorite are his wonderfully descriptive travel books – from hiking the Appalachian Trail to traveling in middle American.  Mr. Bryson is a smart writer who has a knack of seeing the wry humor in just about everything. He is also a traveler's travel writer — not content to follow well-worn tourist locations, but instead visits the obscure and calls out the wacky with often hysterical results.  Recommended:  Neither Here Nor There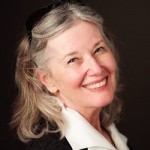 Elizabeth Berg.  A recent author discovery for me.  I found a book of hers in one of those little free libraries up in Lake Tahoe.  Opened the book that evening and fell in headfirst, finishing it the next evening.  When I came home, I discovered I had several of her books languishing on my shelves, given to me by friends and my sister.  I had shied away, categorizing her as "woman's lit", which I often find trying.  But based on my good experience, I read through another one (sending it on to you Connie)  and am almost through a third.  I wholly agree with Andre Dubus who said  "Berg writes with humor and a big heart about resilience, loneliness, love, and hope. And the transcendence that redeems."   Woman's lit, certainly, but with intelligence, depth and heavenly writing.  Recommended:  The Year of Pleasures.
+++++++++++++++++++++++++++++++++++
So, maybe it's time to turn off the news, pull the curtains, light a fire in the fireplace, grab your favorite afghan and cuddle in with one of these comfort reads.  Shut the world away for a bit.