It's going to rain all weekend, so I just returned from the nutso grocery stores and I'm hunkering in to do some January clean outs.   You know, that pile of old tee shirts that I imagine I'll wear at the gym (if I ever went to the gym) or those stacks of CD's I never play anymore.
But instead (you knew this was coming) I headed to a seldom used bookshelf in the guest room and searched for books to get rid of.  Books are much more fun to sort through than tee shirts.
I came across this book which, from my notes inside, I read in 1990 – a year after it was published.
Should it stay or should it go?  Let's see, shall we?

The Day I Became an Autodidact,
and the Advice, Adventures, and Acrimonies That Befell Me Thereafter
by Kendall Hailey
First, because I had to look it up:
Autodidact: a person who has learned a subject without the benefit of a teacher or formal education; a self-taught person.
You may remember one of my favorite books  A Woman of Independent Means by Elizabeth Forsythe Hailey.  This autobiography, cum journal comes to us from her precocious daughter when she was just a teenager.
At age fifteen, Kendall decided to throw off the shackles of a formal education after receiving her high school summer reading list:
"Being told what to read by someone else is a violation of basic human rights.  Or at least basic literary ones."
So she graduates high school early, and pursues her own intellectual and artistic interests, at home with her fabulously oddball family – her novelist mother and her father, playwright Oliver Hailey.  This is her account of the journey.
Each entry begins with (capitalization is all hers):
WHAT I HOPE TO DO:  (Get a Head Start on Reading Everything Ever Published); and ends with WHAT I DID (Had a bumpy first date with Dostoevsky).
Kendall tears through Roman history and Greek plays.   Upon reading Aristophanes, she writes:
"Plays about the gods are always fun.  It is so comforting to think such cut-ups are running the universe."
As I thumb through this book, I find my underlining throughout —  who would not find an eclectic kindred spirit in a teen who reads and raves about Pride and Prejudice, Life With Father, Anna Karenina and The Murder of Roger Ackroyd. 
She raves about Will and Ariel Durrant (whom I've never attempted) but I agree with her on Henry James:
"Several readers were reported lost for years in a Henry James sentence."
The Hailey family is no doubt privileged — they jet off to England to purchase a third home and hobnob at Sardi's after Broadway openings. Throughout it all, Kendall is a typical teenager, but with an old soul.  She has a boyfriend, of sorts:

"We talked for an hour and a half until he had to leave for the orthodontist. It is hard to talk too seriously of love with someone who still has to go to the orthodontist."
And, has normal teenage angst:
"I have discovered that it does not really matter if I write, read or am nice to people.  All that matters is that I lose weight."
Kendall's view on nuclear war, while simplistic, struck a cord with me:
"I think everyone who has the power to start a nuclear war should be made to see Our Town at least once a day — until the last thing they want is the power to destroy life. If they could see how precious one life is, perhaps they would stop seeing nine hundred million lives as an endurable loss."
At times, she is wise beyond her years:
"The world is much too random a place for any of us ever to end up with exactly what we want, but then very few of us are bright enough to know exactly what we want."
I remember I found The Day I Became an Autodidact schizophrenic — at times irritating, entitled and narcissistic — but also funny, charming and whip smart – just like any normal teenager.
The book is staying for a re-read – now, back to my pile of tee shirts.
Save
Save
Save
Save
Save
Save
Save
Save
Save
Save
Save
Save
Save
Save
Save
Save
Save
Save
Save
Save
Save
Save
Save
Save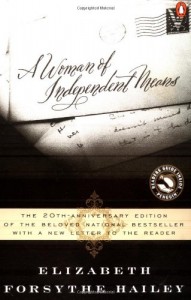 I first read this book back in 1980, just a couple of years after it was published.  Embroiled in graduate school demands and anxieties, I needed a reading escape, but nothing frothy or light.  My brain was working overtime, on all cylinders, and my recreational reading needed to do the same.
As it often is with books, I found A Woman of Independent Means as a beat-up paperback left behind on the student lounge bookshelf.  It turned out to be the exact right book at the exact right time.  Reading the life story of Bess, a woman who never, ever suffered from feelings of inadequacy or low self esteem, was the perfect foil to my own quivering mass of insecurities trying to survive in a often harsh and competitive environment.
In the years since, I have re-read this classic several more times and once again this past month when a new edition (above) entered my library to happily replace my original beat-up paperback, with a truly ugly cover.

This epistolary novel is comprised of one woman's correspondence to her family, friends, and others spanning from the turn of the last Century to 1968. Bess is based on the author's own grandmothers letters and we see Bess live through two world wars, the great depression, the influenza epidemic and the assassination of President Kennedy. She observs horse and buggy days through automobiles and from crossing the ocean by ship to air travel. We see history unfold through her letters.

The author has created a remarkable and complex woman – both ahead of her time and an ambitious, independent thinker.  Bess is outspoken, brash, rebels against convention, and yet, is completely vulnerable.  Through her letters, the reader watches the narcissistic Bess try to manipulate and control her loved ones' lives — truly unaware she is overstepping and usually hurt and bewildered when they rebel.
Bess suffers financial ruin after the death of her first husband, so becomes financially savvy and sets herself up to be independently wealthy through her second marriage.  As a "women of independent means" she is able to get what she wants – whenever she wants — often with grimace-worthy results:
I am very sorry to hear of my cousin's illness.  I have not received a letter from her since last summer and I was beginning to wonder what reason I had given her for such a long silence.  When she regains consciousness, please tell her I wrote to express my concern.

If she does not regain consciousness, may I remind you that I am the legal owner of the four-poster bed she now occupies and in the event of her death, it is to be shipped C.O.D. to me here in Texas.                        Cordially,  Bess Alcott Steed.
Bess's Machiavellian actions are in stark contrast to her overwhelming need be loved and admired.  She is constantly confounded by others' actions and strives to put things right – as she sees it. 
Throughout a series of of personal tragedies, Bess remains relentlessly optimistic.  From the loss of her son, to the burning down of her beloved home,  Bess never feels sorry for herself and is somehow stronger after each (often unbelievable) set-back.
Bess and her married daughter have a predictably difficult relationship which Bess tries to solve by inviting herself to her daughter's social events and ingratiating herself with her daughter's best friends.  A heart wrenching letter to her daughter in 1943 is some of the best insight on aging mother/grown daughter relationships I've ever read. 
There are many moments when Bess has the clear-sightedness of age and experience.  I stopped to underline several passages such as this one: 
Remember the night you and I talked until dawn with Betsy trying her eight-year-old best to stay awake with us?  The others had long since fallen asleep when she suddenly saw the sun rising and burst into tears, terrified to realize morning would come whether she had slept that night or not.  But better for her to learn early that nature does not ask our consent to continue its inexorable circuit.

Ms. Hailey has brilliantly crafted a complex character who will stick with you long after you close this novel's pages.  Bess is far from perfect -and I was often exasperated (and sometimes horrified) by her — yet I still shed a few tears with her.  Like all fascinating characters, I was always interested in Bess, never bored by her and actually loved every moment I was allowed to spend in her presence.