Remember the old, creepy nursery rhyme?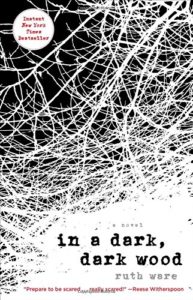 In the dark, dark wood, There was a dark, dark house.
And in the dark, dark house, there was a dark, dark room.
And in the dark, dark room, There was a dark, dark cupboard.
And in the dark, dark cupboard, There was a dark dark shelf.
And on the dark, dark shelf, There was a dark, dark box.
And in the dark, dark box,  there was a big white ghost!
With this rhyme as it's preface, I knew this book was going to be scary and — well — dark.  I saved In a Dark, Dark Wood for the plane home from Europe.   Turns out it was the perfect antidote for the mind-numbing flight.  Here's the blurb from the book:
When reclusive writer Leonora (Nora) is invited to a hen party (British for bachelorette party)  in an eerie glass house deep in the English countryside, she reluctantly agrees to make the trip. But as the first night falls, revelations unfold among friends old and new and a haunting realization creeps in—they are not alone in the woods.
Forty-eight hours later, Nora wakes up in a hospital bed injured but alive, with the knowledge that someone is dead. Wondering not "what happened?" but "what have I done?" she tries to piece together the events of the past weekend. Working to uncover secrets, reveal motives, and find answers, Nora must revisit parts of herself that she would much rather leave buried where they belong: in the past.
Creepy and yes, dark  — this is pure thriller enjoyment — complete with an Agatha Christie-ish limited list of suspects, much Gothic foreshadowing, and a story line that twists and turns.   Like all good mysteries, the reader is challenged to piece together all the elements —  who, what, where, when, how and why. I had figured out some of it, but was surprised by the final tying up of loose ends.

Ms. Ware has crafted a perfectly creepy setting — a cold, modern glass house that looks out a large forest– a "wood" which looms dark, large and menacing throughout.

The characters were engaging and the story moved at a steady, never once bored, pace.  I must admit that I didn't find the book to be the scary read promised —  to me it was just creepy — which is plenty for me.  (I'm still recovering from reading my one and only Stephen King novel back in my teens.)  In a Dark, Dark Wood was an easy read that kept me engaged for hours.

I wasn't a fan of Ms. Ware's other book The Woman in Cabin 10, but this, her first novel published in 2015 — is much better.
Recommended for your summer reading list– especially if you have a long plane journey ahead of you.
And, guess what folks, Reese Witherspoon is developing In a Dark, Dark Wood it into a film.
A digital review copy was kindly provided by Gallery/Scout Press via Netgalley.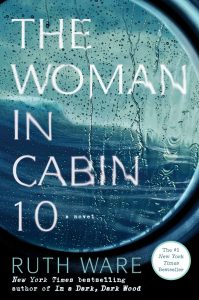 I just returned from Lake Tahoe and took some thrillers with me.  I love me a good engrossing thriller, especially when on vacation. When I opened the The Woman in Cabin 10, I knew I was not in for classic literature, but rather a best-selling, page turning thriller.

Ms. Ware sets us up with our main character, Lo Blacklock experiencing a harrowing home break in and assault. Although clearly shaken up, her job as a travel journalist requires her to embark on an exclusive luxury yacht trip.  This trip is her chance to write an important piece for her magazine.  The boat cruising through the North Seas provides a claustrophobic atmosphere and with only a few other carefully chosen passengers and crew, the premise had high creepy potential.

Lo wakes suddenly in the middle of the night and hears a body being tossed overboard. Here was my first niggle — now wait a minute, what does a body being pushed overboard sound like?  How did she instantly recognize the noise as a body and how could she even hear the noise in the rough North Sea waters?  Hmmmm

I forged on with The Woman in Cabin 10 not wanting to believe what was unfurling as a contrived and obvious plot.  I was sure I couldn't have figured it out while only half-way through.  The optimist in me kept thinking there will be an unexpected twist, this bestseller has got to have something more than such a transparent storyline.
To make matters even worse for this poor reader, Lo Blacklock is a mess.  Haven't we had enough unreliable narrators?  Lo drinks too much, is on anti-anxiety medication, complains incessantly, is self-pitying, weak, and beyond paranoid.  She's supposedly a journalist, but she didn't interview anyone and never opened a notebook. By the second half of the book, I hoped the murderer would off her — please, just toss her whiny ass overboard.
As a crime thriller, it lacked suspense and actually got boring in places — especially with the redundant, ad nauseam inner thoughts of Lo. The characters act illogically and much of the plot is disjointed.
There are good modern crime thrillers out there – try Harriett Lane
or  Gone Girl  both had originality and good writing, but sorry to report — not The Women in Cabin 10.
Ms. Ware's debut novel In a Dark, Dark Wood, got very good reviews, so perhaps The Woman in Cabin 10 suffers from the dreaded second book curse.
A digital review copy was provided by Gallery/Scout Press via Netgalley.
Save
Save
Save
Save
Save
Save
Save
Save
Save

Years ago, I used to devour those quick, cozy, connect-the-dots mysteries, often reading nothing else for months on end.  Then, suddenly, I ground to halt, having grown tired of the often predictable plots and one-dimensional characters. I vowed to only read mysteries that were well written, with intelligent plots and fascinating characters.
I voiced my new resolution and high standards to my bookgroup at the time and was quickly introduced to a range of authors including Deborah Crombie, Elizabeth George, and Peter Robinson  On my own, sans bookgroup, I've since discovered Louise Penny, Kate Atkinson, and Susan Hill.   So, my mystery reading days are back in full swing.
Thanks to a friend's urging, I've just discovered a new series and author — Tana French.  I must have been under a rock, because In The Woods (her first in the series) was published in 2007.  I was aware of this book, having seen it over the years.  But, look at that cover — doesn't it look like a horror filled, psychological thriller?  Shame on me for judging a book by its cover.
In the Woods immediately pulls you in, the terrifically written prologue sets the stage and puts the reader into a carefree summer day in a 1984 suburb of Dublin with three children playing in the woods.

When the children don't return home, only one child, Adam Robert Ryan, is found catatonic, remembering nothing but his shoes are soaked with blood.  Now twenty years later, Ryan, going only by Adam Ryan, is a detective for the Dublin Murder Squad.  No one knows of his connection with the 1984 incident.   A young girl is found murdered in the very same woods and Ryan finds himself in his old hometown which triggers memories of what happened on that tragic day.
In the Woods is narrated by Detective Ryan and Ms. French has given him a complex voice – taunted by the past, torn up with survivors guilt and the hard, cool viewpoint of a detective.
What I warn you to remember is that I am a detective.  This is my job, and you don't go into it — or, if you do, you don't last — without some natural affinity for its priorities and demands.  What I am telling you, before you begin my story, is this — two things: I crave truth. And I lie.
Detective Ryan and his partner from the Dublin murder squad, Cassie Maadox, begin their gentle but relentless investigation into the death of young Katy Devlin. Their relationship is intricately developed and compassionate.

How can I ever make you understand Cassie and me?  I would have to take you there, walk you down every path our secret shared geography. The truism says it's against all the odds for a straight man and woman to be real friends, platonic friends; we rolled thirteen, threw down five aces and ran away giggling.  She was the summertime cousin out of storybooks, the one you taught to swim at some midge-humming lake and pestered with tadpoles down her swimsuit, with whom you practiced first kisses on a heather hillside and laughed about it years later…
Ms. French deftly weaves back and forth between the two plots and it's fascinating to see if two murders relate or are a mere coincidence. The interrogation scenes are some of the best parts of this debut;

It becomes second nature, interrogation; it seeps into your blood until, no matter how stunned or exhausted or excited your are, this remains unchanged:  the polite professional tone, the clean, relentless march as each answer unfolds into question after new question.
There is rich atmosphere, from the Irish weather;
It was your basic Irish summer day, irritatingly coy, all sun and skidding clouds and jackknifing breeze, ready at any second to make an effortless leap into bucketing rain or blazing sun or both.
To the murdered girl's autopsy;
I thought of the old superstition that the soul lingers near the body for a few days, bewildered and unsure
In the Woods is atmospheric and engrossing, with richly drawn characters and some lovely detailed writing.  Hard to fathom that this is Ms. French's first novel.

I read most of the day – couldn't put it down. The ending does not tie up all the loose ends but I'm hoping the next in this intelligent series will start to resolve some of the questions.

Out of my way folks — got to get to the library for the next one, The Likeness.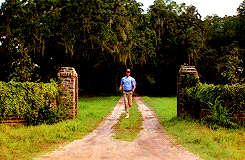 Warning, the crime(s) are graphic and do involve child rape.
Save
Save
Save
Save
Save
Save
Save
Save
Save
Save
Save
Save
Save
Save
Save
Save
Save
Save
Save
Save
Save
Save