A Bitter Feast by Deborah Crombie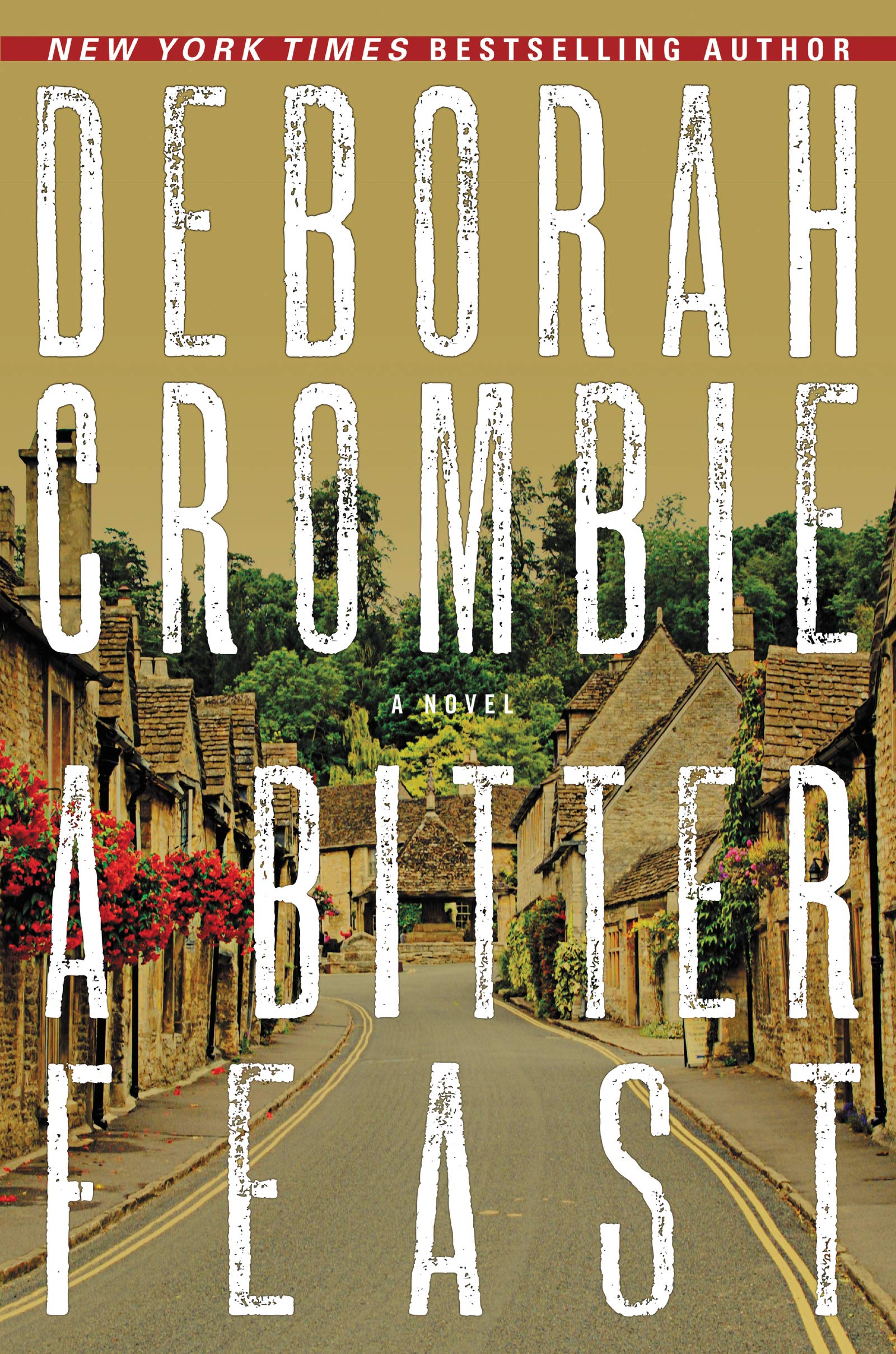 It's a well known Book Barmy fact that Deborah Crombie writes one of my favorite mystery series.  My gushing affection for her novels is documented in past posts HERE.

This rainy morning with a nice cup of tea, I finished the latest, just released series installment — A Bitter Feast.
As the book opens, Ms. Crombie takes the London-based police team of Duncan Kincaid and Gemma James on an idyllic escape to the English Cotswolds.  With their children and fellow police detective, Doug, all are invited to spend a restful weekend in the village of Lower Slaughter. 
A village called Slaughter? Well played Ms. Crombie — what could possibly go wrong?   Actually it's a double entendre — Slaughter comes from the Old English word 'slothre' meaning muddy place.  Just part of the wonderfully sly writing style Ms. Crombie brings to all her books.

A Bitter Feast starts off slowly with all the elements of a cozy mystery –  a picturesque village, a warm English pub, and the lovely manor house to which Melody has invited her fellow police crowd to stay for the weekend.  The manor house has a spectacular garden, the pub boasts a wonderful chef, and there's a sense of tranquility around Duncan and Gemma's getaway to the Cotswolds.

But, as to be expected when there's an assembly of police officers — their restful holiday soon goes awry with car wrecks, murders, poisonings, and illicit village affairs.
But, here's what separates A Bitter Feast (and all Ms. Crombie's novels) from traditional cozy mysteries — her sly (there's that word again) introduction of simple details that become vital later in the story.  Only later does the reader realize that clues were being scattered while the characters stroll in the garden or enjoying a delicious meal. 
As always, Ms. Crombie's characters are well-developed, as they have been over the course of the series. All my favorite characters are here, I know them well.  But interestingly, Ms. Crombie puts both Duncan and Gemma somewhat in the background (after all they're on holiday remember?) and lets others to take the lead in the investigations of the crimes befalling Lower Slaughter.  Melody's upper class background comes into full spotlight as we are introduced to her titled parents and manor house.  Especially interesting was to see Duncan's 15 year old Kit acting well beyond his years and stepping into adulthood.
After the somewhat bleak tone of her previous novel, A Bitter Feast has a more cheerful atmosphere — the murders and poisonings notwithstanding.  No seriously, it was lovely to join everyone at cozy pub in the evenings, to partake in a charity luncheon on the magnificent grounds of the manor house, and to look on as children played with dogs on the lawns.

But don't be seduced by the lovely setting with its quaint cottages and gardens.  There is always a overshadowing — a quaint and cheerful cottage during the daylight becomes creepy and sinister at night. A meticulously maintained showstopper garden could be the source for a poisonous substance.  Nothing is as is a idyllic as it seems.

The food — oh did I mention the food?  The food dishes are described in luscious detail and the inside of the house restaurant scenes are fascinating.  Ms. Crombie has long said she chose England as her setting, so she could go every year to do research for her series.  In A Bitter Feast, she obviously took much pleasure in exploring food and the restaurant scene.  The descriptions of how a Michelin star restaurant menu is created, one painstaking dish at a time, is some of her best writing ever.
So entranced by the setting, I Googled Lower Slaughter and here's a video of its beauty HERE.
A Bitter Feast is a purely wonderful, chunky book and well worth buying in hardcover right now.  As is custom, Ms. Crombie and her publishers include a hand drawn map of the setting on the flyleaf (hardcover only – worth the price alone).  Here's just a sample: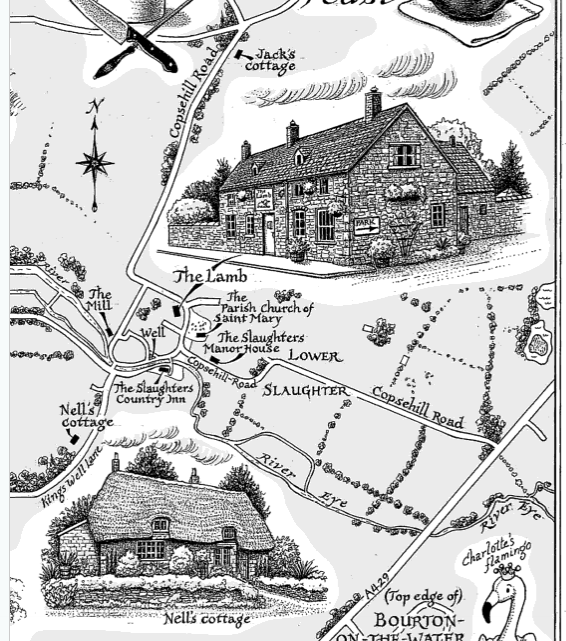 As you can tell, I highly recommend any of Ms. Crombie's series, but A Bitter Feast has to be one of my favorites so far.

Now comes the hard part – waiting for the next one.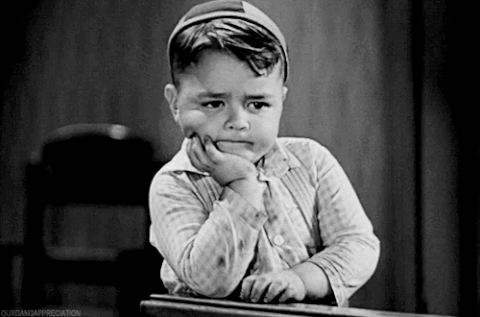 Many thanks to Harper Collins for providing an advanced readers copy.