A Diverse Trip – Part Two
Second Stop:  Tehachapi, California
"Uhh, hey look we're not in Palm Springs anymore…"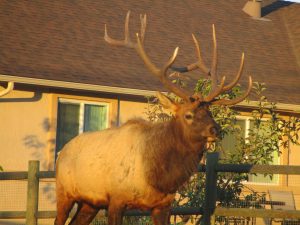 Yes, we were greeted by a herd of elk, this guy, obviously in charge.  We watched as Bubba here and his harem of at least seven females passed through.
Where is Tehachapi?  Well, the nearest big city is Bakersfield, California. It's up in the hills and home to many fascinating things ~ at least for one of us.
The largest wind farm facility in California, which we toured on the first day…
Strangely beautiful, these windmills are everywhere on the hills and those are black tailed deer in the last photo.
Day Two:  we waited for a train — then another train — and then another train.  Why?  Well, who knew? But Tehachapi is the home of the world famous Tehachapi Railroad Loop.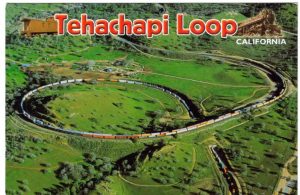 Let me try and explain…
without nodding off…
Apparently an engineering marvel, and built back in the 1800's this loop allows freight trains to travel a circuitous route, in which the track passes over itself, a design which lessens the angle of the grade.  (OK I stole that from Wikipedia – did you think I could even try to remember such interesting facts?)
We climb up a hill to watch for a train to go through this loop, but once up there Husband finally reveals that the trains come every 15 minutes (more or less).  So I pulled out my trusty book, found some warm sun and a picnic table and we waited for the train (but no that was trains) — to loop through a series of tunnels and hard turns so you see the train wind back on itself.   Husband took a massive amount of photos, these are the best.
But wait, there's more, he exclaimed as he returned (I had retreated back to the warm car after the third train passing) — there's a railroad museum in town.  I tried to hide my excitement as we drove down the hill.  Luckily there was a quilt shop just across the street, so someone missed the fascinating museum.
Day Three:  we had a lovely hike up into the hills where we saw more deer and lots of blue sky.  Then relaxed in our cabin with books and adult beverages.
Day Four:  Husband Bucket List check off
Because of the winds (remember the wind farm? -how could you forget?) there's an airport offering glider plane rides and lessons.  Husband was very excited, he has always wanted to do this.  So, with my subdued agreement, he booked himself a beginners lesson.
A glider is a flimsy lightweight plane which has no engine and is pulled up into the stratosphere by a pilot plane (with engine) and then released to careen wildly soar gently back to earth.
I took photos from terra firma while chewing off my chapstick.
Yes the glider is so light they can easily push it onto the runway.  (Here's me applying more chapstick.)
Husband drifted back to earth eventually, the winds were so good they stayed up longer than usual, enjoying the gliding. I was offered a trip up there, but declined.
Now, lest you think I was cheated on these two weeks – that these were Husband focused adventures – well my time is coming up next year with a trip to Europe.   And it involves concerts, royal palaces, and even horses…so stay tuned.
Plus how could I not melt at this happy Husband – priceless