A Lowcountry Heart by Pat Conroy
Have I told your about Pat Conroy?  I'm a card-carrying adoring fan. 
Mr. Conroy wrote books unlike anyone else, he was a magician storyteller and wove tales that explored the many layers of human nature. Fearless in his writing, his perfect wording could give any character or life event a voice — the frail families of the old South, uncertain love, the angst of loyal and betrayed friendship, the pain of suicide, and the infinity of human flaws  — really, just awe-inspiring.

Cancer took him quickly in 2016, at age 70.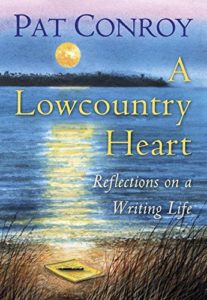 A Lowcountry Heart is a collection of his blog entries, articles, speeches and letters but also contains writings and eulogies by those that loved him.  But fear not, this slender volume never treads into the saccharine, but instead is a joyful reflection of his life and times. Mr. Conroy shares his time in Vietnam, teachers in his life, his beloved Citadel, his adored second wife, and of course his love for the South Carolina lowcountry –the lifeblood of his books and his life.
When his publishers advised him that he should start a blog, Mr. Conroy hated the idea but then took it as a challenge. He used it as both a journal and a way to reach out to his readers. His blog posts always began with "Hey out there," and closed with "Great love…".

Unlike many authors Mr. Conroy loved book tours and especially meeting with his readers.
It (book tours) is part of the covenant I sign with Doubleday that I'll do everything possible to help the sell the book, including not getting drunk on tour or embarrassing my publishing company with my cutting-up on the road. I go out to sell books and it has become one of the greatest things about being a writer during my lifetime. No writer should turn down the chance of meeting the readers of his work.

His book signings often went late into the night because he wanted to speak personally, and at length, with each reader. They opened up to Mr. Conroy because he asked, "so, what's your story?".  (I wonder what story I would've told…)

Mr. Conroy could have easily been a Southern 'good old boy', but it turns out he was a role model of humanity and progressiveness.  He actively supported racial equality, even having a public meeting with Dr. Martin Luther King at a time when race was still a heated issue in southern society.  On learning that a stranger and fellow southerner was dying of AIDS, Conroy went to be at his side so he wouldn't die alone. Once, accidentally in a gay bar, he danced with a man because his mother raised him not to hurt anyone's feelings.
His wife and fellow author, Cassandra King  wrote the introduction to A Lowcountry Heart — a beautiful piece of writing I read several times.

The book also contains his 2001 Citadel commencement speech — I'll just say, I found myself trying to read it through my tears.

Mr. Conroy is likely best known for his books (and the films based on his books);  The Lords of Discipline, The Prince of Tides and  The Great Santini. 
But instead, get thee to your favorite library or bookstore read my favorites; The River is Wide, Beach Music, and South of Broad. 

I'll leave you with this, perhaps the most compelling part of this collection; Mr. Conroy is buried on a small island off the coast of South Carolina , in a modest cemetery of a Gullah Baptist church among a community that "graciously allowed a non-Baptist, non-African American writer to rest among them."
A digital review copy was kindly provided by Doubleday Books/Nan A. Talese via NetGalley