A Picture is Worth a Thousand Words
I've been gathering some picture books to tell you about all at once. This winter, I enjoyed these visually enchanting escapes which took me from the streets of New York, to France, and even wartime England.
Intrigued?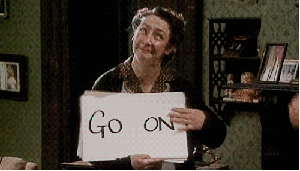 Well, grab a beverage of choice and sit right down next to me and let's look at them together.
~~~~~~~~~~~~~~~~~~~~~~~~~~~~~~~~~~~~~~~~~~~~~~~~~~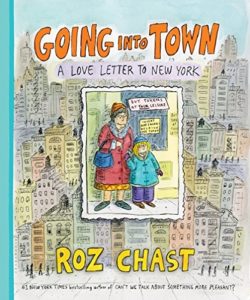 Going Into Town
A Love Letter to New York
by Roz Chast
When Ms. Chast's daughter was preparing to move to Manhattan for college, Ms. Chast wrote up a tongue-in-cheek guide book with tips for suburbanites navigating the city. This little booklet turned into Going Into Town: A Love Letter to New York which is a cartoon book about all the things Ms. Chast appreciates — or doesn't— in the city she loves.
I love Ms. Chast's work and always chuckle at her cartoons in the New Yorker magazine, on greeting cards, or her books. Remember THIS?
This book is a collection of  stories and visuals — the "overheard and the overseen", on the streets of New York — and Ms. Chast is her usual funny and cynical self.
She starts with a brief background on how she and her family moved out of the city to the suburbs for the better schools and the chance to have actual trees.  But the downside was that her daughter had no city skills when venturing to university in the city.
There's an introduction to the geography of Manhattan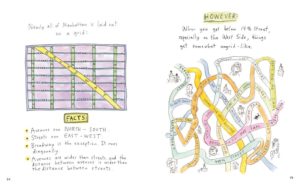 Diners are all but extinct, hawks aren't, Uber cars outnumber taxis, and in GENERAL:
3 blocks = 1 avenue
20 blocks/7 avenues = 1 mile
even streets run east, odd run west, crosstown run east-west
Going Into Town then goes on to describe the people you'll encounter, with special warnings about the tourists…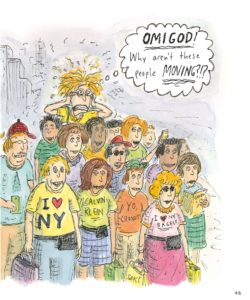 It is evident throughout the book that poor Ms. Chast greatly misses living in the city.  There's a section on the things to do from the obvious Broadway musicals and gallery openings to the more obscure — "best hat on a dog contest".  She advocates looking — really looking  — as you walk around — freshly seen through her quirky visual lens.
While Ms. Chast may have wanted to give her daughter a straightforward guide to the city, she can't help herself and interrupts the narrative with delightful digressions about such things as the quirky stores that sell nothing but ribbon or enticing off-brand lipstick.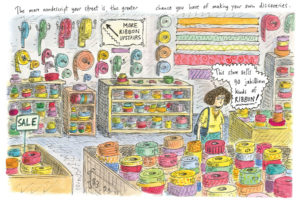 or the city's great variety of standpipes,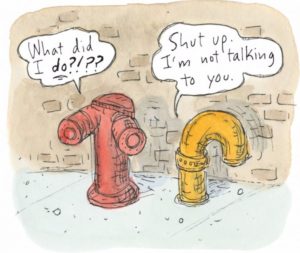 As the title says, this is Ms. Chast's very own love story to New York:
I feel about Manhattan the way I feel about a book, a TV series, a movie, a play, an artist, a song, a food, a whatever that I love. I want to tell you about it so that maybe you will love it, too. I'm not worried about it being 'ruined' by too many people 'discovering' it. Manhattan's been ruined since 1626 , when Peter Minuit bought it from Native Americans for $24.00.
And, if like me, you're stuck on the opposite coast – you'll have a hankering to follow the author's advice:
One of the greatest things you can do in life is walk around New York
~~~~~~~~~~~~~~~~~~~~~~~~~~~~~~~~~~~~~~~~~~~~~~~~~~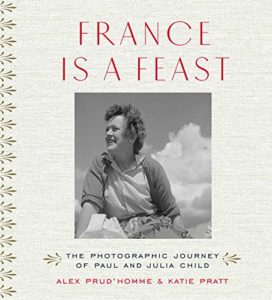 France is a Feast
A Photographic Journey of Paul and Julia Child
by Alex Prud' Homme & Katied Pratt
From the coauthor of My Life in France, this volume is a collection of the photographs taken by Paul Child during his and Julia Child's years in France.
This is a sometimes fascinating look at the lesser-known Paul Child, who in fact, was a talented artist, photographer, painter, lithographer, woodworker, metalsmith, stained glass expert, writer and poet.
Here's just a sample of his fine photographic eye: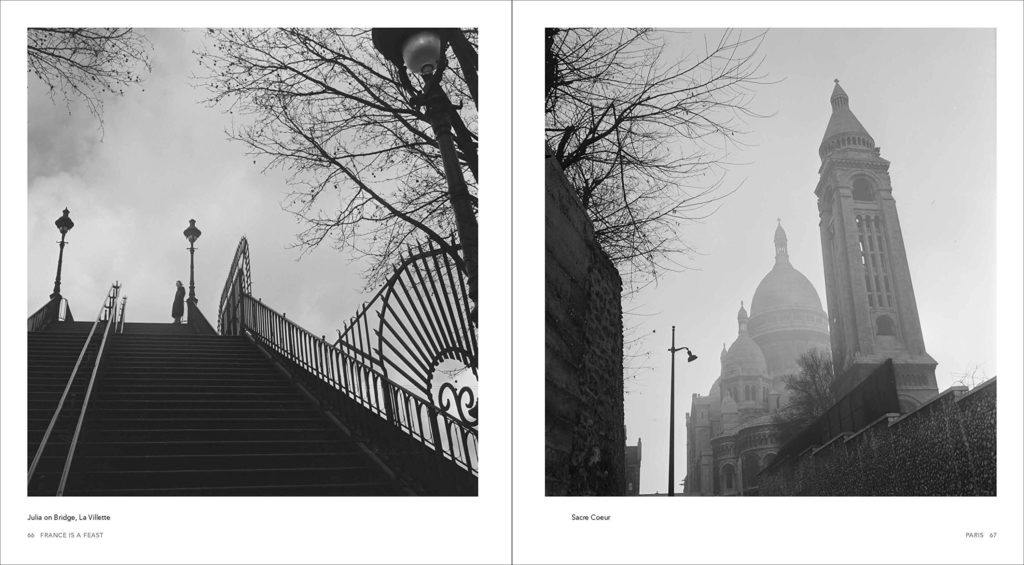 But Paul also delighted in photographing Julia:
She[Julia] was ten years younger than Paul, and not well known at the time, but she was a sunny, questing, powerful personality who had a profound impact on her husband's evolution.  He adored her and photographed her constantly; without realizing it at the time, he was chronicling her rise from a fumbling know-nothing in the kitchen to an accomplished cook and author, and America's first celebrity TV chef.
Because of my slight obsession with Julia Child, I found myself lingering on those iconic photos: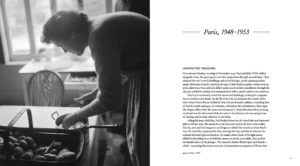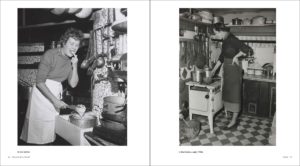 My Life In France was one of my favorite books about Julia and Paul's life in France and I had high hopes for this photographic essay.  However, their relationship is sketched over and the often pedantic writing is focused on Paul Child, his career and interests. The final pages are devoted to the Child's move back to Cambridge and Paul's decline which Julia handled with courage and grace.  Don't get me wrong, I wanted to know more about Paul Child but I often lost interest. Perhaps he will always remain in Julia's shadow.

The photographs are fascinating and France is a Feast for the eyes, but alas, not the writing.
~~~~~~~~~~~~~~~~~~~~~~~~~~~~~~~~~~~~~~~~~~~~~~~~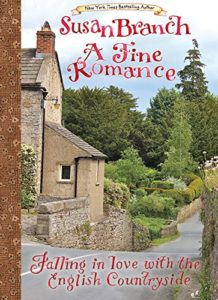 A Fine Romance
Falling in love with the English Countryside
by Susan Branch
A friend gave me an Amazon gift card for Christmas and I quickly ordered A Fine Romance.  I had longingly thumbed through this beautiful book in a little bookstore ages ago and added to my list of "someday books".  Well, this past January was that someday.

This is not a travel guide, there is no agenda here other than to entertain and delight the reader  A Fine Romance is a hand-written, illustrated chronicle of Ms. Branch's visit to England with her husband.  I lingered over almost every page — each watercolor is a tiny jewel — all interspersed with photographs, her reflections and observations
Here I'll show you: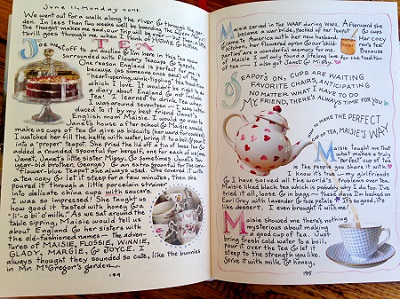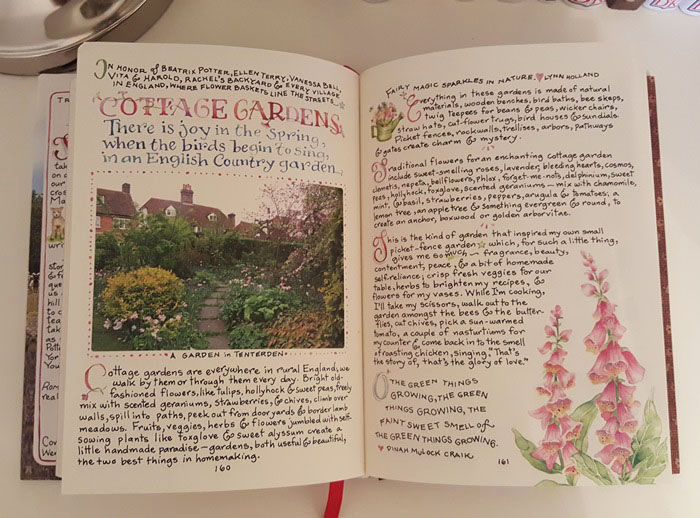 I read bits of this book each morning (with the obligatory cup of tea) in order to slowly savor the experience of going along as they roam the English countryside.
The book opens with the story of how the divorced Ms. Branch met Joe, which proved a bit tedious as well as, well, creepy.  Here's the creepy bit; on one of their first dates, she asked for two hotel rooms but behind her back he reserves only one. She's surprised,unsure but just goes along with it. (Say what? Ever heard of respect for boundaries?)

This little niggle in no way detracts from the charm of the book (I just had to make that comment).

Apparently Ms. Branch has a huge following and has an impressive website with recipes, events and merchandise which sports her watercolors on everything from calendars to party favors.  A bit over the top for my taste, but take a look HERE to see what you think.  She also has a BLOG which I enjoy, especially the travel entries, just to admire their elegant travel style — always accompanied by a great deal of luggage.

A Fine Romance is not only for Anglophiles, but for anyone who likes pretty villages, cozy cups of tea, and beautiful gardens.  Part travelogue, part diary, part sketchbook, part personal scrapbook —  A Fine Romance is just wonderful.

~~~~~~~~~~~~~~~~~~~~~~~~~~~~~~~~~~~~~~~~~~~~~~~~~~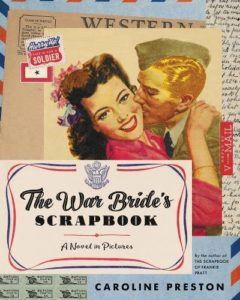 The War Brides Scrapbook
by Caroline Preston
I loved Ms. Preston's previous novel, The Scrapbook of Frankie Pratt ,a gift from my sister.  So I had to purchase another "someday" book — her newest scrapbook novel, The War Bride's Scrapbook.
It is 1941 and Lila has graduated from Sweet Briar without the two things her mother expected; making connections with moneyed friends and a rich fiancee.  Instead she came home with a magna cum laude and an art degree. Her true passion is architecture, but there's little opportunity for women in the field.  She goes to work instead for her father's insurance business.  She meets and falls hard for enlisted soldier Perry Weld and, after a three week whirlwind romance and marriage, he has shipped out.
Following the advice in a woman's magazine,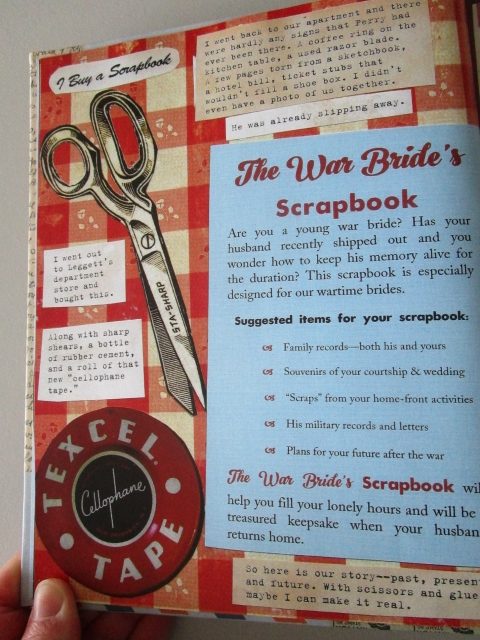 Lila starts a 'War Bride's Scrapbook' in which she chronicles their two-year separation — through their letters, but also tickets, menus, food labels, and newspaper articles.
This 'story in pictures' is told through this scrapbook device, as we get to know the characters and their experiences both at home and in war-time Europe. 
Just take a look at this visual and literary feast.
Lila matures into a strong independent woman who eventually gets accepted into the male-dominated Harvard architecture school and onto a career of her own.
Ms. Preston uses this scrapbook to give us a insight into the issues of the time — the changing roles and societal expectations for women, PTSD, the atomic bomb, and even the Japanese American imprisonment.
Many of the visuals are from Ms. Preston's own collection of vintage scrapbooks and ephemera, but she also did a fair share of research and borrowed items from other artifact collectors.
The War Brides Scrapbook brims with vivid characters and a brilliantly laid-out collection of WWII-era ephemera.
~~~~~~~~~~~~~~~~~~~~~~~~~~~~~~~~~~~~~~~~~~~~~~~~~~~
Whew, congratulations  you made it through this long post.  So now, we'll have to return to the real world of grown-up books -most, sadly without pictures.