A Tree-less Christmas
It's a tree-less Christmas this year.  We do not have a tree.
Due to the Northern California fires and the drought, fresh trees are very expensive.  And because they've traveled a great distance  –they all looked pretty beat up.  We're still reluctant to go the artificial tree route, so we decided to rethink Christmas decorations this year.
First, we put lights on big wreath and hung it in our front window, thereby maintaining some street cred on our city block.
Then I gathered my collection of pine cones from our Sierra hiking trips and created a little Christmas tableau in what we grandly call the library, but, in actuality is just a small and cozy reading nook.
Thought you might like to see some photos.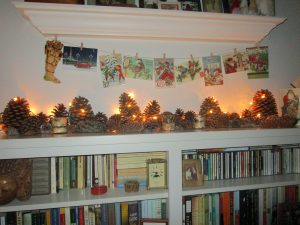 I pricked my poor fingers jimmying all the little lights into the pine cones, until I had them just right.  Then, I dug out my favorite vintage Christmas and Scandinavian cards and hung them.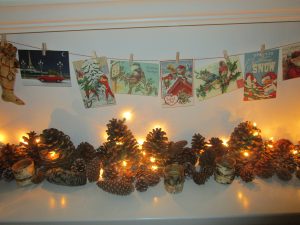 Interspersed with some birch bark candles and cute singing robins.  Well, it feels like Christmas in our cozy little house.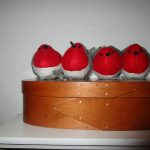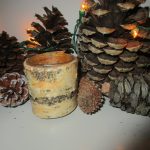 It turned out quite pretty, if I do say so myself…and I gaze upon it happily each evening, as it's just across from my reading chair.
Enjoy your own holiday decorations~~ tree or no tree.