Agatha Raisin Series by M. C. Beaton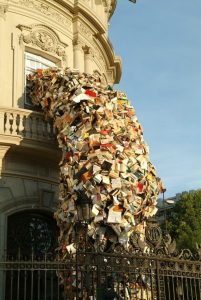 They say, the first step is admitting you have a problem ~~ deep breath… here goes…
I recently splurged on a book purchase (no surprise there) , but I should clarify it was a  "books" splurge (emphasis on the plural) ~~ uh oh. 
This artist's humorous installation (which I don't find that funny) actually used my house as inspiration.   Come on by, if you're in the neighborhood. I'll pose for selfies.

As rationalization background, I've always preferred British literary editions, their books often are higher quality, lovely in the hand, and their covers are always beautifully designed.  Years ago, I returned from Blackwell's in Oxford with my luggage full of books, a whole other separate box they shipped, and a severely damaged credit card which took me weeks to resurrect.
HERE  — just look,  you'll understand.
Just after Christmas, I was telling a British friend about my love for British volumes, and he pointed out an obvious fact (one which somehow eluded me) that I could order books via Amazon UK.  They covert British pounds and happily take our American money … SAY WHAAT?
So I set up an Amazon UK account and did some browsing ~~
I know, I know – Danger Danger Will Robinson…

But look, just look what arrived from the UK yesterday – be still my heart.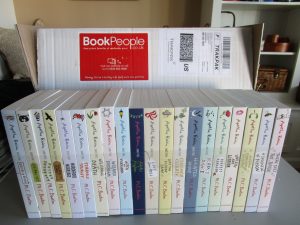 Ta Da!  It's (almost) the entire series of Agatha Raisin mysteries – direct from the UK!  I am so excited I can hardly stand it.  And all of them, including shipping (again from the UK) for just a bit over $30 American.
I take no financial reimbursement for this, but I have to mention that Book People UK offered this deal — brand spanking new paperbacks – which arrived perfectly packed and cello-wrapped together – again for an absurdly good price.
(Okay, that's my opinion – Husband has a different take, but then, he is not one of us – try and forgive him, he really is adorable in all other aspects.)
I have more than my share of guilty pleasures — but let's stick to reading shall we?  I am crazy for the Agatha Raisin mystery series by M. C. Beaton.
Now the more intellectual Book Barmy followers will likely scoff at this series — but as my favorite (British) blogger Simon says – "I care not".  He, too, devours Agatha Raisin mysteries — you see why I consider him a reading buddy.
Now, if you don't know about Agatha Raisin, let me correct that for you.
Agatha Raisin retired from a successful career in public relations and decided to live her dream of leaving London for a picturesque cottage in the Cotswolds.  Don't worry, she is not a particularly likable character. Agatha is self centered, tends to over indulge, and blurts out whatever is on her mind– with many disastrous and funny results.

Turns out, her idyllic life does not always live up to her dreams  — and maybe, just maybe, retirement does not suit Agatha Raisin.  She has trouble being ever-so-polite, caring about village gossip, or the dramas. Bravely, Agatha grits her teeth and tries to fit in with the village life. 
From a disastrous cooking competition (in which she enters a store bought quiche) to openly scoffing at Women's Institute activities — Ms. Raisin tries her damnest.  And she keeps trying and trying.  But don't count Ms. Raisin out – this is no shrinking violet.  Agatha ends up solving the village infractions, serious murders, goes foul of the local constable and falls in (and out) of love. Slowly – ever so slowly, she becomes part of the community – simultaneously befriended, resented and hated.
The series is clever and quirky, filled with a wacky assortment of characters, and snort-out-loud-humor.

But my delight in my new acquisition knows no bounds – just take a look at these precious British covers…and did I mention, they are all brand spanking new? 

Click to make larger…you know you want to…
I want to continue the series, (I think I'm at the 5th or 6th) but I'm afraid to crease the spines. But I'm sure to delve into them soon.

Don't worry you, too, can enjoy the Agatha Raisin mysteries by M. C. Beaton.  They are at your local library or can be picked up for a buck or two at any used bookstore.
Pay no attention to the fact that you are reading the tacky American paperbacks with sub-par covers…contents are the same.
As you read, just try not to think of me, as I happily pet and shelve my new British versions.
Okay, that was unseemly — pure gloating.
Best $30 I ever spent.
N.B.  The Brits made a television series based on the books.  It's available on Youtube or Acorn TV if you're interested   Link: HERE.  I will wait until I've finished reading the series (in order, if you please) or I'm drooling in a nursing home — whichever comes first.
Save
Save
Save
Save
Save
Save
Save
Save
Save
Save
Save
Save
Save
Save
Save
Save
Save
Save
Save
Save
Save
Save
Save
Save
Save
Save
Save
Save
Save
Save
Save
Save
Save
Save