Ahh — Asheville
Just got back from a trip to the Southeast.
First was our family reunion in Virginia, where we rented two condos and were able to cook and eat together.  There were walks in the woods, water aerobics at the indoor pool and some toured an underground cavern (not me ugh – everyone else).
We looked at old family photos (matching pajamas caused howls of laughter), played pool (Dad beat everyone), and generally just enjoyed the conversations.  There were photos taken – but will spare you the evidence, as we are the least photogenic family ever.  We're all scattered now, so it was good to catch up on everyone's lives.  And in the end  — no one lost an eye.
Then Husband and I went down to Asheville, North Carolina.  We had a home exchange with a house in Biltmore Forest and took our time exploring the city and beyond.  We'd been here before for a short visit and found it a great city.  Good bookstore, great food, and lots and lots of art gallery and craft workshops.  Here's just a few photos:
As always you can click on the photos to see larger image.
We followed the somewhat obscure Urban Walk in Asheville, and once we cracked the code of path symbols on the sidewalks we were on our way.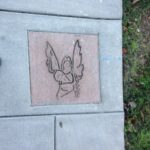 Here's one of the sidewalk symbols you follow…they change by district.
There were interesting and often surprising sculptures here and about —
Interesting architecture and cobbled back streets —
Stumbled upon Thomas Wolf's home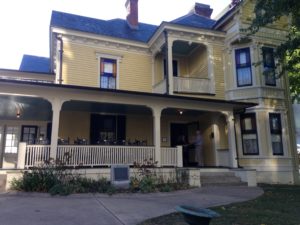 And much to Husband's delight  —  Asheville is known for its abundance of craft brew pubs.
We took a day trip to the famous Penland School of Crafts about an hour outside of Asheville.
Penland School of Craft was started by a remarkable woman named Lucy Morgan, who first came to Penland, North Carolina in 1920 as a teacher at the Appalachian School.  In 1923, she spent three months at Berea College learning to weave. When she returned to Penland she began the Penland Weavers, a cottage industry which provided local women with looms and materials and then marketed their handwoven goods.  The School has now expanded to include artists workshops and residencies in books and paper, clay, drawing, glass, iron, metals, photography, printmaking and letterpress, textiles, and wood.
It was a beautiful drive and the school setting is breathtaking.  We wandered the grounds —  peeking into workshops, studios and saw some of the residences from the outside.  We also browsed – Did Not Purchase — their exquisite gallery.
The Penland school is well worth a visit and they give tours if you book ahead.
Are we bored yet?  Just one last group of photos to show y'all before I let you go.
One day dawned very foggy and damp so decided to do something indoors (other than visit yet another craft beer pub).  We ventured out to Carl Sandburg's estate.  Which, supposedly has a beautiful view of a lake, but as you can see not so much on this day.
We took a tour inside the house and the entire collection of Sandburg's books and magazines have been meticulously cataloged and returned to their original locations in the house.  I felt the kindred spirit of a fellow reader and book hoarder lover.
Note that Mr. Sandburg's typewriter in his office is on an orange crate – he said if Lincoln could compose the Gettysburg Address on a crate from the battlefield, so could he.
I'll leave you with my favorite sign from one of the craft brew pubs we visited.  Made me laugh out loud.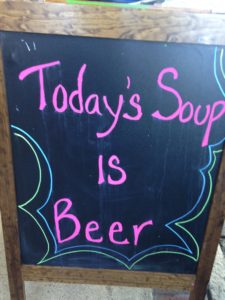 Stay tuned — books have been read, are being read, and will be read.