An Austrian Village
We're having a little sojourn in the Austrian forests and hills.  A few days in the Austrian village of Radnig.
Let me catch you up.  Our home exchange partners have not only the apartment in Prague for us to use, but also offered their vacation chalet in the lower mountains of southern Austria.  They suggested, that in between the big cities we might like some 'down time' and we agreed.
It turned out to be wonderfully scenic train journey from Cesky  Beetlejuice through Linz, where we changed trains to Villach Austria.
Barmy travel tip:  Whenever you get the chance, take the trains in Europe – they are a treat. Trains go everywhere, almost every tiny village is accessible  (as evidenced by this trip.)   And sigh –  they're exactly on time, spanking clean, there are designated quiet cars where cell phones are not permitted, they even have stewards who roam the aisles to serve you something from the dining car.  Even the WC's are kept clean and offer good quality soap and paper products.  Most importantly you save the stress of driving — and the ensuing hassles therein.  Trains- highly recommended.
We spent the night Villach –  why you may ask?  Well, we've been here before you see, at the very same hotel in Villach.
Nine years ago we took the train from Venice and spent the night here before going on to visit our friends in Croatia. While we were here last time, we really enjoyed the hotel and (bonus points!) found a brewery with a pub just a few blocks from the hotel — Husband remembers the beer fondly.
Decided it was worth a do-over  — and so we did — a nice dinner at the brewery's pub with the same excellent beer.
The next morning we took the train into the closest town to Radnig (Hermagor, if you're interested or following along on maps).
No car, so we had to figure out the bus that runs 2 or 3 times a day up and down to Hermagor (not as easy it would seem).  Finally, as it started to rain, we called a taxi and good thing we did, because we would never have found this place otherwise.  Here's front of chalet and the patio out back.
The house had been empty for a while, so there was no food in the house, except staples.  In chatting with the next door neighbor, we found out there was a little swim club just down the road which had a pub with what our neighbor called 'simple food'.  So off we toddled for for dinner, there were two choices — ham and bread or sausages – we both went with the sausages which turned out to be hotdogs – with mustard and a round dinner roll on the side.  Very good hotdogs, very good mustard, but hotdogs, nonetheless.  Oh, well they had an excellent beer on tap and I had some lovely Austrian wine.  We were happy.
Next morning, we borrowed some empty back packs from the cellar.  Down to the bigger village on the bus, wandered around, it rained – so we stopped for lunch.   Hermagor street in the rain and a strudel for two.
Bought some basic  groceries then back up on bus we go.
We happily settled in at our chalet — admired the view of the mountains from the back terrace.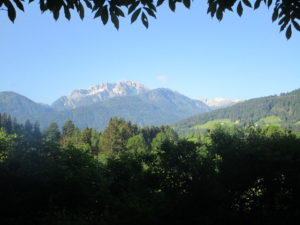 Took a long walk, a nap, read a little, figured out the stove for making dinner and watched the sun set over the mountains.
And this, my friends, was our schedule for the next two days.
Hike, eat, nap, read, repeat…
Some views of our walks and then one afternoon we hiked up to see a little waterfall.
Passed some bee hives, wildflowers everywhere, so imagine the honey is fabulous — and here's the waterfall.
This lovely lady walked every evening in her red shawl, comfy American sneakers and a cane.  We guess she was in her 90's.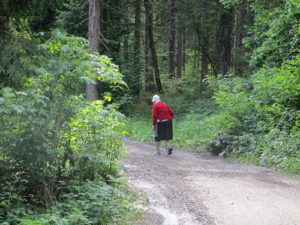 Our little Austrian village was a much needed respite.
Onward to Vienna – very excited.