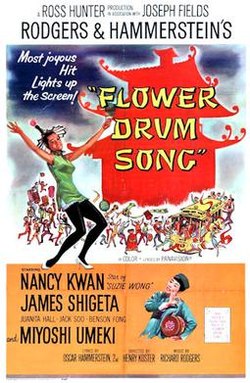 Tuesday was Chinese New Year and while it may not be a major holiday where you are — it's a full multi-week celebration here in San Francisco.  Our Chinese-American friends are feasting, enjoying family reunions, exchanging lucky money in traditional red envelopes, and oranges festoon every table.
Because of the holiday, our local television station aired Flower Drum Song late the other night, and I donned my PJ's to stay up to watch the film.  This musical has a special place in my heart.  I was seven years old and it was one of the first films I saw in a real movie theater with my family.  I was totally smitten by its dancing, music, its depiction of Chinese-Americans and the scenes of San Francisco made a big impression upon me. It seemed a magical city and it's no coincidence it became my home.
And while the current film Crazy Rich Asians is getting kudos for its Asian casting — 60 years ago, Rodgers and Hammerstein's Flower Drum Song broke this ground by being one of the first films to ever feature a largely Asian cast.
Now that I've lived here in San Fransisco for more than 35 years, the grown up part of me cringed at the stereotypical portrayal of Chinese-Americans and the simplistic view of the immigrant experience. But, for many in 1961, this film was their first exposure to the Chinese-American culture.
But I soon let go of my adult hang-ups and by the second musical number I was once again delighted.  Flower Drum Song is not considered to be one of Rodgers and Hammerstein's best, it actually lost money at the box office, but it's one of my favorite musicals.  Dated yes  — but the colors, the dancing, the costumes, the scenery, and music still transport me back to my seven year old delight.
For its time, it had some breakthrough special effects — the I enjoy being a girl segment has a three way mirror segment that is pure fancy. Here's where the 60's ideals of femininity really shine with the beautiful Nancy Kwan in her absolute prime.
The musical dabbles in the avaunt guard dance techniques of the time, with some especially energetic dance segments by a very young Patrick Adiarte who you may recognize from MASH episodes.
The interior sets are pure 60's fun and there are some pretty realistic (yet Hollywood-recreated) scenes of Chinatown and San Francisco.  Jack Soo is so endearing in his Don't Marry Me segment.   Just look at that face and try not to laugh when he begs — if you want to have attractive children — don't marry me!  It was great to see the interspersed film clips of our Chinese New Year's parade —  largely unchanged to this day and still part of our city's celebrations.
Flower Drum Song is a light and lively musical, with all the classic elements: an enchanting plot, a wonderful sound track, exotic sets, and a nostalgic glimpse into 1960's San Francisco. A fun choice for an evening's entertainment.
If you have Amazon prime, you can stream/watch it anytime – until then
Gong Hei Fat Choy

Enjoy the commercials game, everyone
Once Upon A River
by Diane Setterfield
Ms. Setterfield's The Thirteenth Tale is one of my all-time favorite novels – it holds a place of honor on my shelf, so I was excited to receive an advance reading copy of her newest novel, Once Upon A River.  
What a journey I've been on, what a tale I've been told.  Pull up a chair here by the fire and let me tell you more

It was solstice night, the longest night of the year… And as the borders between night and day stretch to their thinnest, so too do the borders between worlds… Unexpected things can happen. Did the solstice have anything to do with the strange events at the Swan? You will have to judge for yourself.
The novel opens on the winter solstice of 1887 at The Swan, a pub on the Thames River in England.   The Swan is where drinking patrons gather to tell and hear stories. The stories are suddenly interrupted by the appearance of a badly injured stranger at the door, carrying a dead little girl.  When the child, who had no signs of life, hours later begins to breathe again, everyone wonders who or what she is. A miracle? A river sprite? A magic being? Who is the injured man, not the father, but carrying the little girl? Whatever she may be, once revived, three different people claim her as their own lost little girl.

But in describing the basic premise, I am short shifting Once Upon a River.  This is a rich and complex novel.  A lyrical fairy tale steeped in the art of story telling and painted with its river setting symbolism. I was completely enveloped in this fascinatingly entwined story of the little girl, the mysterious injured man, the families, and the various patrons who witnessed the miracle.  Like any good fairy tale, we're never sure what's myth or reality.    A woman with an patch over an eye that has the power to see deep into people's souls and there's Quietly – the river's mythical guardian who watches over all who cross or boat upon it.
Don't be put off by the size of this novel – it's a chunkster – but Ms. Setterfield has carefully woven the stories together so that you're eager to visit with each character to hear their side of the story — their version of the history. The stories swirl along the river and back and forth in time.   The river itself, the Thames, is not just a setting, it serves both as character and metaphor — the reader and the story follow its twists, ebbs and flows — straining to see what's around the next bend…

It finds its way into wells and is drawn up to launder petticoats and be boiled for tea. It is sucked into root membranes, travels up cell by cell to the surface, is held in the leaves of watercress that find themselves in the soup bowls and on the cheeseboards of the county's diners. From teapot or soup dish, it passes into mouths, irrigates complex internal biological networks that are worlds in themselves, before returning eventually to the earth via a chamber pot. Elsewhere the river water clings to the leaves of the willows that droop to touch its surface and then, when the sun comes up, a droplet appears to vanish into the air, where it travels invisibly and might join a cloud, a vast floating lake, until it falls again as rain. This is the unmappable journey of the Thames.
Admittedly, there are lots (and lots) of characters, but even this poor old brain was able to keep them straight – a testament to the writing.  Ahhh, the writing – Ms. Setterfield is the master chef of storytelling — mixing folklore into a mystery and sprinkling in some magical happenings. I found it impossible to rush this novel — and fair warning, some may find it tedious — but not I. I deliberately slowed down my usual rapid reading to savor many beautiful sentences…such as this:

They were collectors of words the same way so many of the gravel diggers were collectors of fossils. They kept an ear constantly alert for them, the rare, the unusual, the unique
and this:
There are stories that may be told aloud, and stories that must be told in whispers, and there are stories that are never told at all.
Once Upon a River had me spellbound for days (and nights).   Ms. Setterfield shows the import of stories to shape and define lives.  How stories change the past, hide secrets, form resentments, teach us how to love and be loved — and in the end, to flourish as humans.

I'll leave you with this from the ending (and a recommendation to also read The Thirteenth Tale):
And now, dear reader, the story is over. It is time for you to cross the bridge once more and return to the world you came from. This river, which is and is not the Thames, must continue flowing without you. You have haunted here long enough, and besides, you surely have rivers of your own to attend to?
A digital advanced readers copy was kindly provided by Atria Books via Netgalley.
40 years and counting…
Admittedly, we're no longer this young couple ~~~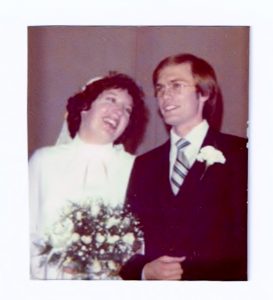 Now, we're more like this ~~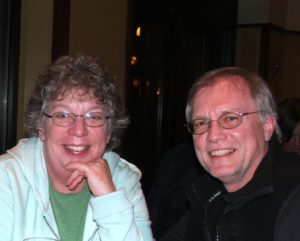 Or often– more like this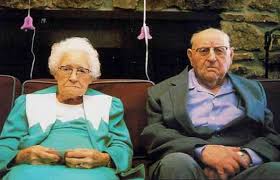 But mostly, we're like this  ~~
Happy 40th Anniversary to my one and only~
Hey, what did you say?   What?

Look out your window…is this your view?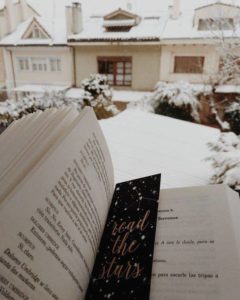 What if, instead, I could give you this view?   Or this?
Here are three books certain to whisk you away to warmer climes  ~~ perhaps not physically, but in your imagination.
So make yourself some cool lemonade and come with me, let's escape  winter for a bit.
---

The Olive Farm
A Memoir of Life, Love and Olive Oil in the South of France
by Carol Drinkwater
Carol Drinkwater is the actress best known for her portrayal of Helen Herriot in the BBC television series All Creatures Great and Small.
When Ms. Drinkwater and her fiancé (later husband) Michel, are given the opportunity to purchase ten acres of an abandoned olive farm in the South of France, they find the region's splendor impossible to resist. Using their entire savings as a down payment, the couple embark on an adventure that brings them in contact with the beautiful countryside of Provence, its neighbors personalities, petty bureaucracies, bug infestations and unexpected wildlife. This warm and funny memoir takes the reader from the glamour of Cannes to the sunny charm of  their small plot of land, which they back breakingly transform from overgrown weeds into a thriving olive farm producing some of the finest olive oil in Provence.  While at times pedantic when it comes to the history of the olive and olive oil production — The Olive Farm will make wipe your brow in sympathy as they work their land and guaranteed you want to upgrade whatever mediocre olive oil lurks in your cupboard.
---

My Twenty-Five Years in Provence
Reflections on Then and Now
by Peter Mayle
You may remember my earlier post about Peter Mayle who died a year ago.  Here is his final volume of essays – containing all new pieces which offer his warm and vivid recollections from twenty-five years in the South of France–lessons learned, culinary delights enjoyed, and changes observed.
Twenty-five years ago, Peter Mayle and his wife, Jennie, were rained out of a planned two weeks on the Côte d'Azur. In search of sunlight, they set off for Aix-en-Provence; enchanted by the world and life they found there, they soon decided to uproot their lives in England and settle in Provence. They never looked back and when Mr. Mayle's books became bestsellers, the inspired a whole lot of Brits to follow in their footsteps.
In this volume, his 25 years in Provence have made him wiser and a bit cynical, but no less in love with the area.  A cup of café might may now cost three euros–but that price still buys you a front-row seat to the charming and indelible parade of village life. After the coffee, you might drive to see a lavender field that has bloomed every year for centuries, or stroll through the ancient history that coexists alongside Marseille's metropolitan bustle. Modern life may have seeped into sleepy Provence, but this volume reminds us that its magic remains.
---
Summer's Lease
by John Mortimer
And now a novel.  But not just any novel, a Book Barmy favorite  I have re-read Summer's Lease several times — usually in the midst of cold and damp weather.
Just to refresh your memory John Mortimer is the author of the famous Rumpole series which was adapted into a very fine BBC series ages ago.
With Summer's Lease, Mr. Mortimer veers away from the dusty London chambers into far different surroundings – namely a hot summer in the Tuscany region of Italy.
Molly Pargeter, the mother of three girls and the dissatisfied wife of a barrister uses her own inherited money to bring the family to a dream vacation rental house in Chianti.  Her father Haverford Downs — played by John Gielgud in the 1989 television adaptation —  joins the vacationing family and is loud, pompous and embarrassing and quite frankly one of the best things in this 1988 comic novel.
Molly strives to enjoy the lush Tuscan atmosphere of "La Felicita" (the Pargeters' rental house) and immerse herself in the sun, people and the famous 'Piero della Francesca' paintings nearby.

Molly is also curious about the owner of the house they are  renting, having made the arrangements by mail – never meeting in person. She encounters a number of British expats whom seem to know and respect the owner of La Felicita, but give few details of the shadowy landlord. Molly soon finds herself involved in a greater mystery concerning the disappearance of water at rented villas, plus a suspicious death or two. She solves all the mysteries, but also learns the consequences of prying into the lives of others.
A mystery, a farce, a romance, and a tale of self discovery, Summers Lease is a warm (there's that word again) vacation-like escape into the verdant and sunny climes of Italy.

---
So there you go some reading escape to take your mind off those endless layers of clothes, wet boots, and snow shoveling.