Barmy Travel Tips
"He who returns from a journey is not the same as he who left."
Chinese Proverb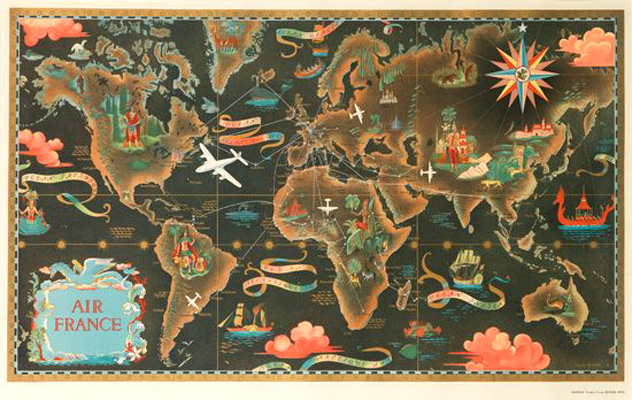 We're home, tired, a little bleary-eyed but very happy.
What a trip – what an adventure.  We loved every minute.
But as we unpack and try to stay awake past 8 PM, I thought I'd share some Barmy Travel Tips for what they're worth:
Every shower tells a story:  Europe has weird showers and no two are alike.  Study the shower set-up before getting into said shower.  Turn on the water from outside the shower and adjust accordingly.  Otherwise you will get water everywhere except your body.  Husband graciously took on this role, always being first up and with the uncanny ability to wrangle showers in any culture.  I get shower instructions with my wake up call.
Ice dreams:  It will only make you miserable if you long for ice in your drinks.  Water, soda, beer, wine, ice tea and lemonade all come room temperature.  There is no ice, ever, anywhere. Deal with it.
Invest in good footwear:  Buy the best shoes you can, wear them for a few weeks before your trip to make sure they are comfortable.  Same for socks – you're on your feet all day, every day and if your feet hurt, you'll be miserable.  I took only one pair of shoes THESE which I wore every day  and a pair of lightweight sandals for around apartments, etc.  THESE.  My socks from Uniqlo were incredible, I love my socks.
Look up:  Despite the cobblestones ready to trip you, remember to look up.  Gaze at the tops of buildings to see statutes, carvings, and especially those all important street signs.
To market, to market:  Go to both grocery stores and outdoor farmers markets.  Explore the offerings, see how other countries sell bread, coffee, fresh meats and cleaning products.  Enjoy the beautifully arranged produce (but don't touch, just look – they choose the produce for you).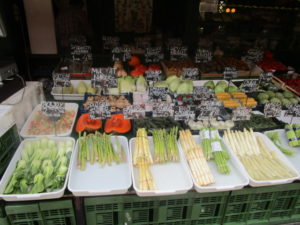 I love wandering the aisles of foreign grocery stores not only to marvel at the numerous yogurt offerings, but also to watch how people shop and what they buy.  (Why is that lady buying handkerchiefs from a grocery store?)
Get lost:  We enjoy Rick Steeves walking tours and learn much from his descriptions. But we also like to get lost on purpose. Venture down a side street, find a small neighborhood.  Discover a little hidden park or a shop that sells nothing but brushes. A small church where a choir is practicing, a courtyard where children are playing soccer while parents watch indulgently. This is another way to experience a city – to see how and where its people live.
Go rogue for meals: Seek out a small cafe, one with a chalk board advertising a worker's lunch deal.  A cafe you'll have all to yourselves…with an owner pleased you stopped in.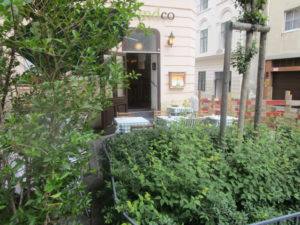 Often you'll get samples of things 'on the house' and be offered a special not on the menu — home made just that morning. Ask for the restaurant's recommendation for wine, beer, dessert…9 times of out 10, they will be delighted to bring out the really good stuff, usually saved for locals. Food is one of the best ways to experience a culture, be brave and embrace the unknown. Universally, food is how people welcome you, enjoy it, no matter how different from your own.

Trains rule:  It bears repeating — take the trains in Europe.  You can get anywhere, no matter how small the village or town.  It's a chance to rest your weary feet, see beautiful countryside, peek into back gardens.  Most valuable, trains get you to your destination without the hassle and confusion of driving a car in a foreign country.  To me, there is nothing more exciting than an European train station – (I admit I actually hopped up and down in excitement at one point).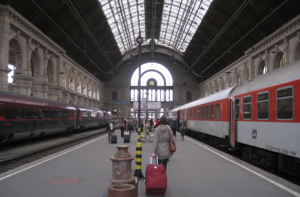 Bring sunscreen:  There is no need to take big quantities of toiletries from home.   Trust me, they have toothpaste and shampoo in Central Europe.  You can buy anything you need — the exception being sunscreen.  For some reason, it is very expensive in Europe.  So do invest in a few tubes to take with you.
Stop and rest:  Just when you think you're done, when you're too weary to go any further and you long to call it quits – stop for a moment.  Sit on a park bench, duck into a cafe for a lukewarm drink, rest that back and look around you.  Inevitably something will delight — a family playing together, an old man chuckling over his newspaper, or a little dog dressed like its owner  — you'll find you soon regain your travel mojo.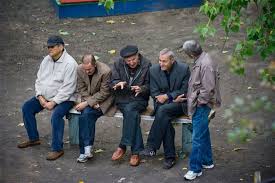 Pack light – no even lighter:  We took backpacks, no wheelies…and we were incredibly pleased.  These backpacks allowed us to go easily up and down train stations, across cities, and climb long stairwells to the loft apartments we rented.  Yes, you'll be wearing the same clothes over and over again,  you'll actually get sick of your clothes.  But, if you can master the showers, you will be clean every day and you'll be surprised at how often you can re-wear things before needing to wash them. (Food spills notwithstanding.)
It's never too late:  Back in our 20's, we dreamed of backpacking across Europe, but college and careers got in the way.  These two aging hippies with backpacks did it anyway – 40 years later. You can too – we're proof it's never too late.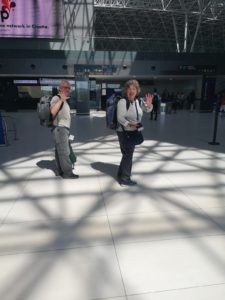 Travel is a privilege:  You are guests in another country, you need to adapt to their culture, customs and habits (see ice above).  Don't expect them to adapt to you.  Take the time to learn the basics of the language — being able to say hello, thank you, and please in their language is a gracious step which will endear you to those you encounter.  Travel is fun but it is also a learning experience, treat it as such.  Studying the country's history will let you see into their backgrounds.  Who are their artists?  Their rebels?  Their authors?  Why are their heros cherished?  Understanding what's important to a people will give you a insight into their culture.
I will end this final installment with this –  from one of the great travel adventurers.