Black Rabbit Hall by Eve Chase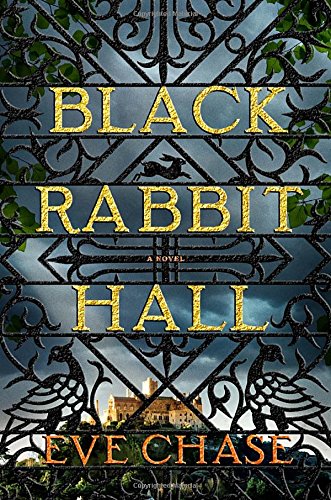 I wanted to read something creepy and Gothic over Halloween and found Black Rabbit Hall, which the publisher sent to me ages ago. 
I know publishers want their advanced readers to actually read the book close to the publication date, but I, alas, tend to read as the mood strikes me — even if it takes three years.  (Sorry G.P. Putnam's Sons.)

I was sucked in by the blurb – as I am a big fan of Kate Morton
For fans of Kate Morton and Sarah Waters, here's a magnetic debut novel of wrenching family secrets, forbidden love, and heartbreaking loss housed within the grand Gothic manor of Black Rabbit Hall.
Black Rabbit Hall is the Cornish county estate of the Alton family, who come every summer to get away from London. It's the summer in the late 1960's and American, Nancy Alton and her wealthy English husband are enjoying the summer with their four children.  Teenager, Amber and her twin brother Toby are especially close and can read each others' minds. One very happy family, until tragedy strikes.  Soon the four Alton children are trying to find their way in the world after a tragic accident.

Forward in time to 30 years later, and Lorna is looking at wedding venues with her fiance Jon. She has a vague memory of visiting Black Rabbit Hall years ago with her mother. Lorna had read that Black Rabbit Hall was now a bed and breakfast. But, they discover in contrast to it's glory days, Black Rabbit Hall is now run down and dilapidated. It is occupied by a cantankerous old woman who has secrets and a housekeeper who has lived her whole life in the mansion — setting the stage for this Gothic tale.   Jon tries convince Lorna to forget about this creepy manor home, however, she's obsessed with both the tragic history of the Alton's and the feeling that she somehow fits into their story. What is it about Black Rabbit Hall that draws her?

I won't reveal any more of the plot — no spoilers here.  Just let me say these two crossing story-lines unwind to reveal twisty family secrets, tragic loss, betrayal, and illicit love.

N.B. It seems many of the books I've read have alternating voices in alternating times. I should be getting sick of this literary device — but nooo, not yet.

Ms. Chase has created a delicious Gothic tale – a crumbling old mansion filled with the fragments of its past glory, overgrown gardens, clocks that won't tell the correct time, shadowed woods, dark secrets, ghostly happenings, a wicked stepmother— all adding up to a wonderful debut novel. 
I found myself quickly turning the pages to find what would happen to Amber and Lorna. Black Rabbit Hall is nicely written, with great character development — the greatest character of all being the Hall itself.
Black Rabbit Hall pulled me in and I was totally absorbed.   I had a hard time setting it aside for either the trick or treaters or even later – the temptation of the remaining Reese's Peanut Butter Cups ~~ a true testament to such a good read.

Since this debut,  Ms. Chase has written two other novels – both now on my TBR list.
A digital advanced readers copy of Black Rabbit Hall was kindly provided by G.P. Putnam's Sons via NetGalley.