Bratislava ~~ a work in progress
Backpacks shouldered once again, we take our final Viennese tram ride to the city canal dock where we boarded a boat to take us along the Danube to our next stop — Bratislava, Slovakia.
Located smack dab between Vienna and Budapest, Bratislava was a stop we just had to make.  Ten years ago, it was a grim soviet-forgotten town, where no one (let alone tourists) dare venture.  The soviets didn't care about Bratislava or its history and razed its real estate to build grim looking office and apartment complexes.
Now, it's an interesting mix of restored colorful buildings and charming town squares but clearly still in the shadow of grim, industrial architecture.
Our little Airbnb apartment was in this unattractive building that had an ancient rickety elevator that somehow, with both our breathes held, made it to the 5th floor.  The view out our apartment window was a very sad looking St. Martin's Cathedral, with a soviet built highway roaring right by the front of its doors,
Bratislava was the capital of Hungary during its Ottoman rule and St Martin's was the scene of more than 19 coronations of Hungarian kings and queens, including Franz Josef.
After wandering St. Michael's, we felt sorry for the poor old place, but noticed there was a monastery and a seminary adjoined both of which seem active, if worn.  We hope restorations are in the future for this historic landmark.
Quite hungry, we decided on a little place (once again down a side lane) where we ordered a plate of regional deli meats with bread and mustards.  As we sat down, the afternoon rain came — (we seem to be charmed, every time it rains, we're safely under a café canopy eating — haven't gotten rained soaked — yet).
Here's the obligatory photo of Husband having coffee and dessert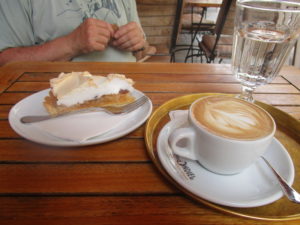 The sun came out and it got really hot and muggy, but we explored a bit more, until we were in desperate need to escape the tour groups, a face wash, and kicking off our shoes (those cobblestones are tough on the feet no matter how good your footwear).
Early evening we set out again, and had the place to ourselves.  Here's the main square and some of the quirky statues that date from the 1990's when the town was first being restored.  A French lieutenant leaning over a bench and 'Cumil' (the peeper) grinning at passers by from a manhole.  We of course, found some alleys to explore as well.
After WWII, it took many years to sort out who owned what in this war-destroyed part of the world.  Slovaks were deported, many fled, and never found again.  The buildings and real estate in Bratislava sat empty for years while the new government tried to figure out who owned which buildings, if they were still alive, and importantly, if they wanted to come back and restore their old homes and businesses. It wasn't until the mid-late 90's that restoration here really began.
But Bratislava is still very much a work in progress, as evidenced by the wide range of restoration. The last shot is an old Sovet office builing that has been turned into a strip club — irony at its best.
The next morning before we caught our next train, we hiked over the bridge to go to the top of what they call the UFO – a revolving bar and restaurant that gives amazing views of both sides of Bratislava — old town with the red rooftops and then the other direction, 1970's apartment complexes and office towers.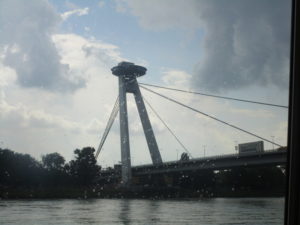 Then as we came back into old town to pack up and catch the next train I saw this.  Someone has a sense of humor ~~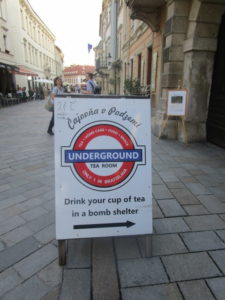 A charming town, with a fascinating history and I think its best years are still to come.