Budapest ~ a city of contrasts
Our final train journey. I love the thrill of standing in a train station, watching the clicking departures board as various exotic locales flip over. Finding our destination and the train platform.  And our train is going somewhere just as exotic – next stop — Budapest.   The train trip was three hours through countryside, small villages and farmland.
This little formality struck me.  Throughout our train travels as our train slows to pass through a small village train station (where we don't stop) the village train agent stands outside his/her tiny little station, at attention and in full uniform — as the train passes by.  There is something wonderful about this ritual.  I imagine they know exactly when the next train will pass through and picture them, brushing their lunch crumbs off their laps, straightening their ties, and donning their hats to be out front. Sorry, I never had my camera ready at the right time to show you.
Our first impression of Budapest, arriving late afternoon on a very hot day, was dirty and unkempt.  Our Airbnb apartment was easy to find, but in a sketchy alley, filled with graffiti, trash, and building construction.  Our building was ancient, but someone was taking care of it, as it was one of the only decent buildings on the street.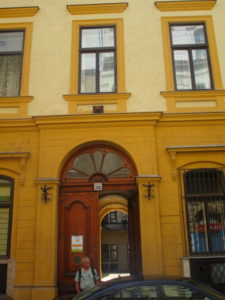 After a cryptic phone call to our apartment host, they said wait a minute and suddenly a little lady appeared in the courtyard — she obviously lived in the same apartment complex.  Anna  ushered up two long stairways to our apartment.  Newly renovated, it's a marvel.  Big and airy with the best shower we've experienced this entire trip.  A bit noisy at night, but we're so tired it won't affect us.
And look at this  courtyard, like something out of a film…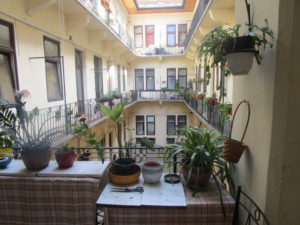 Despite the heat, we decided to get out and walk.  Budapest is divided by the river into two parts Buda and Pest – we're on Pest side, between the train station and the Opera House — lots of construction.  We wandered around and found the grocery store and bought our breakfast staples — yogurt (which we swear is keeping us healthy), rolls and what I thought was butter (turned out to be a cake of yeast – Fail).  Also got some beer and wine to go with the bread and cheese we brought from Bratislava,   Headed back, had our little meal and went to bed early.
Woke up to heat even in the morning.  We headed out to the magnificent opera house and stared at the ceilings.
Given the heat we chose to walk the shady Andrassy Avenue towards the Hero's Square and the city park.  We passed embassy after embassy and some grand homes on our way.
Hero's square was impressive.  You'll see my hero among the others.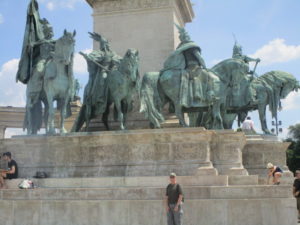 Had lunch in the park, a yummy salad and ice tea — almost thought I was back home. Then wandered over to one of the natural thermal baths which Budapest is so famous for.  Not the day for soaking in a hot thermal bath in our opinion — but obviously not others.
Kept walking and walking.
Here's where I'll try and show you the contrast of Budapest —  bullet ridden buildings next to lovely old mansions.  Small lanes with trendy restaurants, that dump you onto a street with massage parlors and tacky underwear shops. Whimsical statues in the shadow of military ones.
A beautiful city of many contrasts.
Barmy financial tip:  Invest in Central European construction cranes -they're everywhere.
Tomorrow we booked a boat trip to see both sides Buda and Pest from the river.  Should be cooler on the river, we hope.
Jó Ejszakát  Good night.