Can't We Talk About Something More Pleasant? by Roz Chast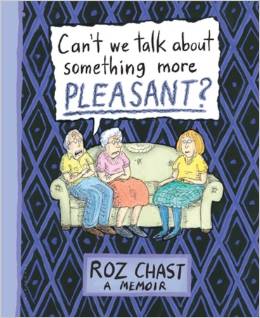 I heard Roz Chast talking about her newest book on NPR and bought this memoir the next day.  I strongly recommend getting this book in the hardback  versus the electronic version, as you want to experience her cartoons and text laid out as she intended.
I inhaled this book in two sittings.  I've long been a fan of Roz Chast's cartoons in the New Yorker and elsewhere, so this was an insight into a moving part of her life.
This is a cartoon (with prose) memoir of her aging Jewish parents – well into their 90's and, although always independent and self-sufficient, now in decline.  As their only child, Ms. Chast tries to muddle through their needs – wanting to respect their pride, while still caring for them with their weakened health and memory issues.
Sounds dreary?  Wrong!  This is a funny, moving and soulful accounting of caring for aging parents that is in fact deeper and more insightful than a cartoon memoir might appear.
Some of the humor is laugh-out loud funny, other times I found myself laughing uncomfortably but through her cartoons,  Ms. Chast is able to assure us that the negative, frustrated feelings in this difficult situation are as important and valid as the positive, loving feelings. It shows the complicated emotions dealing with aging parents – especially when they're resilient, resistant and proud.
If you're a fellow baby boomer (hate that term, but OK) and dealing with these issues or already have – you will gain insight from this book.  The ending is devastating and emotional, but the entire memoir is TRUE and honest – frightening and yet lovingly funny.  Yes, that's it – lovingly funny, honest and true.  Read it.