It's going to rain all weekend, so I just returned from the nutso grocery stores and I'm hunkering in to do some January clean outs.   You know, that pile of old tee shirts that I imagine I'll wear at the gym (if I ever went to the gym) or those stacks of CD's I never play anymore.
But instead (you knew this was coming) I headed to a seldom used bookshelf in the guest room and searched for books to get rid of.  Books are much more fun to sort through than tee shirts.
I came across this book which, from my notes inside, I read in 1990 – a year after it was published.
Should it stay or should it go?  Let's see, shall we?

The Day I Became an Autodidact,
and the Advice, Adventures, and Acrimonies That Befell Me Thereafter
by Kendall Hailey
First, because I had to look it up:
Autodidact: a person who has learned a subject without the benefit of a teacher or formal education; a self-taught person.
You may remember one of my favorite books  A Woman of Independent Means by Elizabeth Forsythe Hailey.  This autobiography, cum journal comes to us from her precocious daughter when she was just a teenager.
At age fifteen, Kendall decided to throw off the shackles of a formal education after receiving her high school summer reading list:
"Being told what to read by someone else is a violation of basic human rights.  Or at least basic literary ones."
So she graduates high school early, and pursues her own intellectual and artistic interests, at home with her fabulously oddball family – her novelist mother and her father, playwright Oliver Hailey.  This is her account of the journey.
Each entry begins with (capitalization is all hers):
WHAT I HOPE TO DO:  (Get a Head Start on Reading Everything Ever Published); and ends with WHAT I DID (Had a bumpy first date with Dostoevsky).
Kendall tears through Roman history and Greek plays.   Upon reading Aristophanes, she writes:
"Plays about the gods are always fun.  It is so comforting to think such cut-ups are running the universe."
As I thumb through this book, I find my underlining throughout —  who would not find an eclectic kindred spirit in a teen who reads and raves about Pride and Prejudice, Life With Father, Anna Karenina and The Murder of Roger Ackroyd. 
She raves about Will and Ariel Durrant (whom I've never attempted) but I agree with her on Henry James:
"Several readers were reported lost for years in a Henry James sentence."
The Hailey family is no doubt privileged — they jet off to England to purchase a third home and hobnob at Sardi's after Broadway openings. Throughout it all, Kendall is a typical teenager, but with an old soul.  She has a boyfriend, of sorts:

"We talked for an hour and a half until he had to leave for the orthodontist. It is hard to talk too seriously of love with someone who still has to go to the orthodontist."
And, has normal teenage angst:
"I have discovered that it does not really matter if I write, read or am nice to people.  All that matters is that I lose weight."
Kendall's view on nuclear war, while simplistic, struck a cord with me:
"I think everyone who has the power to start a nuclear war should be made to see Our Town at least once a day — until the last thing they want is the power to destroy life. If they could see how precious one life is, perhaps they would stop seeing nine hundred million lives as an endurable loss."
At times, she is wise beyond her years:
"The world is much too random a place for any of us ever to end up with exactly what we want, but then very few of us are bright enough to know exactly what we want."
I remember I found The Day I Became an Autodidact schizophrenic — at times irritating, entitled and narcissistic — but also funny, charming and whip smart – just like any normal teenager.
The book is staying for a re-read – now, back to my pile of tee shirts.
Save
Save
Save
Save
Save
Save
Save
Save
Save
Save
Save
Save
Save
Save
Save
Save
Save
Save
Save
Save
Save
Save
Save
Save
My Kitchen Year ~ 136 Recipes that Saved My Life by Ruth Reichl
I'd been lusting after this book since it first came out.  I was hoping it would come into the the bookstore where I work (and have a discount), but it never did.   My friend and fellow foodie, Susan, already had the book and was full of yummy descriptions.  I told her I had to have it and was just going to buy it – expense be damned.  Then, a few days later, Susan announced she had come into an "extra" copy which she would give me. (I secretly suspect my dear friend actually bought it for me, but we'll go with her story.)
From the book's publicity blurb:

In the fall of 2009, the food world was rocked when Gourmet magazine was abruptly shuttered by its parent company. No one was more stunned by this unexpected turn of events than its beloved editor in chief, Ruth Reichl, who suddenly faced an uncertain professional future. As she struggled to process what had seemed unthinkable, Reichl turned to the one place that had always provided sanctuary. "I did what I always do when I'm confused, lonely, or frightened," she writes. "I disappeared into the kitchen."
Happily this is more than just a cookbook, although it is packed with (as the title states) 136 hunger-inducing recipes — what makes My Kitchen Year shine is Ms. Reichl's personal writings, snippets from her journal, and musings on food interspersed between the recipes.  She tells of the final weeks closing up the magazine, packing her office.  Of going into Chinatown with her beloved fellow staffers for a final lunch at a favorite restaurant.  And how can you not have a craving for chocolate cake when reading this passage?:
I needed an antidote to the poison of self-pity.  What I needed, I decided, was to bake a chocolate cake.  I emailed a few friends, asking them to tea.  Why a cake?  Because the precision of baking demands total attention.  Why this cake (The Cake that Cures Everything)?  Because the sheer size of it makes special demands.  But most of all, because it is impossible to hold on to gloom with so much chocolate wafting its exuberant scent into every corner of the house.
Most everyone was saddened when Gourmet magazine suddenly stopped publication (I was a subscriber for over 15 years and am still in mourning) but, apparently, none of us were as astonished as Ms. Reichl, herself.  She knew nothing of the decision and had, in fact, personally supervised the December issue which, sadly would never make it to press.  How I would have liked to see that last issue.  She ruefully describes how each magazine issue would have had multiple covers of beautifully photographed Christmas cookies.
Reeling, she escapes to her home in upstate NY …
I longed for the feel of knife in my hand, the heft of water splashing into a pot.  Yearned for the joyous sizzle, burble, and hiss that are the ever-changing soundtrack of the kitchen. I missed the daily transformations: fruit ripening, dough rising, bread toasting into golden slabs.  I'd always thought of these elemental pleasures as minor diversions, but now I understood they they're the glue that holds my life together….in a world filled with no, it is my yes.
This long-time food writer and one time NY Times restaurant critic has made a career of haute cuisine.  But here Ms. Reichl shares her appreciation (and recipes) for simple meals, often made with farmer market obtained fresh ingredients.  She has eaten the world's best food in the finest restaurants, yet upon bringing home spring's first asparagus, she cooks it quickly, drizzles it with fine olive oil and eats the spears by hand while still standing at the stove.
Ms. Reichl uses food as a gift of love, not only for herself, but also for her friends and family.  Whereas before, she would have gone to someplace fancy with lowered voices and expensive menus, now she entertains at home, serving her home-made meals around her table where everyone happily lingers, talking until the wee hours.  She looks around and feels at peace and finally, at home.
In terms of a cookbook, the recipes are wonderful.  Not overwritten with just the right amount of instruction.  There are plenty of Asian inspired entries, but nothing too complicated.  I just counted and I have pencil checked at least 25 in the index to try – Fresh Apricot Pie and Food Cart Curry Chicken are in the plans for the near future here in the Book Barmy kitchen.
I have read all of Ms. Reichl's books (list HERE) and they range from her early childhood with a mother who was a horrible cook to one of my favorites Garlic and Sapphires which recounts her days as a restaurant critic (which often required donning various disguises).  During the year after Gourmet, she also wrote a novel called Delicious – a fun plot which mimics her own experience — namely, the closing of a food magazine and the poor writer who stayed behind to answer all the on-going readers letters.
You don't have to be a hard-core foodie, or a past subscriber to Gourmet Magazine to enjoy any of  Ms. Reichl's books.  But, if you appreciate good cooking and delicious meals, do go ahead and treat yourself to your own copy of My Kitchen Year.  
(Thank you Susan)

Save
Save
Save
Save
Save
Save
Save
Save
Save
Save
Save
Save
Save
Save
Save
Drop Dead Healthy by A. J. Jacobs
One Man's Humble Quest for Bodily Perfection
It's January and all thoughts here at Book Barmy turn towards new beginnings. It's time to clean out the fridge, toss the leftover Christmas cookies, make a salad or two and get back to the gym – or at least dust off and organize my gym bag — small steps, folks, small steps.  So what better book to read than this?
In terms of dusting things off, I've had Drop Dead Healthy on my shelves for ages and never opened it.  Strangely, I can't remember where I got it.  I wonder if it was a gift from a well-meaning fit friend?  But then I remembered, I bought this book last January during what now appears to be my annual mission to transform myself.  As one of quotes on this books says, "Why go to the gym when you can sit and read a funny book about it instead?"  USA Today
During this month of repent and resolutions, we are bombarded with a myriad of health fads, hard-sell gym memberships, hundreds of different diets —  not to mention, legions of healthy living articles, cook books and television shows.  Mr. Jacobs, on his own quest to get healthy and fit, takes us through his experimental dips into many of these fads and trends .. all with very funny results.
He goes "Caveman" with the Paleo movement and enjoys their diet of nuts and berries (but passes on crushed insects, despite their reputed high protein value).  I laughed out loud when Mr. Jacobs tries a pole dancing workout class where he was the only man among fifty women wearing high heels and sporting an alarming amount of cleavage.
In an attempt to combat the "Crimes of Excessive Sedentary Behavior" and consume extra calories while working, he bypasses the webpage advertisements for $400 treadmill desks and rigs up his own version — with his laptop perched on a stack of four cardboard boxes that teeter on an end table at the end of the treadmill — and he even dares to include a photo.

Mr. Jacobs mystifies his family by bringing home a toilet seat that requires a third world squatting pose to navigate, which he read was healthier than the conventional sitting position – again a photo is provided — thankfully, with the author fully clothed

Jacobs tries veganism, raw food, Atkins, juice cleanses, along with dozens of other diets.  He tries Cross Fit, anti-gravity yoga, running barefoot though New York (ouch and yuck) and Stroller-cise with other new moms and dads — "I push Zane's stroller through Central Park while jogging, jumping, stretching and getting stared at".

What Drop Dead Healthy does best is detail the author's personal experiences and reactions — much like sitting with friend over coffee (non-fat of course) and listening to his funny and self-deprecating stories of trying to get fit and healthy.  However, we are laughing WITH him….not at him.  In fact, we cheer along as he posts his periodic checkup results and his slow, but steady weight loss.

Even the appendixes are fascinatingly funny – from how to fit in exercise all day long; "wear a diving weight vest all day – be prepared for suicide bomber jokes"  (or potential police arrest, I'd venture) to best food advice; "Don't be so obsessed with healthy food that you end up alone in the corner eating organic kale and silently judging your friends."
There is humanity to Mr. Jacobs story.  He finds inspiration in his loved ones.  His 90-year old grandfather who remained active in community affairs long after his formal retirement, his eccentric Aunt Marti, those adorable but rambunctious sons, and his endlessly patient wife, Julie–all are a constant reminder that healthy relationships are paramount in any well-lived life.  In the end, we are motivated to get some exercise in any way we can and eat healthier —  but the larger lesson is that health is highly personal – each of us must choose what feels right and healthy for us – a  balance of body, mind and spirit.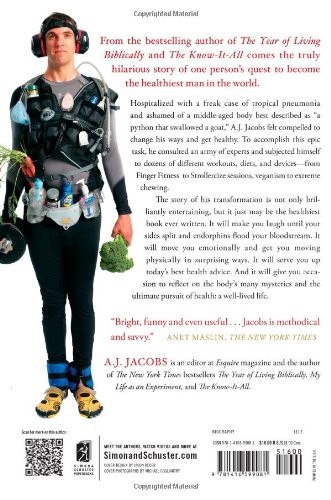 I just have to show you the back cover~~~
N.B. I also learned that drinking ice water burns 8 calories a glass. If you drink 8 glasses, that's 64 extra calories a day.  Now let's see, a small glass of wine is 100 calories…

The Sweet Life in Paris
By David Lebovitz
I've been busy baking for the holidays.  I'm not a baker, but there's a couple of traditional holiday treats I bake to send to family and give to friends.  As Husband and I cleaned up the mess – (powdered sugar is such a beast)…I remembered this book which lives happily on my books to keep shelves.

David Lebovitz is a well-renowned pastry chef and baker from here in the Bay Area (of Chez Panisse fame) who moved to Paris.   
The Sweet Life in Paris is a collection of recipes interspersed with reflections on his adopted city. The observations about Paris are wonderful, his grumpy view of American tourists with their fanny packs and flip flops —  to his very funny riff on French men in their "religion revealing" bathing suits. He also writes unflinchingly about the frustrations of living in Paris.  He can't get a visa without first opening a bank account, and the banks won't open an account without a visa, as it requires extra paperwork. (He ends up bribing a friend of friend who works at bank with box of chocolates.)

"Unlike in America, where everyone is taught to say yes, in France, oui means more work."
Mr. Lebovitz is confounded by the frequent French workers strikes and angry at Parisian's inability to wait in line at the grocery store
"In Paris there are only two reason you can cut in front of others waiting in line:
1. Because you are old, frail, or have a physical disability that prevents you from standing for long periods of time.
2.  Because you don't think you should have to wait in line behind anyone else."
There are the Parisian shopkeepers who would rather smoke outside than sell you cheese that you are obviously unworthy of, the mind-numbing process of returning an item that broke with its first use and the alarming pedestrian pushing

But the curmudgeonly writing can't hide the author's true love of Paris and especially its culinary delights —  the chocolate shops and their beautifully artistic offerings, out of the way cafes that serve simple steak aux pomme frites, the bakers who work through the night catering to the French demand for their morning croissants and afternoon baguettes.
There's one chapter (and a recipe thank goodness) called "Hot Chocolate to Die For", which will cause you to run to the kitchen to unearth some baking chocolate and whole milk.
And the recipes —  mon deux! — just listen to these temptations  … Chocolate Macaroons, Breton Cake with Fleur de Sel, Dulce de Leche Brownies and there's even a Caramelized Apple Tart which is supposedly low fat. 
But I found the most valuable pages are his appendix of favorite places in Paris for baked goods — the best croissant in Paris (why yes — yes please) –not to mention the best chocolate shops – priceless  
This is delightful and funny book filled with the charms and eccentricity of Paris.  But the main reason to get this The Sweet Life in Paris is as a "gift" for your favorite baker — and secretly hope you'll get to share in the results.

N.B.  The author reveals his favorite place in New York City – City Bakery for salted croissants and thick hot chocolate with a homemade marshmallow.  Just look at this – possibly worth the 3,000 mile trip.