I needed a break from reading three dark thrillers in a row (just finishing my last one – really good, but more on that later.)
So I slipped over into the warm comfort of this book.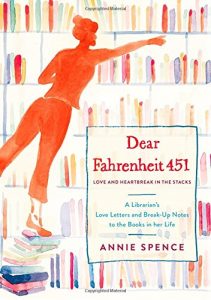 Dear Fahrenheit 451 by Annie Spence
Love and Heartbreak in the Stacks
A Librarian's Love Letters and the Breakup Notes to the Books in Her Life
Ms. Spence is a young librarian and both her reading taste and vernacular reflect fresh, edgy thinking.  This makes for a very different sort of book about books.  No guilt-inducing, preaching on the books you ought to have read (I'm looking at you Clifton Fadiman).  Instead, Dear Fahrenheit 451 is comprised of breezy takes (or letters) on the books the author has read, owns, loathes, comes across, culled from the library stacks, or had patrons request.
Ms. Spence's casual writing voice is scattered with cursing and some sex. There's a letter to a book called The One Hour Orgasm which you'll just have to read for yourselves, I blush — anyway suffice it to say, this book never gets boring.

Ms. Spence's love of books and what they mean shines through. But she also reflects on the often unspoken truism that readers can, and will, fall out with a book, there are indeed books that become irrelevant, books that leave us angry, annoyed, or the worst offense of all – a book that leaves us flat.
Here's some of my favorite snippets:
Dear Fifty Shades of Grey,
You made me say "erotica" to an old lady.  I'm going to hate you forever for that…
Dear Miss Marple Series,
You guyssssss!  I just want to thank you for being there for me.  Everybody loves you.  Seriously, everybody.  I mean people who like mysteries – Doy.  But also, did you know that truckers love you?  You guys on audio are like a gateway drug to reading for truckers.  Also, kids who read way above their grade level and are bored with everything in the children's section.  …and teens with helicopter parents who want to make sure they aren't reading novels with sex in them (as a rule, murder in a book is A-okay with these folks).
Dear Pictorial Anatomy of the Cat,
I don't know how you got here.  Without your book jacket on – which is who knows where – one might have assume you were some sort of mythical fairy tale about kitties.  But in reality your insides …are about insides.  But don't get me wrong.  I thought you lateral view of the abdominal viscera was neat. But, can I say something?  You're creeping people out. You go on and on about the cutaneous maximums.  This is a public library. So…Go'way Now, Annie
Dear Another Saturday Night of Wild and Reckless Abandon:  A Cathy Collection,
I had to give (my friend) a little lesson on Cathy, Cathy.  Because when you're not talking about dating insecurities and how to eat feelings, you were one of the first to address the contradictions of the women who's trying to "have it all".  You discuss the wage gap, mansplaining, and sexual harassment.  You try to explain fluid gender roles in a way Cathy's own mom might understand.  Yeah, Cathy has a messy room and frets over her terrible hair.  She's trying to figure it out.  That's what makes her so lovable. I'm proud to put you right by my Gloria Steinem essays and Bad Feminist.  You may be a collection of cartoons, but you're part of the sisterhood. You're my favorite 80's woman.
So, aach on girl, Tiny heart, Annie
Towards the end, Ms. Spence also give us 'special subject' essays such as 
"Excuses to tell your friends so you can stay home with your books
"Falling Down the Rabbit Hole-books that lead to more books"
"He's Just Not That Into Literacy: Turning Your Lover into a Reader"
There's a wonderfully funny letter to a Fancy Bookshelf at a Party I Wasn't Technically Invited To, where, while hiding by the bookshelves, she snarks on the styled books, knickknacks and art — not to mention, the hostess.

Ms. Spence dedicates a letter to book group discussions, which she often overhears at coffee shops or the library, and has to resist the urge to break in saying — 'OMG, you're missing the whole point of the book –step aside and let a professional take over'.
The final epilogue is a endearing shout out to the importance of librarians and libraries.  Dear Fahrenheit 451 would be a perfect gift for any librarian, library workers or book-lovers on your list.  It's a little early for the holidays, but at the very least add it to your own TBR list.  I know you have one.

+++++++++++++++++++++++++++++++++++++++++++++++
Dear Fahrenheit 451
I read you in small doses which proved most enjoyable. Equally enjoyable was the long list of books added to my TBR list thanks to you and your charming, and approachable author.  We have much to talk about, hey let's meet for a glass of wine.  I'll be the one in the corner with a book ~~ BookBarmy.

+++++++++++++++++++++++++++++++++++++++++++++
A digital review copy was provided by Flatiron Books via Netgalley.
Save
Save
Save
Save
Save
Save
Save
Save
Save
Save
Save
Save
Save
Save
Save
Save
Save
Save
Save
Save
Save
Save
There's an endless number of books about books and I gravitate to them like a moth to flame.  As I've said before on this blog, it's a sickness I tell you, and I just can't help myself.
This intrigue, for me anyway, is all in the shared pleasure.  What are others reading?  What books have they liked, nay loved?  Please discuss.  How do they read – favorite nook, coffee shop, bed?  Tell me more.  How do they keep track and record their thoughts on the books they've read?
But most interesting is why people read.
Over the last few months (in between other reading), I've devoured three such reads, from different authors, and each with different viewpoints on the importance of books and reading in their lives.
+++++++++++++++++++++++++++++++++++++++++++++++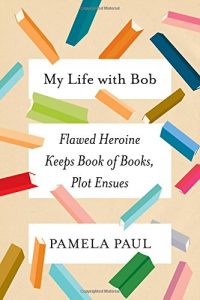 My Life with Bob, by Pamela Paul
Ms. Paul is the editor of the New York Times Book Review and has keep 'Bob' — her Book Of Books — by her side since high school.  How could I not instantly like someone who has kept a journal of everything she has read  for 28 years? Talk about kindred spirits.
My Life with Bob is a memoir, cum literary critique with short chapters that reflect on a childhood where being "such a reader" proved to be sometimes lonely and to college where she berates herself for not having read Trollope or the Greek plays – "oh, the shame of being under read".
Each chapter recounts pivotal points in her life, from divorce to the death of her father, where reading gave her strength, encouragement, solace or just plain escapism.  She charts her life through her list of books in Bob and sees how she was formed by reading– from finding herself as a teenager through books, to ultimately a career in the book trade.
In my Book of Books, I can see the way these choices line up and read the signs along the way that reveal those decisions.  Here, a novel selected with deliberation; the next, a matter of circumstance.  This one was assigned, but that one a book I was dying to read.  My mother-in-law gave me that book.  This other one was found in the common room of a New England bed-and-breakfast.  All of those choices.
Ms. Paul is funny and poignant and I found myself chuckling with her insights and admissions.   After an easy, uncomplicated birth, she arranges to stay an extra day in the hospital, just so she could finish her book.
Ms. Paul takes us on her journey to becoming a major player in the book review world and how when overjoyed at a promotion from children's book editor to chief editor of the Book Review, her children were dismayed and thought she'd been demoted.
My Life with Bob is for anyone who is a reader before almost anything else and will inspire you to start keep track of your reading thoughts.
I only wish I kept a book of books since high school.  Alas, my written records only go back to 2000, when a dear friend gave me my first book journal.  But I have happy memories of my early reading and the books I loved — My Friend Flicka, Anne of Green Gables, Beautiful Joe, Heidi and, of course, Little Women. 
But I digress, here we go with some more books to add to your reading list.
+++++++++++++++++++++++++++++++++++++++++++++++
Books for Living, by Will Schwalbe
Mr. Schwalbe, is the author of the best seller – The End of Your Life Book Club, which documents the books he and his mother read as she lay dying in the hospital.  (Resisted reading it, thought it might be too heartbreaking, but now maybe I'll give it a try.)  The author now takes to the page to address how books can fit with the the noise and distractions of our modern world.
In his introduction he writes that reading is "a respite from the relentlessness of technology" and that at the heart of our over-connectiveness is fear —
–fear that we are missing out on something.  Wherever we are, there's someone somewhere doing or seeing or eating or listening to something better. 
He goes on to surmise that this brings on a loneliness that separates us from ourselves — and that by reading we can open our minds and grow into our own possibilities of life and living. (Not to mention a un-plugged hike in nature.)

Each chapter covers a topic in which books and reading played a key role in his life.  Everything from 'Embracing Mediocrity' to 'Admiring Greatness' — there's a beautiful chapter on loosing a childhood friend and how re-reading David Copperfield and his loss of Dora gave him comfort.
Mr. Schwalbe introduced this reader to the Chinese philosopher Lin Yutang and his famous book, The Importance of Living "is about the need to slow down and enjoy life. And, it is about the importance of books and reading."  (Don't worry, it's been added to my TBR list.)
It is clear that the author carries his heartbreak with him —  the loss of his mother and dear departed friends:
We can't do much for the people we've lost, but we can remember them and we can read for them: the books they loved, and books we think they might have chosen.
Mr. Schwalbe covers a wide range of books from many genres —  The Odyssey, The Girl on the Train, The Little Prince, and one of my favorites,  Anne Morrow Lindberg's – A Gift From the Sea.  He even finds a place in his reading life for cookbooks, like me, he recognizes they can be far more than just recipe collections.

The appendix for Books for Living lists just over 150 authors, books, plays, poems, stories, and journal articles which Mr. Schwalbe references in Books for Living.  You definitely be adding books to your own TBR list.  A most enjoyable read for any bibliophile.
While Mr. Schwalbe and I share much when it comes to reading, I was delighted that he is also considered odd — as we both are known to start conversations with —  "What are you reading?"
An advanced reading copy was provided by Alfred A. Knopf
+++++++++++++++++++++++++++++++++++++++++++++++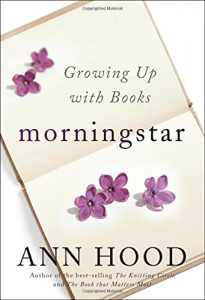 Morningstar, by Ann Hood
This delightful little book tells of Ms. Hood's coming of age and how reading shaped her. She breaks the book into ten chapters or lessons — each centering on a book that changed her outlook, built new dreams, or taught her valuable lessons.
The first chapter, or Lesson 1, is entitled How to Dream, and centers on Marjorie Morningstar by Herman Wouk.  (Thus the title "Morningstar".)  Ms. Hood read the book as a teenager trapped in a Rhode Island mill town.  Marjorie Morningstar allowed her to dream of something bigger.  She re-reads it every year:

Maybe that's why I reread it every year. Maybe, as time beats me up and grief or loneliness or a new kind of bittersweet melancholy take hold, I need to remind myself to keep going, keep reaching, to not forget the girl who believed she could have everything and anything at all.
Like the other two books on books, I felt a kinship Ms. Hood, but this time because of our similar ages. I found myself recognizing her descriptions of  growing up in the 60's & 70's — with the Viet Nam war on television, girls-only home economics classes, and listening to Simon and Garfunkel.  There was the confusion of the world breaking open with the women's movement, communes, hippies, civil rights — all contrasted with our girl scout activities and mothers having dinner ready for dad's homecoming each day. We were both girls who hid from this confusion by escaping into the other world(s) of books.

Upon being discovered secretly reading Little Women during class, her elementary school teacher asks her to stay at recess:
"You're reading Little Women?" she asked, looking at the book in my hands.  I nodded.  "And you understand it?", she asked.  Again I nodded.  Then she asked me tell her what the book was about.  At this, I began to talk, about Marmie and the March sisters the plays they put on, about Laurie next door and vain Amy and Jo who wanted to be a writer and how Beth died.  I told her it was about family but also about war and dreams and writing and…"And", I said, "everything.  It's about everything."  Now it was Miss Nolan who nodded.  She paused, then pointed to the books that lined the bookshelves in the back of the classroom.  "I don't want you to go out to recess anymore", she said.  "I want to you to stay inside and read all those books".
(I never had the fortune of such a teacher letting me skip recess or P.E. – sighs of envy.)

Ms. Hood grew up without books at home, and she tells of going to the local library and checking out whichever books were the biggest, (Anna Karenina, Les Miserables)  so she could get the most reading per book.  There's a section where a bookstore opens in a mall close by and she revels in the possibility to buy and own a book of her very own.
In Lesson 8: How to Have Sex, Ms. Hood recounts reading The Harrad Experiment which opened her mind about sex and the sexual revolution —  where sex didn't have to become intertwined with love and marriage.  (I vaguely remember reading a borrowed copy in high school, and found it both embarrassing and eye opening.)

Ms. Hood could be describing many bookish children growing up, we all felt this way at one time or another:
How can I describe what reading gave to me? An escape from my lonely school days, where girls seemed to speak a language I didn't understand. A glimpse into the possibilities of words and stories. A curiosity about the world and about people – the young Amelia Earhart seeing her first plane, Helen Keller's silent world, Nancy Drew solving mysteries, David Copperfield surviving the streets of Victorian London.
But, fear not, the author enjoys pure pleasure reading:
Even now I like to sometimes indulge in the guilty pleasure of reading a book that literary snobs would never consider reading. And I enjoy them, those paperbacks I don't mind leaving behind on an airplane. They make long flights pass pleasantly. I don't have to marvel at the use of language or metaphor or puzzle over how the author pulled off such a mind-bogglingly intricate plot. I just read it and forget it, perhaps a habit I learned back in high school when I read any book I could get my hands on.
Morningstar is a lovely book and it reminds us that books can form a childhood – give escape from confusions – spark dreams of bigger things and open us to other worlds.
A digital advanced readers copy was provided by W.W. Norton & Company via NetGalley.
+++++++++++++++++++++++++++++++++++++++++++++++++
So there you go, BookBarmy fans, three more books about books to re-read, books you haven't read, books you need to read, books you may want to read, books to consider reading…
But, no, no I'm not crazy… really..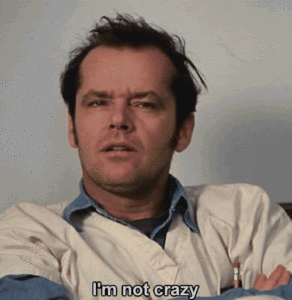 Save
Save
Save
Save
Save
Save
Save
Save
Save
Save
Save
Save
Save
Save
Save
Save
Save
Save
Save
Save
Save
Save
Save
Save
Save
Bringing Home the Birkin
by Michael Tonello
My Life in Hot Pursuit of the World's Most Coveted Handbag
In the words of Monty Python …
and now for something completely different. 
If you could see me right now in ratty jeans and a favorite soft sweatshirt found at Goodwill, you'd seriously question why I would read, let alone recommend, this book.
And you'd be right, I could care less about designer clothing labels or bling from Tiffany's — but I do have a weakness for a good bag.  (There was an incident at a Coach factory store in New Hampshire [no sales tax], where mid purchase, my credit card company shut me down thinking my card was in the hands of a thief on a spending spree — but the incident was all sorted out and we shall speak no further of it.)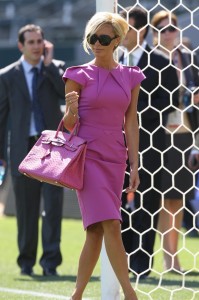 Back it in the 90's, Hermès was known for their coveted Birkin handbags – and the infamous five year waiting list to obtain one of the bags. This urban myth was perpetuated through the cultural icons of the time such as a Sex and the City episode and Victoria Beckham's astonishing pink Birkin. They were (and still are – just checked eBay – yikes) the ultimate elite status symbol.
At a starting price of $8,000, a Birkin is well beyond my means or my conscious.  But still, a girl can dream right?

That's why I stopped short when I came across Bringing Home the Birkin. I found myself turning the pages, warily thinking — this is not the book for me, I'll just read a little bit…and before I knew it, I was enthralled by this frothy, engaging and funny tale.
Michael Tonello moves from Cape Cod to Barcelona, Spain, but once there the job he has lined up, falls through.  Having fallen for both Barcelona and a new man, Mr. Tonello turns in desperation to his favorite pastime — shopping, which leads him into Hermès stores where he buys scarves to resell (at a very good profit) on e-Bay. When one of his scarf buyers asks him to obtain a Birkin, (at any price) he takes on the challenge.
This proves to be a formidable task as Hermès made sure the Birkin bag remained ultra exclusive, by instituting a waiting list with high-profile customers, limiting the number of Birkins sold to each customer and  putting a "reserved" sign on display bags.
Mr. Tonello riffs on the likelihood of the "reserved" ploy with this passage:

I could only imagine the conversation:  "Oh yeah, the croc Birkin, right, great.  But I only have half the money now,  — repairs on the yacht this week you know how it is…don't sell it, just put in the window, pop a reserved sign on it or something.  I'll send the chauffeur by with the other half by next Sunday at the latest — Great great.  You guys are the best…"
Hermès' strategy worked and customers fell for it–blinded by the rarity and social status. Mr. Tonello knew this human failing only too well and he finds it fairly easily to obtain numerous bags, but only after he develops a buying formula, a special outfit (!) and profiles of typical Hermès sales personnel in order to befriend them (one of the funniest sections of the book are these employee "profiles" – and their accompanying illustrations).  He journeys to Luxembourg, Capri, Santiago, Paris –all in search of Birkins, which he sells at a tidy profit to his shamefully rich clients.

Just when this tale of over the top consumerism is almost getting to be too much, a family tragedy causes Mr. Tonello to examine his conscious.  He reflects on what is actually important in life and discovers he can no longer deal with "people who lacked for nothing, but who longed for more". 
With that said, Bringing Home the Birkin is not high moral reading.  This is a guilty pleasure — a fun peek into the world of high fashion, high stakes shopping and the extraordinarily rich.  But it also shines with beautiful locations, great hotels, top restaurants — and most of all the fascinating, funny and outrageous Michael Tonnello.

+++++++++++++++++++++++++++++++++++++++++++
Why is it called a Birken?  Well the story goes that Jane Birkin was flying from London to Paris in 1981 when she reached into her bag for her datebook and everything fell out. "I'd love a bag with pockets," the English singer/actress told her seatmate.  Her seatmate just happened to the chairman of Hermès. He was a good listener. He had his designers make not only a bag with pockets, but also a spill-proof closure. He sent one to Birkin and then he named it after her.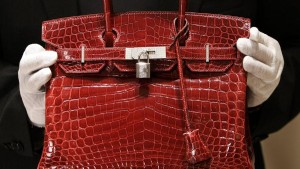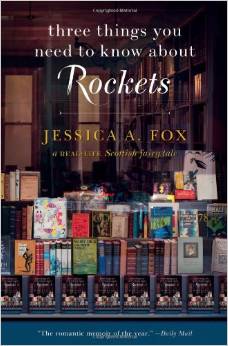 Jessica Fox was living in Hollywood, an ambitious 26-year-old film-maker with a high-stress job at NASA. Working late one night, craving another life, she was seized by a moment of inspiration and tapped "second hand bookshop Scotland" into Google. She clicked the first link she saw.
A month later, she arrived 2,000 miles across the Atlantic in Wigtown, on the west coast of Scotland, and knocked on the door of the bookshop she would be living in for the next month .

This book had me from the above back cover copy.  Could it be because it takes place in a bookstore or because I spent time in Scotland during college and still have a soft spot for its enchantment or a certain young Scotsman?  Nonetheless, this memoir is a fun, escapist read…and you've got to admire a writer who dares bring such a title to a publisher.
It takes awhile for the story to take off (i.e. going to Scotland), but the background of L.A., NASA, and film writing was interesting.  Her melt-down and eventual lay off were nicely developed.  But I was finally glued to the book once Jessica is actually in Scotland, working at the bookstore and experiencing much of what I did – deciphering the accents, dealing with "American" stereotypical reactions, experiencing the gorgeous countryside and getting to know and understand  the  hard to get to know and understand people.
Jessica's voice starts out a bit youngish —  after all she is in her twenties, but at times she seemed adolescent in her actions and thoughts.  Her boyfriend Euan is a whiny, wimpy – dare I say – nutso boyfriend, whom I would have dumped,  fast. But Jessica forges ahead with trying to make the relationship work – despite his passive-aggressive behavior.  I found myself rooting for her while also secretly hoping she tells him off and slams the door behind her.  It's a slow delight, to watch her mature during her time in Scotland, her reactions to things, her voice, her moods all grow and enlarge as the book progresses.  That's a real challenge in memoir writing —  to realistically reflect one's own voice expanding and growing.
I underlined some great sentences:  " Grant's house was something he was constantly working at but never quite completing — like Sisyphus attempting DIY"; "You're so American, always wanting to talk about feelings";  "(Outings) reminded me of childhood where outings, no matter where or with whom, were filled with possibility and opportunity for excitement.".
A small joy — each chapter starts with a quote from a book and its location in the Wigtown bookstore – (aptly named "The Bookshop").
In the end nothing is totally resolved – except she is staying in Scotland.  An enjoyable memoir whose storyline interested me on many levels – her NASA career, adapting to Scotland, the used bookstore, the town, and of course the story of her relationships with not only her crazy boyfriend, but also the quiet and hard-working locals.   I also enjoyed the very realistic glimpse into rural Scotland and the used book business in Wigtown.