Waiting in the Wings, by Geene Reese
Even though I've lived in San Francisco for 35 years, I never tire of its physical beauty, architecture, diverse culture, and most of all, this city's colorful, and often, disreputable history.
So, I was very excited to receive Waiting in the Wings, a historical novel set in prohibition-era San Francisco and based on the true story of the author's great aunt.
From the introduction: Hidden in a compartment of my grandmother's bottom dresser drawer was an old scrapbook.  Pressed inside were photographs of a beautiful young woman and hundreds of newspaper clippings about vaudeville shows and the movie industry.  This, is how I learned about my great aunt Ruby Adams.
This is no dry historical biography, in just the first pages, both Ruby, a beautiful, spunky vaudeville performer, and 1920's era San Francisco sparkle to life.  For a San Franciscan, the opening chapter is pure delight as we walk the sidewalks of the city with Ruby  — leaving the original St. Francis Hotel, crossing street-car-crowded Market Street, and into the historic Strand theater.  On our way, doormen greet her and others smile in delight –everyone knows Ruby and her delightful vaudeville review.
This is a time of transition for vaudeville theater, as the moving picture industry is starting to encroach.   Ruby, with her striking looks, is contemplating a move to moving pictures, but still gaily performs her vaudeville routine in the historic theater where she practically grew up.
We join Ruby as she prepares for her nightly performance, observing both the back stage workings and the show performance itself.  We are also with Ruby, that fateful evening, when she is injured in a back stage accident.
Ruby's injuries are extensive and the accident, upon investigation, reveals negligence. Her career over, Ruby files a lawsuit…and here Waiting in the Wings takes a compelling turn.  Ms. Reese takes us into the corruption and prevailing attitudes of the time, with unscrupulous lawyers and shady dealings behind the scenes.
At this point in the novel, some non-San Franciscans may get bogged down with the name dropping.  And yes, there are numerous names to keep track of  — greedy politicians, questionable judges, and shady lawyers.  Many of these names are still famous here today — Spreckles, Newsom, Davis –and, while I found it rough going at times, it was still fascinating.
Throughout it all, Ruby is resilient and carries on with unflagging spirit. There is romance as Ruby is buoyed through the ordeal by the affection of quirky, but lovable, speakeasy owner "Coffee Dan".
This story of legal shenanigans and "death by a thousand delays" moves ahead with the help of actual newspaper clippings (with photos) and snippets of court documents. I won't spoil the outcome, except to say, the case ends up in Superior Court.  I found Waiting in the Wings fascinating and compulsive.  I had to keep reading to find out what happens to our brave Ruby Adams.
It is clear that Ms. Reese did an enormous amount of research.  This gives Waiting in the Wings pitch perfect realism   — from the jargon and dialogue of the era, to the weather, the newspapers of the time, even the popular boxed candy gifts of the era (some still in business today).
But, most strikingly, this realism allows the reader a time capsule view of 1920's San Francisco — with lovingly re-created scenes that pull from our city's rich history, buildings, diverse neighborhoods and the never-ending, conga line of eccentric and questionable characters — nothing much has changed.
A copy of the book was provided by the author, in exchange for a honest review.

Save
Save
Save
Save
Save
Save
Save
Save
Save
Save
Save
Save
Save
Save
Save
Save
Save
Save
Save
Save
Save
Save
Save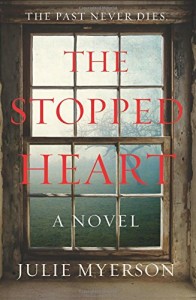 As a dedicated book maniac reviewer, I try and keep up with the cutting edge UK literary press.   I've been intrigued by an emerging genre which I'll call the 'creepy yet quaint British village ghost story*'. 
The Stopped Heart has been touted as such — a haunted house story set in the English countryside, with edge-of-your-seat suspense. Given its many stellar reviews and an enticing cover –I leapt in.
I know it's been overdone, but The Stopped Heart is, at first, boringly set in two time periods, and (yawn) has two narratives – one in the present with Mary and Graham Coles – and the other, over 150 years ago with the farm family who once lived in the Cole's cottage.

Delving further into what seems to be a predictable haunted tale, it's not only the Coles' cottage which is haunted — so are Mary and Graham.  They have escaped to this countryside retreat to recover from a tragic loss.  In the same cottage, 150 years in the past, Eliza narrates her large family's hardscrabble farm story.  Her sister, Lottie, strangely speaks of the present day family as if she knows them — and even names her kitten "Merricoles", a version of the name "Mary Coles".  Ghosts, spirits, a haunted cottage — so far – so good, right?  Get me another cup of tea and I'll keep reading.

Except it all starts to go very, very wrong when the mysterious red-haired James Dix enters the circle of Eliza's family.   Thus begins the disturbing spiral involving both time periods and parallel stories of betrayal, underage lust and ultimately, grisly violence. And like an ill-advised roller coaster ride, you know, with dread, whats coming — but there is nothing you can do to get off.  You're strapped into the ride and you just gotta hang on and keep reading.

Ms. Myerson gives no indication when her narrative switches from one time period to another.  I realized midway through the novel, that the author does this deliberately to enhance the fluidity of her past and present story-lines.  The Coles' modern-day cottage still harbors the violence of the past and Eliza and Lottie can sense the tragedy in the future. This can get confusing if you're not paying attention. But, pay attention you will, because while creepy and often violent — The Stopped Heart is a compelling page turner. (Fair warning to any parents of young children out there, this book contains violence with young children as the victims.) 
The modern day Coles struggle with their broken relationship, a surly teenage step-daughter and a sad flirtation with a neighbor.  In the past, Eliza discovers her own budding sexuality, while simultaneously demanding her own (often funny and spunky) feminist beliefs.  Meanwhile, the mysterious red-headed man disrupts everyone in both time periods. Some of the most intriguing writing involves Mary Coles "seeing" her kitchen and garden morph into the past. The smells, the dirt, the old furnishings all come alive through her eyes.
At the end of this gripping read, Ms. Myerson purposefully leaves many things unanswered – you won't arrive a pat ending – creepily, you'll continue to dwell on the events long after you've closed the book.
The Stopped Heart lead me to the edge of horror fiction, another blogger aptly labeled it "horror light".  I resolutely avoid horror fiction, I'm still recovering from my one (and only) Stephen King novel many years ago.
So why did I keep on reading well out of the limits of my comfort zone? 
I kept turning the pages because of the writing. This is an intensely dark reading experience interspersed with beautifully captured characters coping with loss and unspeakable tragedies — the suffering of a stopped heart.

I recommend The Stopped Heart with caution and warnings (see above) and it had everything stacked against it for me (i.e., horror light).  Yet, I had to keep reading and never once looked back.  Which says a great deal about the appeal of this book – a scary roller coaster ride  — you want to get off — but you can't stop enjoying the thrill.
*Others in the same genre include Susan Hill, The Woman in Black and Sarah Waters, The Little Stranger…both on my TBR list — maybe, once I recover.
Save
Save
Save
Save
Save
Save
Save
Save
Save
Save
Save
Save
Save
Save
Save
Save
Save
Save
Save
Save
Save
Save
Save
Save
Save
Save
Save
Save
Save
Save
Save
Save
Save
Save
Save
Save
Save
Save
Save
Save
Save
Save
Save
Save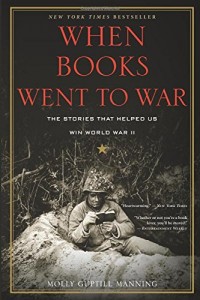 Unlike my previous post, where I talked about books that didn't meet my expectations, this book totally surprised me.
I picked up When Books Went to War as a gift for my mother (sorry Mom, now you know…) and thought I'd have no interest in reading it.   Mom reads more history than I do, especially WWII which she experienced as a young girl on the home front.
One evening, cuddled into my reading nook, I idly picked it up and started skimming – still thinking it wouldn't appeal.  But before I knew it, I was several chapters in, fascinated by the idea, creation, distribution and importance of Armed Services Editions (ASEs) paperback books.

The idea was conceived by a wartime government entity- delightfully named The Council on Books in Wartime.  Their slogan was "Books are weapons in the war of ideas". Prior to this, private citizens were asked to donate books for the troops, but the effort proved disastrous as citizens unloaded books they didn't want.  Additionally, this was before paperbacks had been fully embraced by either the publishers or the reading public.  The many donated hard backs proved unwieldy for use other than in military hospital libraries or training facilities.  No one had figured out how to print small, lightweight books that could be carried by infantry soldiers into the battle trenches.
When Books Went to War tells the fascinating story of how a few publishers employed the Reader Digest magazine printers to produce these small and invaluable volumes.  I learned how they used the two-up method — where two books were printed on one page.  Because of this, printers staff had the tedious job of counting pages, words and characters in order to match similarly sized books.  Given paper rationing, every page was used and an initial run had the typeface so small, they were impossible to read.  But after these few initial failures – the ASEs were born.
The book is interspersed with letters from the soldiers at the front – there's a brilliant description of the daily rigors of an infantryman to letters of thanks from soldiers who eagerly awaited the ASEs.
I want to say thanks a million for one of the best deals in the Army – your Armed Services Editions.  Whenever we get them they are as welcome as a letter from home.  They are as popular as pin-up girls – especially over here where we just couldn't get books so easily, if it weren't for your edition.
Private W.R.W and the Gang
The best chapter in the book is called Grab a Book, Joe and Keep Goin'.  The chapter title refers to the rule that when the books arrived, and the soldiers lined up the pick out a book, they had to just pick one and quickly move one.  They would trade them around later. This was to facilitate the very long ASE lines — much longer than the line for cigarettes.  These books filled many long lonely hours for soldiers.

There are many delightful tidbits – who would guess that A Tree Grows in Brooklyn was the most popular ASE?  And that hundreds of tough soldiers in foxholes wrote thank you letters to author Betty Smith (she answered every one).  Like me, you may choke up to learn that when men had to jettison items from their packs to save weight, they never discarded their books.
Towards the end of the war and after, the US continued to distribute these books to both to servicemen and, later, to European civilians who were starved for reading material.  The appendix lists just a fraction of the banned authors who books were banned and burned in Germany and German-occupied countries during the war.
The other appendix of this book is so fascinating I may have to keep this book (only kidding, Mom) as it lists every ASE published in date order, by series (A-B-C etc.) and issued number.  Classics, short stories, humor, essays, now-forgotten popular authors, many sports books and even a few science and mathematics books show up. Nothing dumbed-down here.   Would it be the same today, if there were a similar program?  To read through this listing of titles is a wonderful glimpse into the reading and publishing tastes of the time.  Not to mention, some of the ASE authors are the same as those on the banned book list.
When Books Went to War is an important cultural history; but it is also vastly readable, interesting and well researched.
If you love books, are interested in World War II and want to remember a time when Americans (and government) worked together for a common goal, read this book.
I wanted to see what an ASE looked like – here's what I found for sale on Ebay. Click to see full-size.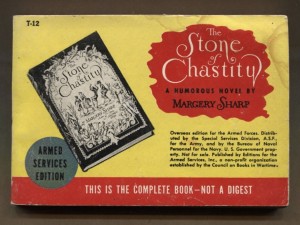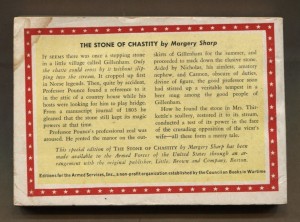 Save
Save
I was in Safeway, watching hapless men buy long-stemmed red roses for Valentines Day and silently cried "oh you poor guys, those aren't real roses!".  But 20 years ago, that too was all I knew of roses. Then my mother gave me this little book and it changed everything. Therefore, the subtitle for this post is: It was all my mother's fault.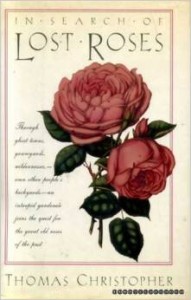 Once upon a time—before the 1860s—people loved old roses like "Baronne Prevost" "Marchionesse of Lorne," or "Autumn Damask." These were roses from the garden, richly scented and overflowing with petals.  The trouble was once cut and arranged, the beautiful blossoms only lasted a few days — oh but those few days were a visual and perfumed delight.  The artists of the time captured such lush rose arrangements even including their fallen petals.
Then some enterprising nursery folks developed the hybrid tea roses (as in those long stemmed red roses at Safeway).  These were easier to arrange (fewer thorns), more dramatic (brighter colors), and longer lasting (an arrangement of store-bought tea roses can last up to two weeks). But the saddest part of these new roses, was they had no scent…highly scented roses tended to be more delicate and less sturdy.  So they bred the scent right out of these florist favorites.  As so the old roses were all but forgotten.
But as In Search of Lost Roses tell us, these gently-hued, richly perfumed old roses made a comeback, thanks to the efforts of a crew of eccentric characters who rescued them from back alleys, ramshackle cottages, and overgrown graveyards across the country. Mr. Christopher recounts the fascinating stories of the old roses—how they were created and named—and the unforgettable people who saved them. We go from Texas to California to the American South to visit the interesting people who love and search for lost roses.  It's pure adventure as we join a group of "rose rustlers" as they sneak into secreted walled gardens, tramp through abandoned lots, climb over fences and visit forgotten cemeteries all in an effort to take and propagate cuttings from these old roses.
We meet the famous British old rose experts (Graham Thomas and David Austin*) and learn of how American pioneer wives brought rose cuttings from their far-away homes, lovingly keeping them damp during the journey. Even the rose nomenclature is full of politics, lost loves and secrets.  Mr. Christopher's discussion of rose genetics and propagation was fascinating – well at least to this rose geek. "Heritage' or 'heirloom' roses are defined as those bred before 1867.  No two old roses are alike – they come in all shapes – flattened, quartered petal formation, cupped or "overblown as a crinoline petticoat".  I devoured this book, taking notes,   and reading bits aloud to my husband who just stared at me quizzically.
Turns out a major hub of old rose fanatics is here out west, where old roses came out with the Gold Rush and were planted around the miners shack doorways, in parks and at loved ones gravesides.  When I closed the book I had a list and my mission was clear     must  — have — these —roses.
My first trip was to the Celebration of Old Roses just across the Bay.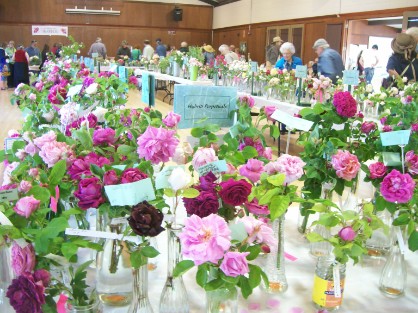 I stopped short, here was a huge room filled with old roses of every color, size, type  — and readers — the scent was intoxicating – my idea of heaven on earth.  Every rose was identified and categorized — China, Moss, Portland — (I could go on but I'll save you the yawns).  I took notes, talked to growers, got advice for my garden (ocean facing, high winds -not great for most roses but with these hardy old roses, I had a chance), and bought my first old rose bush Monsieur Tiller.  I met the celebrities of the old rose world – Miriam Wilkins  and the infamous Barbara Worl invited me to visit her garden in Palo Alto during the coming month. I came home happy, exhausted and full of plans.  My poor husband quietly mentioned, "but I thought we have a drought resistant garden, roses need a lot of water you know"…I turned a deaf ear and secretly vowed to take shorter showers.
My next trip, suggested by Mr. Christopher's book was here.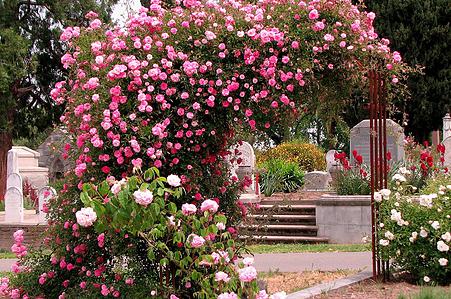 The Sacramento Historic City Center Cemetery.   Leaving home at the crack of dawn (not my finest hour), I joined a rose tour of the cemetery  during which we were allowed to take a few cuttings.  Then a workshop on starting roses from these cuttings -their technique uses zip-lock bags with soil, proper number of days closed and open, then you monitor the root growth …wow sorry — I started to geek-out there.
Soon I was happily starting roses from cuttings "obtained" on our trips. Click on photos to make larger
A climbing rose from an ocean front lodge in Mendocino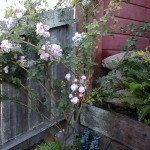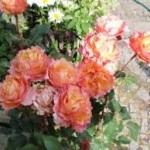 A 'found rose' from a roadside in Croatia.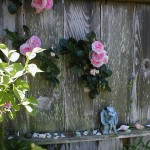 I have many David Austin Roses – here's one of my favorites – James Galway
And like all rose nerds enthusiasts, I mess around for hours arranging my cut roses and then walking by just to smell and admire them.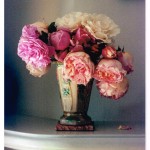 And so the tale is told, this is the little book that started it all 20 years ago.  Both the back and front gardens boast old garden roses and the deck has potted roses struck from cuttings I've rustled.
My name is Book Barmy and I'm a rose nerd.
But all geekiness aside, I dare you to read In Search of Lost Roses and not come away wanting at least one old rose for your garden.
Warning, I have another rose book to share with you at a later date — now that will keep you coming back.
* David Austin has developed a modern collection of old garden roses which are disease resistant, repeat blooming and have divine scents.  I have many of his lovely roses.  For some idea of their beauty click HERE
Code Name Verit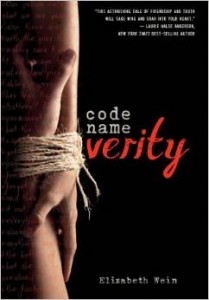 y was a totally unknown book for me –a gift from a friend.  I hadn't heard of it and didn't know anything about this novel.   So, one evening as I curled up with my new book, I  realized I seldom read books anymore without preconceived opinions — having read reviews or based on recommendations of my respected reader friends and family.   I remembered the magic of opening an totally unknown novel and I found myself anticipating this read with a tingle of excitement.
Note to self:  do this more often.
Book Description:   Oct. 11th, 1943-A British spy plane crashes in Nazi-occupied France. Its pilot and passenger are best friends. One of the girls has a chance at survival. The other has lost the game before it's barely begun.
When "Verity" is arrested by the Gestapo, she's sure she doesn't stand a chance. As a secret agent captured in enemy territory, she's living a spy's worst nightmare. Her Nazi interrogators give her a simple choice: reveal her mission or face a grisly execution.
The novel is targeted to the YA audience, but has a maturity that makes it suitable  for any age.    The structure is unique and fresh.  Verity is forced to write out her confession, give up military codes to get her clothes back one by one.  And does she write!  Verity writes and writes her confession in a sometimes meandering miss-mash of present, past, her friendship with fellow pilot  Maddie, details about the planes,  and most heartbreaking the suffering she and her fellow captives experience.
The confession is for Captain Von Linden (her captor) and it soon becomes clear that he is as interested in her story as gaining spy knowledge.  Verity knows this and she plays games with him during the writing.   It's a narrative to be read slowly and without distraction as historical details abound, there are humorous passages  and many clues are given.
The characters cross over mid-novel, the narrative changes and the story takes a major twist.  No spoilers here, just trust that things get really exciting and scarey.
I was drawn into these strong women (called girls throughout the book) and their equally strong friendship.  I was also fascinated by the historical details especially about England's WWII  women transport pilots.
I think readers of any age will be drawn into this war time novel of endurance, secrets, friendship, and most importantly strong women role models.