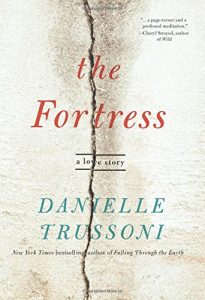 I'm busily sorting through my stack of advanced readers copies, which, I'm ashamed to say, have been piling up, unread, some for more than a year. Bad Book Barmy, very bad.
One of my January goals (beyond the annual diet and fitness ones) is to figure out which from the pile I will read and review for you, my loyal readers.
This one, with its lovely cover, ended up coming to bed with me the other night. My little book-reading light (because Husband insists on sleeping) stayed on well past midnight.
At first blush, The Fortress may seem like one of those typical memoirs recounting a romantic adventure of a couple finding, buying and fixing up a rundown French villa ~~ but no, it is so much more.  More complicated, deep, and especially, more real.
From the back cover:
From their first meeting, writer Danielle Trussoni is spellbound by a brilliant, mysterious novelist from Bulgaria. The two share a love of music and books and travel, passions that intensify their whirlwind romance. Within months, they are married and embark upon an adventurous life together.

Eight years later, their marriage in trouble, Trussoni  and her husband move to the South of France, hoping to save their relationship. They discover Aubais (pronounced obey, as in love, honor and . . . Aubais), a picturesque medieval village in the Languedoc, where they buy a thirteenth-century stone fortress. Aubais is a Mediterranean paradise of sun, sea, and vineyards, but they soon learn the fortress's secret history of subterranean chambers, Knights Templar, hidden treasure, Nazis, and ghosts. During her years in Aubais, Trussoni's marriage unravels with terrifying consequences, and she comes to understand that love is never the way we imagine it to be.
In The Fortress, Ms. Trussoni lays bare the consequences of her impulsive life.  Her whirlwind romance in Bulgaria and then purchasing a run-down French villa called La Commanderie.  Her husband confounds her with lies and he manipulates Ms. Trussoni into doubting her own sanity.  But she hangs on to her rose-colored perception of their love.  She refuses to give up, continuing to try and help the often cruel and increasingly psychotic Nikolai — trying to fix what is, in reality, a collapsing marriage.

The writing is starkly beautiful and Ms. Trussoni strikes a wonderful balance between both the dark and the beautiful sides of their love, their messy and often glamorous life, and what was versus what is.

We were both extraordinary and wrecked, naive and experienced, brilliant and stupid, our exceptional parts snapping together as seamlessly as the damaged ones.
And this heartbreaking passage when Ms. Trussoni's mother unearths her hope chest and explains, this was what most young girls born in the 40's or 50's did to prepare and dream about their future marriage.
It wasn't until later that I understood that I did in fact have a hope chest of my own.  Not of wood, not locked up and hidden under a stack of quilts, but a hope chest nonetheless, one filled with dreams about my life.  I believed in romance and destiny.  I believed in love at first sight.  I believed that when I found the right person, time would stop and we would be suspended in a state of endless passion.  There was no place in my hope chest for disappointment or failure.  There was no place for imperfection or broken promises or compromise.  And while my hope chest ideas might have had all the trappings of a good romance, they didn't have the capacity to hold real love.
I gobbled this book, reading it in great gulps  —  perhaps everything could work out, maybe some sort of redemption for them both.  But The Fortress is a stingily true tale of life — real, messy and rough around the edges.  Finally, there are legal battles, children's welfare at stake, anger, tears and a resolution (of sorts).

Rest assured, despite everything, Ms. Trussoni makes it through.   And in the end, this is a love story. You'll have to read The Fortress yourself to discover the happy ending.
An advanced readers copy was provided by Dey Street Books, an imprint of William Morrow.
Save
Save
Save
Save
Save
Save
Save
Save
Save
Save
Save
Save
Save
It's going to rain all weekend, so I just returned from the nutso grocery stores and I'm hunkering in to do some January clean outs.   You know, that pile of old tee shirts that I imagine I'll wear at the gym (if I ever went to the gym) or those stacks of CD's I never play anymore.
But instead (you knew this was coming) I headed to a seldom used bookshelf in the guest room and searched for books to get rid of.  Books are much more fun to sort through than tee shirts.
I came across this book which, from my notes inside, I read in 1990 – a year after it was published.
Should it stay or should it go?  Let's see, shall we?

The Day I Became an Autodidact,
and the Advice, Adventures, and Acrimonies That Befell Me Thereafter
by Kendall Hailey
First, because I had to look it up:
Autodidact: a person who has learned a subject without the benefit of a teacher or formal education; a self-taught person.
You may remember one of my favorite books  A Woman of Independent Means by Elizabeth Forsythe Hailey.  This autobiography, cum journal comes to us from her precocious daughter when she was just a teenager.
At age fifteen, Kendall decided to throw off the shackles of a formal education after receiving her high school summer reading list:
"Being told what to read by someone else is a violation of basic human rights.  Or at least basic literary ones."
So she graduates high school early, and pursues her own intellectual and artistic interests, at home with her fabulously oddball family – her novelist mother and her father, playwright Oliver Hailey.  This is her account of the journey.
Each entry begins with (capitalization is all hers):
WHAT I HOPE TO DO:  (Get a Head Start on Reading Everything Ever Published); and ends with WHAT I DID (Had a bumpy first date with Dostoevsky).
Kendall tears through Roman history and Greek plays.   Upon reading Aristophanes, she writes:
"Plays about the gods are always fun.  It is so comforting to think such cut-ups are running the universe."
As I thumb through this book, I find my underlining throughout —  who would not find an eclectic kindred spirit in a teen who reads and raves about Pride and Prejudice, Life With Father, Anna Karenina and The Murder of Roger Ackroyd. 
She raves about Will and Ariel Durrant (whom I've never attempted) but I agree with her on Henry James:
"Several readers were reported lost for years in a Henry James sentence."
The Hailey family is no doubt privileged — they jet off to England to purchase a third home and hobnob at Sardi's after Broadway openings. Throughout it all, Kendall is a typical teenager, but with an old soul.  She has a boyfriend, of sorts:

"We talked for an hour and a half until he had to leave for the orthodontist. It is hard to talk too seriously of love with someone who still has to go to the orthodontist."
And, has normal teenage angst:
"I have discovered that it does not really matter if I write, read or am nice to people.  All that matters is that I lose weight."
Kendall's view on nuclear war, while simplistic, struck a cord with me:
"I think everyone who has the power to start a nuclear war should be made to see Our Town at least once a day — until the last thing they want is the power to destroy life. If they could see how precious one life is, perhaps they would stop seeing nine hundred million lives as an endurable loss."
At times, she is wise beyond her years:
"The world is much too random a place for any of us ever to end up with exactly what we want, but then very few of us are bright enough to know exactly what we want."
I remember I found The Day I Became an Autodidact schizophrenic — at times irritating, entitled and narcissistic — but also funny, charming and whip smart – just like any normal teenager.
The book is staying for a re-read – now, back to my pile of tee shirts.
Save
Save
Save
Save
Save
Save
Save
Save
Save
Save
Save
Save
Save
Save
Save
Save
Save
Save
Save
Save
Save
Save
Save
Save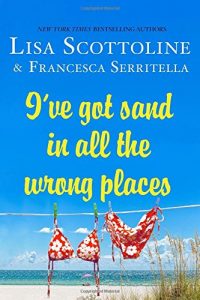 If you're a follower of Book Barmy, you may have surmised I'm not always a high-brow reader.  Yes, I read important books and am working through several classics (Trollope you're killing me, buddy), but some evenings I just want to zone out, with some plain light-hearted fun.
You may know Lisa Scottoline as the Edgar-Award winning author of twenty plus NY Times bestselling crime novels. I've never read any of those, instead I know her for her series of humor books. I've Got Sand In All the Wrong Places marks the seventh in this very funny series.
I find it impressive that Ms. Scottoline can write both page-turning legal thrillers (she practiced as a lawyer before becoming a writer) as well as this series of hilarious and witty books.    The material for these laugh-out-loud books derives from a Sunday column that Ms. Scottoline and her daughter, Francesca write for the Philadelphia Inquirer.  Each short chapter is a column from the paper written separately by either mother or daughter and each year a new book is derived from the year's columns. (Obviously Ms. Scottoline is not only a best-selling writer, she is also a canny business person.)
Ms's.  Scottoline and Serritella are strong, funny women who take on the subjects of daily life: love, dating, sex, no sex, pets, food, clothes, writing, traveling, health, hair, and more. No subject is off limits.
Ms. Scottoline's love of family is apparent on every page and cause for humor as she describes her relationships with her mother, brother, and daughter.  Mother Mary (her dearly departed mother) was often the funniest subject matter.
Mother Mary is out of the hospital, and recovery lies ahead.
For the hospital.
Her honest love of her menagerie of dogs was especially funny in her book Why My Third Husband with be a Dog ~ on her Golden Retrievers:
Here is what the Goldens are like: fun, easy, friendly, happy, and loving, on a continuous loop. You could have three Goldens in the room and not know it. They love to sleep. They love everything. Honestly, I kept adding Goldens because I forgot they were there. You could be sitting in a roomful of Goldens and think to yourself, "You know, we need a dog".
However, I find the best thing about Ms. Scottoline's humor is her normal-ness and self depreciation. Graduating from a top law school with honors, she decided to become a crime novelist and succeeded. Got give that some respect.

Anyway, my head was full of these thoughts the other afternoon, as I was hurrying in a downpour through the streets of New York City, there to take my author photo. I know that sounds glamorous and it would be if I were ten pounds lighter and ten years younger, but take it from me, the best fiction in my books is the author photo.
This latest volume again is both humorous and poignant as it deals with daughter Francesca's life in New York city which includes a brutal assault. But like the other books I found it funny, warm, down to earth, and, at times unpredictable
There's an essay on the holiday season and how in the past, Ms. Scottoline found it all too stressful, and resorted to holiday shopping on-line.  The news of a bookstore closing, has her vowing to shop in actual stores — especially bookstores (hail comrade!) – and that maybe it's supposed to be stressful.
It may be obvious as an abstract matter, but I realized that many other types of stores could go belly-up, if I keep shopping on my butt.  So I taught myself a lesson:  Vote with my feet. If I want to live in a community that has bookstores and all other kinds of stores, as well as local people happily employed in those stores, I have to out and buy stuff.  I'm putting on my coat and going shopping .  I look forward to the cranky shoppers, the waiting in lines, and the fighting over the parking space.  And I'm wishing you and yours a happily stressful holiday.
The terrifying CNN storm predictions for New York City has Ms. Scottoline texting and calling her daughter in a panic:
I became Hurricane Mom.   First thing in the morning, I called her, vaguely hysterical:
"Honey, did you see the TV? There's going to be a big storm!"
"Don't worry, Mom," Francesca answered, too calmly for my taste. "What are you doing?  Did you go food shopping?"                                      "I'm working. I don't need to go food shopping. I have food in the fridge."
"But do you have canned goods?"
"Canned goods?" Francesca asked, chuckling softly. "What are you talking about?"                                                                                                "Canned goods, canned goods!"
Francesca replied, "I think I have a can of beans…
"You need more beans, right away!"
"Why, what are you talking about? Please, you need to calm down."
"I can't! You need canned goods in case of a power outage! It's going to be a giant, epic, historic, emergency, monster blizzard storm!"
"They always say that."
"But they're right! This is CNN talking! Wolf Blitzer!"
"I'm OK."                                                                                                  "No,you're not! You're going to DIE!"
So you know where this is going. Drama ensued. Voices were raised. Things were said. Tears were shed. Mistakes were made.
Bottom line, there was a lot of passive voice happening, which is never a good thing, whether it's a federal government or a mother-daughter relationship.
But it had a happy ending. There was no epic winter monster blizzard storm. I apologized to Francesca for terrorizing her. Francesca apologized, happy that I loved her enough to terrorize her.Meteorologists apologized for their predictions.
As for Wolf Blitzer, we're not speaking to him.
So, there's just a small taste of the Scottoline-Serritella humor.  Their complete list of books can be found
HERE.
I highly recommend having this volume or any of the wonderfully-titled humor books by your bedside to dip into just before going to sleep.
Take it from Book Barmy, go to sleep with a loved one's kiss and, after a few life observations from Lisa and Francesca — with a smile.
A digital review copy was provided by St. Martin's Press via NetGalley.
Save
Save
Save
Save
Save
Save
Save
Save
Save
Save
Save
Save
Save
Save
Save
Save
Save
Save
Save
Save
Save
Mini-Review
Okay, I thought, another Tuesday's with Morrie-type book, but I opened it anyway the other night – needing a little break from my current WWII read.  And yes, Dinner with Edward is very much in the same genre.  The age-old story of a friendship between a young troubled character and an much wiser, older person.
Only this time, the older Edward is a gourmet cook and prepares delicious dinners for the younger, having-trouble-with-her-marriage Isabel.  Edward has just lost his wife and Isabel's friend (who lives out of state) asks her to check in on him by letting him prepare her dinner a few nights a week.  Together, they plot, this will keep Edward happy and busy, while giving Isabel a much-needed break from her failing marriage.
Each chapter starts with a menu of the glorious meal he prepares for Isabel and the drinks enjoyed before dinner — old fashioneds, martinis – grown up drinks. It is over these drinks and delicious food that the conversations, reminisces, and problems unfold.
I had trouble finishing this book, and found it dull and predictable — same old problems — same old trite wisdom's from an elderly man.  Slow down, enjoy life as if every day is your last, and even this quote from the book:
He knew that paradise was not a place, but the people in your life. (groan)

I never felt that "paradise" connection between Isabel and Edward, as each chapter reads like a disconnected short story.  Edwards memories and past experiences never really connect with Isabel's current day problems.  Stories are told, advice is given, and food is eaten.
And what food!  Each chapter only comes alive with the descriptions of the wonderful meals prepared by Edward. You look over his shoulder as he gently stirs sauces and grills perfect steaks with herb butter.  So I carried on, largely skimming the boring bits and reading for the food.    But, in the end (get this!) no recipes – none – I felt bereft, cheated somehow
One reviewer said Dinner with Edward combined the best of Tuesdays with Morrie with Julie and Julia – since I didn't like either of those books,  I should have had fair warning.
One saving grace, Edward describes, in detail, a method for perfect scrambled eggs.  It's on page 9 if you wish to avoid reading the rest of the book.
A digital review copy was provided by Algonquin Books via NetGalley
Save
Save
Save
Save
Save
Save
Save
Save
Save
Save
Save
Save
Save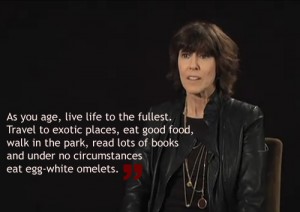 If you've been following Book Barmy, you know of my admiration for Nora Ephron.  I professed my devotion to her in this POST.
Last night I watched a wonderful award winning documentary about her life called Everything is Copy – trailer HERE.
This quiet but powerful film, had me glued to the screen, an extended visit with this beloved author, journalist, and screenwriter.  The film was written, directed and is narrated by her son Jacob Bernstein (her son from her marriage to the infamous Carl Bernstein).
Everything is Copy celebrates her writings, films, family, marriages and her many many friends. Nora is portrayed as smart, funny, urbane and sometimes insensitive and controlling  ("she always had a razor in her back pocket").
Her ex-husband (Carl Bernstein) speaks of her with guarded warmth and sisters Delia and Amy (also authors) speak of Nora with cautionary admiration.
It seems her friends and colleagues were her true family — her true admirers. Nora was everyone's favorite party host and dinner guest (I knew it!)— she purposely surrounded herself with smart, influential literary and Hollywood notables.
There are cameo appearances by literary icons such as Gay Talese, Victor Navasky, Liz Smith and Marie Brenner (Marie is deliciously filmed in front of her personal library).  Nora was schoolmates with Barry Diller and close friends with Mike Nichols and Bob Gottlieb.
Nora's essays are read by a range of celebrities including Meryl Streep, Resse Witherspoon and a odd looking Meg Ryan (she's had work done – badly, in my opinion.)
There are snippets of Nora's interviews from an early talk with Dick Cavett to a more recent interview with Charlie Rose.  Old color film of New York City brings to life her early, exciting days at The Post.
Her illness and death are given much import to this documentary.  The fact that Nora had openly shared her life (and sometimes others' lives) but kept her illness a secret for years, was a shock to her circle of close friends and colleagues.  They express their bewilderment, and sometimes anger, that Nora kept this information from them.  But in the end, the film draws the conclusion that her illness was her personal business and her choice to keep it a secret, was perhaps because it was the one thing she couldn't control.
The film ends with a reading of her essay Things I Will Miss , written in her final years.  Have some tissues handy.
If you have HBO or Netflicks and, like me, you are a fan of Nora Ephron, put Everything is Copy on your must watch list.

Michael Dirda
I received an email from one of my  legion of  loyal few Book Barmy readers regarding this post on the book of essays entitled Browsings by Michael Dirda.  This reader wondered why, as a declared Anglophile, I had failed to mention his essay called Anglophilia or perhaps I had skipped it?
Well, this sent me scurrying back to the book because I frankly didn't remember said essay.  After reading it I realized that I must have skipped this one — you see, I did not adhere to Mr. Dirda's introductory rule of reading his essays in order.
I hung my head in shame, and as penance, last night I again browsed through Browsings (sorry for that phrase, but you knew it was coming, didn't you?).  I ended up re-reading several of my favorites and finding a passage or two I had fogotten.
The neglected essay Anglophilia was written during Queen Elizabeth's 60-year jubilee and should be read in its entirety, as it is chocked full of British greatness.  Mr. Dirda admits his secret fantasy of being picked for a knighthood or an OBE.  He feels he may have earned such an honor given his lifetime of dreaming of Harrods Christmas hampers, box seats at the Grand National and pub lunches of shepherds pie.
In real life, his Anglophilia is limited to a Harris Tweed sport coat, a few Turnbull & Asser shirts (picked up at a local thrift shop) and watching Miss Marple mysteries on television.
(I watch them) less to guess the identity of the murderer than to look at the wonderful clothes and the idyllic Costwoldian village of St. Mary Mead.  My wife tells me I should check out Downton Abbey, but I gather that series might be almost too intense for my temperate nature.
Of course, most of Mr. Dirda's Anglophilia is bookish, and he imagines his very own country house library – (my imagined room is quite the same):
…lined on three walls with mahogany bookshelves, their serried splendor interrupted only by enough space to display, above the fireplace, a pair of crossed swords or sculling oars and perhaps a portrait of some great English worthy.  The fourth wall would, of course, open on to my gardens, designed and kept up by Christopher Lloyd, with the help of Robin Lane Fox…There would definitely be a worn leather Chesterfield sofa, its back covered with a quilt (perhaps a tartan? decisions, decisions) and its corners cushioned with a half-dozen pillows embroidered with scenes from Greek mythology.  Here, I would recline and read my books.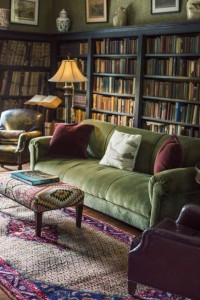 I found a few other passages I must read out loud to you…okay you can read them yourselves.
He ruefully muses about his book buying expenditures:
It's true that even $5 book purchases do add up.  Yet, what after all is money?  It's just this abstraction, a number, a piece of green paper.  But a book — a printed volume, not some pixel on a screen — is real.  You can hold it in your hand.  Feel its heft.  Admire the cover.  Realize that you now own a work of art that is 50 or 75 or even 100 years old.  My Beloved Spouse constantly berates me for failing to stew sufficiently about money.  For 30 years I diligently set aside every extra penny to cover the college educations of my three sons.  I paid off my home mortgage long ago.  I even have some kind of mutual fund.  Nonetheless, it's hard for me to feign even minimal interest in investing or studying the stock market.  What a weary, stale, flat, and unprofitable – okay, make that profitable — way of life it is to think constantly about the bottom line.  Keogh plans, Roths, Schedule C, differed income, capital gains, and rows and rows of little numbers…The heart sinks.
And finally, I'll leave you with more about his plan to travel around the US visiting second-hand bookstores.
(In addition to stopping at bookstores) …I'd naturally take the time to genuflect at the final resting places of writers I admire. Come lunchtime I would obviously eat in diners and always order pie for dessert, sometimes à la mode.  During the evenings sipping a local beer in some one-night cheap motel, I would examine the purchases of the day and fall asleep reading shabby, half-forgotten novels.
Thinking  I would not need or want to re-read this book, it almost went into the library donation bag.  See what I almost missed?  I stand vindicated in my board hoarding collecting.  I'm giving Browsings its permanent and rightful place on my bookshelves.