Browsings by Michael Dirda
A Year of Reading, Collecting, and Living with Books
What prompts me gravitate to books about other books?  They only add to my long lists and piles of books I want – nay, must read.  It's a sickness I tell you – a real sickness.  You may remember this post, when, after doing the math, I soberly realized I'll never read all the books I want to read.  But like a moth on its death journey towards a hot light, here I go again.  Send help…
I just finished reading Browsings, Michael Dirda's collection of essays about – you guessed it — books and reading.  Mr. Dirda, a weekly book columnist for the Washington Post, is no slouch, he received the Pulitzer Prize for distinguished literary criticism.

These essays come from his writings for The American Scholar.  I'd never heard of this journal and after some sleuthing (OK, a bit of Google searching) it turns out to be the quarterly magazine of the Phi Beta Kappa Society.  (No wonder I never heard of it.  Way above my mental pay grade.) Lest you fear, these essays are down to earth, funny and nowhere near as pretentious as "The American Scholar".  Just read this from the back jacket cover:
He was once chosen by Washingtonian Magazine as one of the twenty-five smartest people in our nation's capital  – but, as Michael says, you have to consider the competition.
In the introduction, Mr. Dirda recommends reading his essays no more than a few at a time, and also reading them in order.  I obeyed the first advice, but not the second.  I admit I did leap around a bit, but in the end, I read them all.  Browsings was my constant companion for that soothing half hour just before falling asleep.

The essays in Browsings are eclectic and seemingly random…from his sad musings of his mother's nursing home to the loss of cursive penmanship – but the connective tissue is books, reading books, collecting books, finding books, talking about books and writing about books.
In fact, many of the essays are interspersed with reading lists (thus my ever expanding TBR titles).  We share a fondness for Christmas books — he lists and summarizes his favorites – (taking notes, taking notes…)
Another essay starts with a rant against his local power company when he was without power for three days during a DC area heat wave.*  By the third day, he blissfully escapes to a cooler, more northerly-located bookstore.  Mr. Dirda, naturally summarizes the numerous books he acquired.  (Come right this way folks, see the idiot making yet more lists of books…)
He has a love of older books – eschews bestsellers and feasts his eyes (and his wallet) on the vibrant dust-jackets of the 1940's and 50's.   There's a divine essay dedicated to the golden age of detective novels – trust me readers, you, too, will be jotting notes.  Mr. Dirda, in another excerpt, reflects upon the bookshelves, favorite notebooks and writing implements of various great authors — what reader can't resist picturing Colette writing with a beloved Parker fountain pen?
After reading an article about millionaire author and Law & Order producer David Wolf, who owns a home in Montecito, California — "where God would live if he had the money." –he ponders excessive wealth and Tolstoy's lament – "how much (land) does a man need?"  Mr. Dirda reflects on his own excess — books:
It's certainly not as though I need any more books. Just yesterday I was up in the attic creating neat stacks of those I would like to read Right Now.

Of course the author speaks fluent French and taught English in Marseille.  He tells of a hunch-backed dwarf who cut hair in a garage, where one had to climb down into a pit so he could circle around and cut the hair.  I don't do the tale justice, you must read it for yourself.
When I read the following passage, I wondered if Mr. Dirda was a ghost here in my home office, silently judging me hunched over my computer:
…I've discovered, you have to get out, you do need to see other human beings.  You can't just read and write all day, much as I'd like to.   After a few hours in a chair, my body grows achy, my brain feel even mushier than usual, my tired eyes start to hurt.  To refresh myself I usually go for a walk, or if I'm feeling virtuous and resolute, I'll hike over to the gym.  (Thanks much, how to be superior Mr. Dirda.)
I just love this guy, he's a charming, quirky book nerd.  How could I not fall for a guy who dreams of traveling around North America in a van visiting secondhand bookstores. (Question, would a van be large enough for both of us and our book purchases? — Time to re-think the vehicle Mr. Dirda.)

After finishing the final essay, and in addition to the wildly optimistic new list of books I must want to read, I jotted down some quotes from Browsings – you bibliophiles out there will relate:
I also think of some books as my friends and I like to have them around.  They brighten my life.


The world of books is bigger than the current best-seller list.

Books don't furnish a room. A personal library is a reflection of who you are and who you want to be, of what you value and what you desire, of how much you know and how much more you'd like to know.
What fun it was to spend time each evening with a witty, engaging and off-the-charts-smart booklover whose reading covers a surprisingly wide breadth of interest and expertise.

Look for his other books which include Book by Book (own it), Classics for Pleasure (want it), and Readings (just got it).
(*N.B. He's talking about Silver Spring, Maryland, where I grew up and summers were indeed brutal.  I spent those hot, humid days with Nancy Drew in front of a cooling fan until I was forced to go out and play. That says a great deal don't you think?)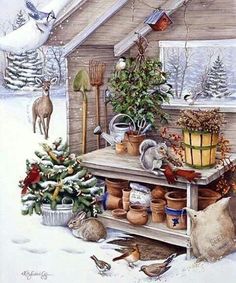 Winter is actually a very pleasant time for gardeners.  There is very little to be done in the garden, so we can rest our weary backs, put our feet up and dream of spring with seed catalogs and Garden Literature.
Garden Literature, you wonder, really?
Let me assure you, there is nothing better than reading about other people's gardens,  and despite the occasional pang of garden envy, we learn a great deal from our readings.
I'm not talking about your standard gardening reference books – the ones that help identify diseases and pests, or instruct on how to grow larger tomatoes.  No dear reader, this unique Garden Literature series is something else altogether.
Modern Library Gardening Series
Edited by Michael Pollan
These books are beautifully published (the covers alone catcalled me from a bookstore display table), they make lovely "dip in and out" reading, but most importantly, the series has rediscovered and published out-of-print and forgotten titles from both American and British renowned gardeners.
Once upon a time, in the not-so-distant past, Gardening was the number one leisure activity and there were phenomenal garden writers.  They wrote articles in publications, authored books about their gardens, but mostly wrote of the pure delight of having and maintaining their gardens.  These are not dry treatises that go on and on about soil augmentation, but funny, down-to-earth and friendly writings that expose both the gardeners' mistakes and successes.  But in each of these slim volumes,  whether a hobby, a pastime or as an all encompassing obsession – the joy of gardening shines through.
The publishers' (Random House) summary of each book will give you an idea of the delight these titles hold for any gardener.
++++++++++++++++++++++++++++++++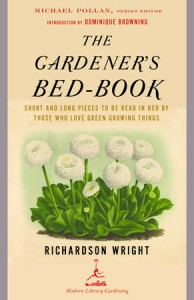 First published in 1929, The Gardener's Bed-Book is a much beloved gardening classic by the renowned editor of House & Garden magazine in the 1920s and '30s. Each of its 365 perfectly sized little essays is meant to be read in bed at night after a long day's work, either real or imagined, in the garden. A charming and mischievously funny companion to curl up with.
Old Herbaceous is a classic British novel of the garden, with a title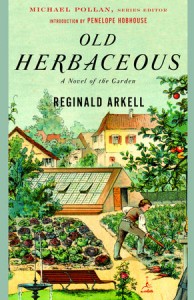 character as outsized and unforgettable as P. G. Wodehouse's immortal butler, Jeeves. Born at the dusk of the Victorian era, Bert Pinnegar, an awkward orphan child with one leg a tad longer than the other, rises from inauspicious schoolboy days spent picking wildflowers and dodging angry farmers to become the legendary head gardener "Old Herbaceous," the most esteemed flower-show judge in the county and a famed horticultural wizard capable of producing dazzling April strawberries from the greenhouse and the exact morning glories his Lady spies on the French Riviera, "so blue, so blue it positively hurts." Sprinkled with nuggets of gardening wisdom, Old Herbaceous is a witty comic portrait of the most archetypal—and crotchety—head gardener ever to plant a row of bulbs at a British country house.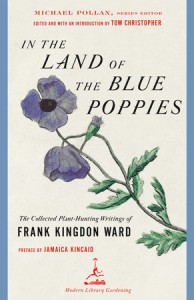 In the Land of the Blue Poppies. During the first years of the twentieth century, the British plant collector and explorer Frank Kingdon Ward went on twenty-four impossibly daring expeditions throughout Tibet, China, and Southeast Asia, in search of rare and elusive species of plants. He was responsible for the discovery of numerous varieties previously unknown in Europe and America, including the legendary Tibetan blue poppy, and the introduction of their seeds into the world's gardens. Kingdon Ward's accounts capture all the romance of his wildly adventurous expeditions, whether he was swinging across a bottomless gorge on a cable of twisted bamboo strands or clambering across a rocky scree in fear of an impending avalanche. Drawn from writings out of print for almost seventy-five years, this new collection, edited and introduced by professional horticulturalist and House & Garden columnist Tom Christopher, returns Kingdon Ward to his deserved place in the literature of discovery and the literature of the garden.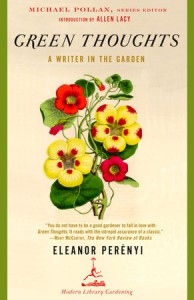 A classic in the literature of the garden, Green Thoughts is a beautifully written and highly original collection of seventy-two essays, alphabetically arranged, on topics ranging from "Annuals" and "Artichokes" to "Weeds" and "Wildflowers." An amateur gardener for over thirty years, Eleanor Perényi draws upon her wide-ranging knowledge of gardening lore to create a delightful, witty blend of how-to advice, informed opinion, historical insight, and philosophical musing. There are entries in praise of earthworms and in protest of rock gardens, a treatise on the sexual politics of tending plants, and a paean to the salubrious effect of gardening (see "Longevity"). Twenty years after its initial publication, Green Thoughts remains as much a joy to read as ever.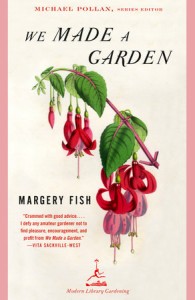 First published in Britain in 1956 and never before available in America, We Made a Garden is the classic story of a unique and enduring English country garden. One of Britain's most esteemed gardening writers recounts how she and her husband set about creating an exemplary cottage garden from unpromising beginnings on the site of the former farmyard and rubbish heap that surround their newly purchased home in the countryside of Somerset, England. Each imbued with a strong set of horticultural opinions and passions, Mr. and Mrs. Fish negotiate the terrain of their garden, by turns separately and together, often with humorous collisions.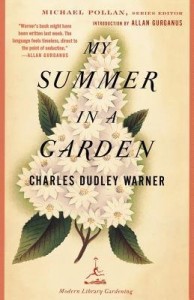 Oft quoted but seldom credited,Charles Dudley Warner's My Summer in a Garden is a classic of American garden writing and was a seminal early work in the then fledgling genre of American nature writing. Warner—prominent in his day as a writer and newspaper editor—was a dedicated amateur gardener who shared with Mark Twain, his close friend and neighbor, a sense of humor that remains deliciously fresh today. In monthly dispatches, Warner chronicles his travails in the garden, where he and his cat, Calvin, seek to ward off a stream of interlopers, from the neighbors' huge-hoofed cows and thieving children, to the reviled, though "propagatious," pusley weed. To read Warner is to join him on his rounds of his beloved vegetable patch, to feel the sun on his sore back, the hoe in his blistered hands, and yet, like him, never to lose sight of "the philosophical implications of contact with the earth, and companionship with gently growing things."
++++++++++++++++++++++++++++++++
There are prefaces that entice even before you enter the book itself – from today's gardening notables such as Jamaica Kincaid, Dominque Browning, and Penelope Hobhouse (don't gardeners have just the best names?).
 Michael Pollan is the contributing editor to this series and perhaps he says it best:  
"these writers are some of the great talkers in the rich, provocative, and frequently uproarious conversation that, metaphorically at least, has been taking place over the back fence of our gardens at least since the time of Pliny."
Here's a Garden Literature series that will gladden the heart of the gardener on your list.
Operating Instructions
by Anne Lamott
"There really are places in your heart you don't know exist until you love a child" — Anne Lamott
I give this slim volume to every new mother, and no, I don't think it's weird to give a book at baby showers.  Remember, please, a book is never a bad gift here at Book Barmy.
There's a lovely new Mom-to-be on my Christmas list this year and before I wrapped Operating Instructions I chuckled away in re-reading parts of this unique book.
Anne Lamott is best known for her book on writing (Bird by Bird) and her many books on her own brand of spirituality (start with Traveling Mercies).
She writes achingly, from her heart and everything she pens has a clear authenticity that strikes a cord with this reader.  Even her books on spirituality are affectionate, wise and very funny  —  regardless of your religious persuasion.
Operating Instructions is the honest and funny diary of her son's first year.  She recounts difficulties with sleep deprivation, colic, struggles to stay free from her addictions, grief over her father's recent death and the absence of her son's father  — all conveyed with self-deprecating humor and wit.
This is not a touchy-feely-how-to-be-a-perfect-mother guide, this is a brutally honest look at the good, the bad, the ugly and the scary parts of  the first year of parenting.
Ms. Lamott confesses to the times she wanted to just "put him outside as an experiment in natural selection" and recoils at the little guy's private parts.

She boldly expresses her liberal political rants against the Bush presidency of the time, so the book feels a bit dated in that respect.  But in all other aspects this is a timeless and valuable gift for any new Mom (or Dad).
After my recipients have read Operating Instructions, I usually get comments along the lines of a" breath of fresh air", "so funny I was reading it aloud to my husband", "great fun while nursing" and even "reading this book made me feel less isolated and more connected — I wasn't the only frightened mother out there".

So, let's help out any of those new parents on your gift list — offer to babysit, take over a casserole, walk their dog and most importantly — give them this book.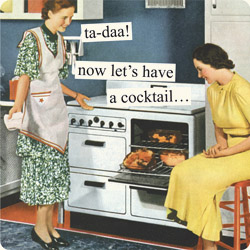 I don't mean everyday, as in common, I mean that person on your gift list who cooks for loved ones every day.  These are not foodies, per se, but people who enjoy preparing home cooked meals…well, most of the time anyway.
They cook from a place of love, they derive pleasure from preparing meals that not just nourish, but also bring family and friends together.
Let's thank that dedicated meal preparer in your life with two largely unknown books about home cooking.
Home Cooking                               More Home Cooking
by Laurie Colwin
You may have never heard of Laurie Colwin, she never gained the notoriety of more famous food icons such as Julia Child or Ina Garten.  Best know as a novelist, Ms. Colwin's two volumes of food essays continue to sell largely due to word-of-mouth recommendations from food enthusiasts who cherish these two volumes.  Many of these essays first appeared in the now out-of-business (sob!) Gourmet magazine.  Sadly, Ms. Colwin died of heart failure in 1992 at the age of 48.
We enter Ms. Colwin's world warily at first — after all, her minuscule New York apartment reveals that her stove is used for storage and dish washing must be done in the bathtub.  But, soon her chatty, open and often humorous essays have you feeling right at home, perched on her counter, sipping a glass of beer, warmly embraced by her radiant joy of food.

Ruth Reichl, the writer, former Gourmet magazine (sob!) editor and New York Times restaurant critic, said it best: "You want to be in the kitchen with her — that is her secret. She is the best friend we all want. She never talks down to you."
She talks of simple, homey food such as black beans, lentil soup, potato salad and this — "There is nothing like roast chicken. It is helpful and agreeable, the perfect dish no matter what the circumstances. Elegant or homey, a dish for a dinner party or a family supper, it will not let you down."
She goes on to describe one of her most memorable meals– "beef stew and buttered noodles, runny cheese, and plain green salad with wonderful dressing."  (Hungry yet?)
There is no pretension here, she won't pretend that the boring bits of cooking are a higher calling; "It is wise to have someone you adore talking to you in the kitchen while you make these eggs," she writes, "or to be listening to something very compelling on the radio."
Of course, there are recipes, my two volumes are studded with markers and pencil checks…but there is also honesty and failure.  Ms. Colwin never shies away from recounting her very funny cooking disasters.  There is one dinner, prepared with friends under the influence, which was so inedible that her guests mutinied and they all went out to dinner.
To Ms. Colwin, the point of cooking is eating–eating with family and friends, definitely, but she also admits to eating straight from the cooking pot, ravenous and gloriously alone.
This quote below best captures the tone of the essays in Home Cooking and More Home Cooking.   "I was taught in my Introduction to Anthropology [a college course], it is not just the Great Works of mankind that make a culture. It is the daily things, like what people eat and how they serve it."
This Christmas, please honor your every day cook — come to the table with your hunger, lots of compliments, a bottle of wine and these two volumes.
+++++++++++++++++++++++++++++++++++++++++++
I am hoping Santa will bring me this newest culinary treasure from another down-to-earth cook, Ruth Reichl.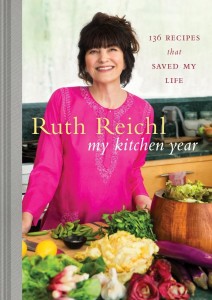 Now, if you'll excuse me, this every day cook has gotta go make dinner.
The Sweet Life in Paris
By David Lebovitz
I've been busy baking for the holidays.  I'm not a baker, but there's a couple of traditional holiday treats I bake to send to family and give to friends.  As Husband and I cleaned up the mess – (powdered sugar is such a beast)…I remembered this book which lives happily on my books to keep shelves.

David Lebovitz is a well-renowned pastry chef and baker from here in the Bay Area (of Chez Panisse fame) who moved to Paris.   
The Sweet Life in Paris is a collection of recipes interspersed with reflections on his adopted city. The observations about Paris are wonderful, his grumpy view of American tourists with their fanny packs and flip flops —  to his very funny riff on French men in their "religion revealing" bathing suits. He also writes unflinchingly about the frustrations of living in Paris.  He can't get a visa without first opening a bank account, and the banks won't open an account without a visa, as it requires extra paperwork. (He ends up bribing a friend of friend who works at bank with box of chocolates.)

"Unlike in America, where everyone is taught to say yes, in France, oui means more work."
Mr. Lebovitz is confounded by the frequent French workers strikes and angry at Parisian's inability to wait in line at the grocery store
"In Paris there are only two reason you can cut in front of others waiting in line:
1. Because you are old, frail, or have a physical disability that prevents you from standing for long periods of time.
2.  Because you don't think you should have to wait in line behind anyone else."
There are the Parisian shopkeepers who would rather smoke outside than sell you cheese that you are obviously unworthy of, the mind-numbing process of returning an item that broke with its first use and the alarming pedestrian pushing

But the curmudgeonly writing can't hide the author's true love of Paris and especially its culinary delights —  the chocolate shops and their beautifully artistic offerings, out of the way cafes that serve simple steak aux pomme frites, the bakers who work through the night catering to the French demand for their morning croissants and afternoon baguettes.
There's one chapter (and a recipe thank goodness) called "Hot Chocolate to Die For", which will cause you to run to the kitchen to unearth some baking chocolate and whole milk.
And the recipes —  mon deux! — just listen to these temptations  … Chocolate Macaroons, Breton Cake with Fleur de Sel, Dulce de Leche Brownies and there's even a Caramelized Apple Tart which is supposedly low fat. 
But I found the most valuable pages are his appendix of favorite places in Paris for baked goods — the best croissant in Paris (why yes — yes please) –not to mention the best chocolate shops – priceless  
This is delightful and funny book filled with the charms and eccentricity of Paris.  But the main reason to get this The Sweet Life in Paris is as a "gift" for your favorite baker — and secretly hope you'll get to share in the results.

N.B.  The author reveals his favorite place in New York City – City Bakery for salted croissants and thick hot chocolate with a homemade marshmallow.  Just look at this – possibly worth the 3,000 mile trip.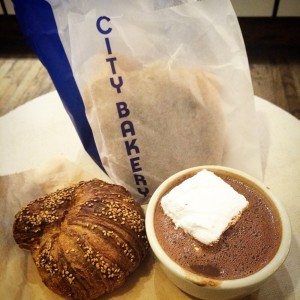 Bringing Home the Birkin
by Michael Tonello
My Life in Hot Pursuit of the World's Most Coveted Handbag
In the words of Monty Python …
and now for something completely different. 
If you could see me right now in ratty jeans and a favorite soft sweatshirt found at Goodwill, you'd seriously question why I would read, let alone recommend, this book.
And you'd be right, I could care less about designer clothing labels or bling from Tiffany's — but I do have a weakness for a good bag.  (There was an incident at a Coach factory store in New Hampshire [no sales tax], where mid purchase, my credit card company shut me down thinking my card was in the hands of a thief on a spending spree — but the incident was all sorted out and we shall speak no further of it.)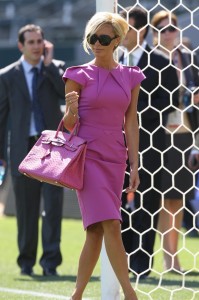 Back it in the 90's, Hermès was known for their coveted Birkin handbags – and the infamous five year waiting list to obtain one of the bags. This urban myth was perpetuated through the cultural icons of the time such as a Sex and the City episode and Victoria Beckham's astonishing pink Birkin. They were (and still are – just checked eBay – yikes) the ultimate elite status symbol.
At a starting price of $8,000, a Birkin is well beyond my means or my conscious.  But still, a girl can dream right?

That's why I stopped short when I came across Bringing Home the Birkin. I found myself turning the pages, warily thinking — this is not the book for me, I'll just read a little bit…and before I knew it, I was enthralled by this frothy, engaging and funny tale.
Michael Tonello moves from Cape Cod to Barcelona, Spain, but once there the job he has lined up, falls through.  Having fallen for both Barcelona and a new man, Mr. Tonello turns in desperation to his favorite pastime — shopping, which leads him into Hermès stores where he buys scarves to resell (at a very good profit) on e-Bay. When one of his scarf buyers asks him to obtain a Birkin, (at any price) he takes on the challenge.
This proves to be a formidable task as Hermès made sure the Birkin bag remained ultra exclusive, by instituting a waiting list with high-profile customers, limiting the number of Birkins sold to each customer and  putting a "reserved" sign on display bags.
Mr. Tonello riffs on the likelihood of the "reserved" ploy with this passage:

I could only imagine the conversation:  "Oh yeah, the croc Birkin, right, great.  But I only have half the money now,  — repairs on the yacht this week you know how it is…don't sell it, just put in the window, pop a reserved sign on it or something.  I'll send the chauffeur by with the other half by next Sunday at the latest — Great great.  You guys are the best…"
Hermès' strategy worked and customers fell for it–blinded by the rarity and social status. Mr. Tonello knew this human failing only too well and he finds it fairly easily to obtain numerous bags, but only after he develops a buying formula, a special outfit (!) and profiles of typical Hermès sales personnel in order to befriend them (one of the funniest sections of the book are these employee "profiles" – and their accompanying illustrations).  He journeys to Luxembourg, Capri, Santiago, Paris –all in search of Birkins, which he sells at a tidy profit to his shamefully rich clients.

Just when this tale of over the top consumerism is almost getting to be too much, a family tragedy causes Mr. Tonello to examine his conscious.  He reflects on what is actually important in life and discovers he can no longer deal with "people who lacked for nothing, but who longed for more". 
With that said, Bringing Home the Birkin is not high moral reading.  This is a guilty pleasure — a fun peek into the world of high fashion, high stakes shopping and the extraordinarily rich.  But it also shines with beautiful locations, great hotels, top restaurants — and most of all the fascinating, funny and outrageous Michael Tonnello.

+++++++++++++++++++++++++++++++++++++++++++
Why is it called a Birken?  Well the story goes that Jane Birkin was flying from London to Paris in 1981 when she reached into her bag for her datebook and everything fell out. "I'd love a bag with pockets," the English singer/actress told her seatmate.  Her seatmate just happened to the chairman of Hermès. He was a good listener. He had his designers make not only a bag with pockets, but also a spill-proof closure. He sent one to Birkin and then he named it after her.