Cesky Krumlov
Left Prague for one night in Cesky Krumlov (Crispy Kreme in Barmylogue).  'Cesky' means bend in the river, and so there are many towns along rivers that start with Cesky.
Cesky Krumlov is reputed to be one of the most picturesque towns in Europe — sort of Prague mini-me and a UNESCO World Heritage Site 
Anyone know how they designate UNESCO sites? They're prolific over here, not complaining – every one we've visited on our travels–well amazing.
We read that Cesky Krumlov has a Baroque castle, a charming town square and small enough to walk from one side to the other in 25 minutes ~ so when planning our trip, we decided it was definitely worth a one night stand (so to speak).
 The train dropped us off at a bus station in Cesky Budejovice (aka Beetlejuice) where we then boarded a bus that took us into a fairly remote bus depot outside of Cesky Krumlov.
We caved and spent $4 for a taxi to take us the final 3 1/2 km into the village.  The taxi could barely make it thorough the narrow cobblestone lanes, having to wait, gently nudging through packed, wall-to-wall  tourists, most of which seemed to be Japanese, earnestly posing for each other with selfie sticks.  We were eventually dropped off at our little pension.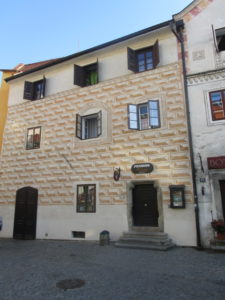 Our room is the one over the door with two windows opened.
It was, by now, a little after 1 pm, and after talking with Jana, our host, were advised these bus tour groups, which arrive in the middle of the day, are all but gone by 4 pm.
We decided this was a great excuse to wash up, get some cold drinks, and relax with books, feet up  in our little room overlooking the one of the charming, but noisy & crowded cobblestone lanes.
As the village clock tower chimed four, a calm fell over our little street.   We ventured out onto the streets and explored the lower town, getting some great afternoon light for the castle and hills beyond. Here's just a taste. In one photo, you'll see Husband convinced me to pose (just like the Japanese).
After wandering and taking tons of photos (above was just a fraction), we found a fish restaurant Rick Steves recommended.
The restaurant is in a building that hails from (get this) 1677. It sits on a little island in the middle of the river, and just because it couldn't be charming enough, it's also right next to a water wheel. There were even the obligatory swans right on cue….
I had a superb piece of (just-caught-that-morning-from-yes- this-very-river) perch, broiled until the skin was crispy and brown and then sauced with melted butter and caraway seeds.  It was probably the best fish I've ever eaten.  Managed to signal the chef to say bravo, she smiled and shyly said thank you (in English).  A lovely meal as the sun went down.
Got up early for Jana's pension breakfast (meats, cheeses, rolls, hard boiled eggs and even a salad)  typical Czech-German-Austrian type breakfast.  You're good for the day.
We had the town almost to ourselves, only a few other overnighters in the lanes.  We walked up to the castle and monastery and took more pictures.  As we headed back at around 10:30 we could see the tour vans and buses lining up down below.  One last look at the charming Cesky Krumlov:
Look at this lovely window bar design at street level.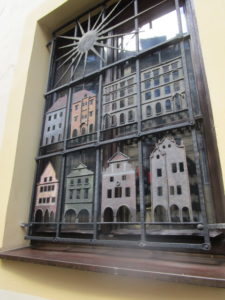 Got the bus to Cesky Budejovice and were directed off the bus down a back street to the vlakové nádražíat (train station).  But alas this was the local's train station —  the wrong train station – closed up with no one there to sell us tickets to our next destination in Austria.
We had a little moment of panic where we circled around thinking maybe a real train station will appear.  But no we had made a tactical error.
After a few words that shall not be repeated, I reassured Husband that Beetlejuice was not that big, and we could easily find the right train station.
We headed up towards main drag of town and found a bus stop with a young person waiting (the young Czechs usually speak some English) who told us to catch # 5 bus right here at this stop and it would take us to the main train station.  We quietly high fived each other over our dumb luck.
We got to the right train station and purchased our tickets for our next destination ~~
a little village in Austria.
Stay tuned.