Dear Fahrenheit 451, by Annie Spence
I needed a break from reading three dark thrillers in a row (just finishing my last one – really good, but more on that later.)
So I slipped over into the warm comfort of this book.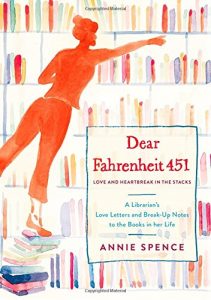 Dear Fahrenheit 451 by Annie Spence
Love and Heartbreak in the Stacks
A Librarian's Love Letters and the Breakup Notes to the Books in Her Life
Ms. Spence is a young librarian and both her reading taste and vernacular reflect fresh, edgy thinking.  This makes for a very different sort of book about books.  No guilt-inducing, preaching on the books you ought to have read (I'm looking at you Clifton Fadiman).  Instead, Dear Fahrenheit 451 is comprised of breezy takes (or letters) on the books the author has read, owns, loathes, comes across, culled from the library stacks, or had patrons request.
Ms. Spence's casual writing voice is scattered with cursing and some sex. There's a letter to a book called The One Hour Orgasm which you'll just have to read for yourselves, I blush — anyway suffice it to say, this book never gets boring.

Ms. Spence's love of books and what they mean shines through. But she also reflects on the often unspoken truism that readers can, and will, fall out with a book, there are indeed books that become irrelevant, books that leave us angry, annoyed, or the worst offense of all – a book that leaves us flat.
Here's some of my favorite snippets:
Dear Fifty Shades of Grey,
You made me say "erotica" to an old lady.  I'm going to hate you forever for that…
Dear Miss Marple Series,
You guyssssss!  I just want to thank you for being there for me.  Everybody loves you.  Seriously, everybody.  I mean people who like mysteries – Doy.  But also, did you know that truckers love you?  You guys on audio are like a gateway drug to reading for truckers.  Also, kids who read way above their grade level and are bored with everything in the children's section.  …and teens with helicopter parents who want to make sure they aren't reading novels with sex in them (as a rule, murder in a book is A-okay with these folks).
Dear Pictorial Anatomy of the Cat,
I don't know how you got here.  Without your book jacket on – which is who knows where – one might have assume you were some sort of mythical fairy tale about kitties.  But in reality your insides …are about insides.  But don't get me wrong.  I thought you lateral view of the abdominal viscera was neat. But, can I say something?  You're creeping people out. You go on and on about the cutaneous maximums.  This is a public library. So…Go'way Now, Annie
Dear Another Saturday Night of Wild and Reckless Abandon:  A Cathy Collection,
I had to give (my friend) a little lesson on Cathy, Cathy.  Because when you're not talking about dating insecurities and how to eat feelings, you were one of the first to address the contradictions of the women who's trying to "have it all".  You discuss the wage gap, mansplaining, and sexual harassment.  You try to explain fluid gender roles in a way Cathy's own mom might understand.  Yeah, Cathy has a messy room and frets over her terrible hair.  She's trying to figure it out.  That's what makes her so lovable. I'm proud to put you right by my Gloria Steinem essays and Bad Feminist.  You may be a collection of cartoons, but you're part of the sisterhood. You're my favorite 80's woman.
So, aach on girl, Tiny heart, Annie
Towards the end, Ms. Spence also give us 'special subject' essays such as 
"Excuses to tell your friends so you can stay home with your books
"Falling Down the Rabbit Hole-books that lead to more books"
"He's Just Not That Into Literacy: Turning Your Lover into a Reader"
There's a wonderfully funny letter to a Fancy Bookshelf at a Party I Wasn't Technically Invited To, where, while hiding by the bookshelves, she snarks on the styled books, knickknacks and art — not to mention, the hostess.

Ms. Spence dedicates a letter to book group discussions, which she often overhears at coffee shops or the library, and has to resist the urge to break in saying — 'OMG, you're missing the whole point of the book –step aside and let a professional take over'.
The final epilogue is a endearing shout out to the importance of librarians and libraries.  Dear Fahrenheit 451 would be a perfect gift for any librarian, library workers or book-lovers on your list.  It's a little early for the holidays, but at the very least add it to your own TBR list.  I know you have one.

+++++++++++++++++++++++++++++++++++++++++++++++
Dear Fahrenheit 451
I read you in small doses which proved most enjoyable. Equally enjoyable was the long list of books added to my TBR list thanks to you and your charming, and approachable author.  We have much to talk about, hey let's meet for a glass of wine.  I'll be the one in the corner with a book ~~ BookBarmy.

+++++++++++++++++++++++++++++++++++++++++++++
A digital review copy was provided by Flatiron Books via Netgalley.
Save
Save
Save
Save
Save
Save
Save
Save
Save
Save
Save
Save
Save
Save
Save
Save
Save
Save
Save
Save
Save
Save