Dear Mrs. Bird by A. J. Pearce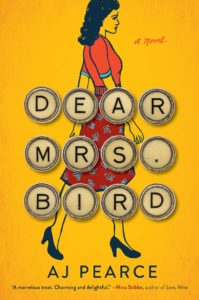 Coming out of my re-reading of The Guernsey Literary Potato Peel Pie Society, I remembered I had a copy of Dear Mrs. Bird which is touted as:
…a warm, funny, and enormously moving story for fans of The Guernsey Literary and Potato Peel Pie Society 
Unable to return to present-day reading, I dove right into another novel based on a plucky young woman in war-torn London.
The novel opens with Emmy Lake, aged 23, riding the bus home from volunteering as a telephone operator with the Auxiliary Fire Services.  She is carrying her handbag, gas mask, and a prized onion for stew. But, most importantly she has seen an advertisement for a position at the London Evening Chronicle.  Emmy dreams of becoming a journalist, and with the war on, she imagines herself reporting from dangerous locations. With great excitement she applies for the job and gets the position, only to discover she's actually working for the formidable Mrs. Bird who writes an advice column  in the stodgy (and failing) Woman's Friend magazine.  
Emmy has to sort the incoming letters discarding any that are deemed as off limits.   Mrs. Bird refuses to even read letters contain any mention of premarital, marital, and/or extramarital relations.  No political or religious activities or opinions – no Hitler.  Mrs. Bird ignores pleas from women who are troubled by Unacceptable Topics, which includes just about everything except questions about cooking or skin care. Everyone else needs to take Brisk Walks and have a Cheerful Attitude.

Emmy, can't bear to see these heartbreaking letters so callously dismissed and decides to respond to a letter, then another, directly, without Mrs. Bird knowing. Okay, you're thinking, I know how this is going to end, how quaint — it's just a matter of time before Emmy will be found out. Is that it?

Never fear, the author has given us much more.  Through the first person narrative, the reader is immediately drawn into Emmy's world.  The narrative alternates between her thoughts (almost like reading her journal) and her correspondence. Yes, she's young, full of hope, excitement — with her emotions in capital letters — so much is Important or Exciting.
There is humor, with chapter titles such as  A Quandary over Next Steps, or A Rumour of Pineapple Chunks
And then there are Emmy's observations at once naive but also insightful:
My mother steadfastly referred to the war as This Silly Business, which made it sound like a mild fracas over a marmalade sponge.
Emmy and her friends are resilient and hard-working young people, making do with rationed food and altering hand-me-down clothing — they're just trying to get on with their lives, their jobs, friendships, going to dances, and love complications ~~ all with the nightly backdrop of bombs falling on their beloved London.
Noise was coming from everywhere at once, as if we were being eaten by the very sound itself
Dear Mrs. Bird also deals with some serious issues.  The plight of women left behind in widowhood or with lost lovers, trying to rebuild their lives.  We see how post traumatic stress collides with the British stiff upper lip.  The loss of lives, rationing, and the weight of constant fear.  And there's poor Emmy, in her volunteer fire service role, dispatching her male friends into bombed and burning buildings — with tragic results.

Emmy is the most fully characterized with her guileless faults and strengths (she reminded me of Jane Austen's Emma) and we see a view of the London Blitz through the eyes of this young woman who wanted more out of life than society was willing to give her. Other characters could have been more fleshed out.  Mrs. Bird was especially one-dimensional, I wanted to know her background and character a bit more.

But otherwise, this debut novel is just lovely — inspiring and intelligent and will have you alternately giggling and crying.
A digital review copy was kindly provided by Scribner via Netgalley

Ms. Pearce was inspired to write this novel after obtaining a women's magazine from 1939.  Interview with the author HERE