Exit West by Mohsin Hamid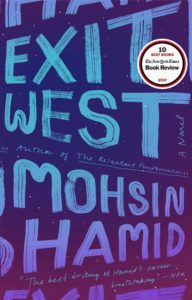 It's taken me forever to write this review.
It took me forever to read the book.
This is one of those Very Important books.  Nominated for a Manbooker Prize, high praise from NPR, and named one of The New York Times 10 best books.  Exit West has been on many must read lists since it came out in 2017. 
Timely  — a love story set in a world descending into chaos over a massive influx of refugees.  Okay I will read Exit West, this Very Important novel.  And then, I thought, I'll have something to talk about at parties (if I ever went to any).

As one reviewer said:

…both lyrical and urgent, this globalist novel evokes the dreams and disillusionment that follow Saeed and Nadia…peels away the dross of bigotry to expose the beauty of our common humanity.
The story centers on Saeed and Nadia who fall in love despite religious and societal differences in their unnamed country in the middle east, and as civil unrest builds in their country, they are forced to flee as refugees.

They secure escape through a series of magic doors that connect one country to another.  Passage through the fictional doors is both risky and expensive — an obvious metaphor to the truth.  The couple journeys to Greece, England, and eventually the United States through these doors, joining other immigrants along the way.  As the borders are perforated by the magic doors, the refugees become their own humongous nationality regardless of national origin. There are serious impacts to both the new country and their personal lives.

See?  Very Important book — Very Important topic
It's a short book and should have taken only a few hours to read —  yet, I kept putting it down.
I struggled to keep reading, struggled further to even finish it. And I've squandered an inordinate amount of time thinking about why I didn't like Exit West.
It comes down to this ~~

This is just not a good book. Often poorly written, usually boring, and at times felt like I was reading an early draft.  There are half page run-on sentences.  The cool, detached narration meant I never warmed to the story, the characters, or their plight.

The concept of magical doors in a war torn country sweeping refugees to the peaceful west had such potential – but alas, it never really works.  I never really believed in them.  (Remember I read time travel books, so I can fall into magical realism.)  The fictional doors remained a gimmick, not the metaphor both I, and I think the author, hoped for.   It made me wonder why fictional doors?  Isn't the true refugee experience harrowing enough?

There are superfluous vignettes which introduce other poor souls but these are never re-introduced into the plot and were left unresolved.
The book ends without any sort of  view into the future and had a post-apocalyptic feel about it.
After all the Very Important book hype, I anticipated a powerful novel that would not only sear into my heart, but also provide insight into the issue of immigration and the hard issues surrounding their resettlement.  
I almost exited (!) the book several times, but I kept with it, so you won't have to.
That's just the kind of service we aim to provide here on Book Barmy.  You can thank me later.
I'm off to find something to cheer me up.
I know, a nice cup of tea and the season 5 Great British Baking Show saved for marathon watching — and, perhaps this…