For the Love of Bookshops
Just as I am drawn to books about books, I also can't pass up a book about bookshops. 
Like most bibliophiles, I am physically unable to walk past a bookstore of any sort.  Even when traveling, where the books are in another language, where there's nothing I can comprehend, I still have to wander into the bookshops.  Just to look around and breathe the smell of books.  (Husband is the same way with hardware stores – and yes, I tolerantly tag along.  But, between you and me, how many drill bits can one guy use?  Whoops, better not go there, looking around at the results of my own book addiction habit)

A friend brought The Bookshop Book back from a trip to the U.K. and passed it on to me as a Christmas gift.  This sexy British publication has been sitting next to my reading chair even since, enticing me –whispering in my ear.  So the other night I finally succumbed.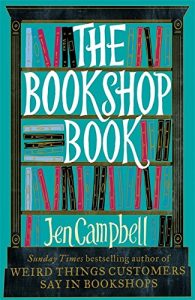 Jen Campbell is a British poet, author and book reviewer, who has a wonderful video blog on YouTube where she talks about her favorite books. 
I've become rather addicted to seeing my favorite book bloggers on their video blogs  (Vlogs).  Simon has done the same here.  Don't hold your breath, Book Barmy will stay as is.  The world is not ready for videos with my mug yacking on about books.  Nor am I, I'd have to fix my crazy hair, do something involving makeup and don a video worthy shirt.

But I digress – back to The Bookshop Book, how could I resist its siren call after reading this from the book's front flap?:

Every bookshop has a story.
We're not talking about rooms that are just full of books. We're talking about bookshops in barns, disused factories, converted churches and underground car parks. Bookshops on boats, on buses, and in old run-down train stations. Fold-out bookshops, undercover bookshops, this-is-the-best-place-I've-ever-been-to-bookshops.
Meet Sarah and her Book Barge sailing across the sea to France. Meet Sebastien, in Mongolia, who sells books to herders of the Altai mountains. Meet the bookshop in Canada that's invented the world's first antiquarian book vending machine.
​And that's just the beginning.
From the oldest bookshop in the world, to the smallest you could imagine, The Bookshop Book examines the history of books, talks to authors about their favourite places, and looks at over three hundred weirdly wonderful bookshops across six continents (sadly, we've yet to build a bookshop down in the South Pole).
The Bookshop Book is a love letter to bookshops profiling the famous, such as Shakespeare and Company in Paris and Powell's in Portland, Oregon, but also some smaller, lesser know shops around the world. 
Ms. Campbell also profiles many of  the bookshop owners, whom prove to be a wonderfully diverse and quirky lot — many of whom I would love to share a cup of tea and a chat.  Authors talk about their favorite bookstores and there's little snippets of interesting bookish facts. 
It was most encouraging to learn that, in this digital age, bookshops around the world continue to survive and in many cases, thrive. 
This book had me at hello.

---
Ms. Campbell is also the author of these two fun books:
These books have a special place in my heart as I work/volunteer at the wonderful Readers Bookstore.  Working in the store proves to be one of my favorite things, largely because of the customers who come in searching for their next book.  Often they have a book in mind, but can't remember the title or even the author, but try and describe it based on what they do know about the book.  "It's about a man who lived with elephants for a year"…or,  "you know it's on the bestseller list, about a crocodile?"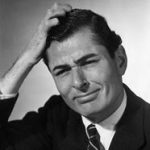 It's always a challenge and a delightful victory to finally figure out what book they mean.

Ms. Campbell also worked at in a bookshop for many years and turned these often bazaar conversations into two very funny, quickly readable, books.
Both Weird Things Customers Say in Bookstores books celebrate not only bookstores, but the underpaid yet dedicated booksellers who lovingly help the myriad of colorful characters who walk through their doors everyday.

I will now quote from the books, but this is only a small taste of the very fun you'll have reading these cheerful books:
 ~~~~~~~~~~~
CUSTOMER: Did Charles Dickens ever write anything fun?
~~~~~~~~~~~~
CUSTOMER: Doesn't it bother you, being surrounded by books all day? I think I'd be paranoid they were all going to jump off the shelves and kill me.
~~~~~~~~~~~~
CUSTOMER: Do you have a copy of Jane Eyre?
BOOKSELLER: Actually, I just sold that this morning, sorry!
CUSTOMER: Oh. Have you read it?
BOOKSELLER: Yes, it's one of my favourite books.
CUSTOMER: Oh, great (sits down beside bookseller). Could you tell me all about it? I have to write an essay on it by tomorrow.
~~~~~~~~~~~~
CUSTOMER: Hi, I just wanted to ask: did Anne Frank ever write a sequel?
~~~~~~~~~~~~
CUSTOMER: (an elderly woman) I can't believe everybody's reading this Fifty Shades book
BOOKSELLER: I know. I take it it isn't your cup of tea, then?
CUSTOMER: Oh, no dear; been there, done that – no need to read about it!
~~~~~~~~~~~
CUSTOMER:  I read a book in the sixties. I don't remember the author, or the title. But it was green, and it made me laugh. Do you know which one I mean?"
~~~~~~~~~~~~
CUSTOMER: (holding up a book): What's this? The Secret Garden? Well, it's not so secret now, is it, since they bloody well wrote a book about it!
~~~~~~~~~~~~
(I've been getting versions of this question a great deal lately…)
CUSTOMER: I really don't like the planet today – can you recommend a book set far, far away?
~~~~~~~~~~~~~
(with this, I happen to agree…)

CUSTOMER:  It makes me sad that grown up books don't have pictures in them. You're brought up with them when you're younger, and then suddenly they're all taken away
~~~~~~~~~~~~~
(and a personal favorite…)
MOTHER: If you want to buy a book you'll have to use your own money. I've bought you enough books already!
DAUGHTER: But I've read all those books!
MOTHER: Well then, you should learn to read slower!
---
Nice dedication by Ms. Campbell for the second book:
For bookshop customers, booksellers, librarians, bookworms, book-hoarders, bookworms and librocubicularists (those who like to read in bed).
You're in for a treat with any of Ms. Campbell's bookshop books.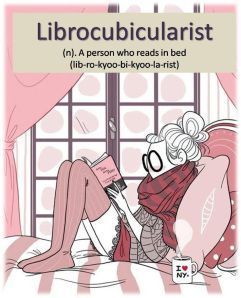 And, now a fond good night to my fellow librocubicularists out there.

Save
Save
Save
Save
Save
Save
Save
Save
Save
Save