Hijacked in Croatia
We were indeed hijacked upon our arrival in Croatia, but most happily by our friends who live in Zagreb.
Lloyd and Lana picked us up at the bus station and promptly whisked to their new home which they planned and designed themselves.  They found an investor who sold the upper units and our friends live in the lower unit.
After sleeping like logs, we awoke to plans to visit Lana's father's (Vladamier) small farm about 30 minutes outside of Zagreb.  This is where he happily lives all but the winter…his own little piece of man-heaven.
Vlad is a very fit 84, he was, for many years a principal dancer with the Croatian national ballet.  His tends his farm, cuts his own wood, harvests his own food, and best of all, makes his own delightful wine.
Lloyd and Husband donned farm hats and white overalls (better to see the ticks and bugs) and cut the grass for Vlad.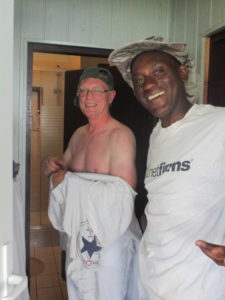 Then we had a lovely meal with Vlad's wonderful wine.  We taught little Marc (aged 4 1/2) all sorts of American expressions.  "Hey Dude", "What's Up?", "See you later, alligator" —  well, you get the gist…He'll be a star at kindergarten next week.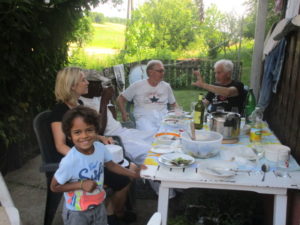 Drove home filled to the brim with good food, fun friends, and too much sun.
The next day we headed for the Dalmatian coast of Croatia.  Our destination — a 300 year old stone villa, Lana's mom (Jadranka) operates as a guest rental.  A three hour drive to Biograd where we caught the ferry to Pasman.
It was so hot that, upon arrival, we ditched our clothes and shoes, donned bathing suits and headed to the beach just a short walk away.
Then as the sun set, tired and cooled off from swimming and wading in the cold water, we headed back through the tiny stone village of Tkon.
Villa Antiqua is unlike any other place, a magical 300 year old stone house converted into a large rental for families with stone passages and bedrooms hidden up high.  Here's their website with photos.
Villa Antiqua on the Island of Pasman
Highly recommended if you're looking for a relaxing, beautiful and non-touristy place on the Croatian coast.
Here are my photos ~~
They gave us this apartment with its own lovely deck and view…
Husband did his own relaxing by weeding in their garden. Marc and I watched the butterflies on the lavender.
Jadranka cooked for us –fish, fresh off the boat that morning and salad from the garden.
Lana is an interior designer and her lovely touches are everywhere.
Have I convinced you to go here yet?  Trust me – it's magical.
At the end of our visit we were surprised with matching tee shirts commemorating our visit ~~ we gamely posed for photos.
What a lovely end to our trip.
Next stop an overnight in London — then home after 25 days away ~~ sigh.