Holiday Reading
Despite a busy, happy, jam-packed holiday season, I was able to get in a few books. Nothing high brow, nothing earth shattering. A few lightweight holiday reads.    Just the right ending for what turned out to be a super couple of weeks.
---
Immoveable Feast
A Paris Christmas
by John Baxter
In this novel, John Baxter writes of preparing his first Christmas feast in France.  Australian by birth, living in Los Angeles.  He falls in love with a French woman:
"Struck down by that helpless love which the French call un coup de foudre – a thunderclap — I'd abandoned a comfortable life in Los Angeles and, on the spur of the moment moved to Paris to be with this woman I loved.  I knew no more French than one can pick up from movie subtitles."
It is now several years later and he has married Marie.  This year he has the dubious honor to host the annual Christmas meal for friends and family.  Each chapter takes the reader through his search for the perfect ingredients for his menu. There's a whole chapter on sourcing fine French cheeses, and I swear you can smell and taste each cheese.
From traveling to India for spices, to discovering the perfect wine at a bargain price in a small village grocery — the pressure is on for our poor author.   Mr. Baxter is funnily self deprecating, in awe of French style, and intimidated by their insistence on food perfection.  As a frequent dinner host, I loved watching his meal plan come together and the last chapter, culminating in the meal itself, is guaranteed to make your mouth water.
I even cheered along with his guests as they erupted in very un-French-like applause over his flaming fruit dessert.
---
A Rumpole Christmas
by John Mortimer
One of my great pleasures of the holiday season is to bring out and cozy-up with my favorite Christmas books.   This collection of Rumpole stories is one such delight.
Back in the 1980's Husband and I were fans of the BBC/PBS series Rumpole of the Bailey starring the inimitable Leo McKern.  The series was based on the books and stories written by John Mortimer.   (You can currently see many of the television episodes on YouTube.)
These stories feature cantankerous lawyer Horace Rumpole, his hapless colleagues at the Old Bailey and his formidable wife, Hilda (aka She Who Must Be Obeyed).  These pieces variously appeared between 1997 and 2006 in various British publications, and I've since learned, are the only ones with a Christmas setting.
In Rumpole and Father Christmas, our barrister meets an old friend (of sorts) playing Father Christmas at the office holiday party. Meets him, that is, as he's returning things he stole during the party.
One of the best of these stories is  Rumpole's Slimmed-Down Christmas. Rumpole's wife, Hilda has booked them at a health farm during the holidays. Enduring yak-milk and a no alcohol policy, Rumpole finds distraction by defending the owner of the health farm against a charge of murder.
In the one story that always has me chuckling out loud, Hilda and Rumpole spend Christmas at Cherry Picker's Hall. To Rumpole's horror, Justice Graves (Rumpole calls him the old Gravestone) is also in attendance.  
"His usually lugubrious features wore the sort of smile only previously stimulated by a long succession of guilty verdicts"
The Old Gravestone appears to find Hilda all too charming. Rumpole must endure not only dancing with Hilda, but the Old Gravestone's attempts at flirting.
But, above all we have Rumpole himself, smoking his cheroots, swilling his cheap red wine, and always standing up for the defense.  He quotes Worsdworth and Shakespeare — he is our favorite Curmudgeon Extraordinaire.
Mr Mortimer*, who died in 2009, made his career with the Rumpole series which are based on actual courtroom trials in England.  He writes with great wit and, most admirably, injects subtle sarcasm into his writings.  (Book Barmy note:   I think many authors have difficulty writing sarcasm without seeming cruel. Mr. Mortimer is a writer who deftly crafts this fine balance.)
Rumpole's Christmas stories never fail to delight.
* John Mortimer was a playwright, novelist, and former practicing barrister who wrote film scripts as well as stage, radio, and the Rumpole television series for which he received the British Academy Writer of the Year Award, along with his adaptation of Evelyn Waugh's Brideshead Revisited. He is the author of twelve collections of Rumpole stories and three acclaimed volumes of autobiography. John Mortimer also wrote one of my favorite novels Summer's Lease

---
One Day in December
by Josie Silver
I was in the throes of a busy, yet fun, holiday and needed a lightweight read that didn't require major brain cells.
One Day in December was a pure romantic Christmas delight.  I don't often read what is coined as "Chick-Lit" or "Rom-Com" but I was taken in by the publisher's letter in my advanced reading copy.  The letter claimed this new novel was a cross between Love Actually and When Harry Met Sally – and that it left a smile on her face for days after she finished.  Okay, perfect, I decided.
It's December and Laurel is packed on the upper deck of a London city bus and musing on her fellow passengers coughing and sneezing~~
"It's a wonder everyone who uses public transport in winter doesn't keel over and die of germ overload."
Then Laurel catches the eye of a man waiting at a bus stop and their eyes lock in tandem and the world seems to disappear around them.  Yes, corny, but seems it's love at first sight.  Neither can move fast enough to either get off the bus (Laurel) or the guy to run to get on the bus…so life goes on.
Eventually, their paths cross, but he (Jack) is dating her room mate and best friend, Sarah…awkward.  Although Jack vividly remembers their bus sighting, and instantly feels the same connection — he decides not to acknowledge this to Laurel.  And so the years go by.
Ms. Silver has constructed her novel into chapters which delve into each character's point of view and then into yearly sections –each year ending with a wrenching December holiday plot twist.  I can see a film adaptation in Ms. Silver's future.
Far more complex and thankfully, not a typical romantic comedy, One Day in December was very nicely written and compelling.   The British characters are lovably flawed — the author has them stumble through friendships, breakups, dreams, jobs and finally love. They drink too much, love too much, mess up their relationships — and I found it all quite endearing.
Great literature? No.
A cheerful and heartwarming romantic comedy? Yes.
Me. Hopeless romantic?  Definitely.
Now I've got to go.  It's New Years Day evening.  Husband has had enough football and has relinquished the television.  I'm off to watch Love Actually one last time. Back to real life tomorrow Okay?
Happy New Year.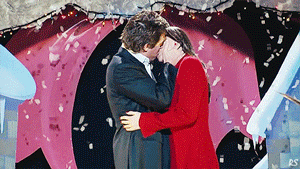 A digital advance readers copy of One Day in December was kindly provided by Broadway Books via NetGalley.