How I Became a Rose Nerd
I was in Safeway, watching hapless men buy long-stemmed red roses for Valentines Day and silently cried "oh you poor guys, those aren't real roses!".  But 20 years ago, that too was all I knew of roses. Then my mother gave me this little book and it changed everything. Therefore, the subtitle for this post is: It was all my mother's fault.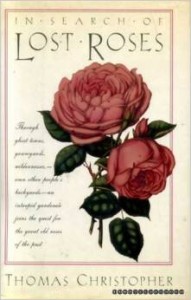 Once upon a time—before the 1860s—people loved old roses like "Baronne Prevost" "Marchionesse of Lorne," or "Autumn Damask." These were roses from the garden, richly scented and overflowing with petals.  The trouble was once cut and arranged, the beautiful blossoms only lasted a few days — oh but those few days were a visual and perfumed delight.  The artists of the time captured such lush rose arrangements even including their fallen petals.
Then some enterprising nursery folks developed the hybrid tea roses (as in those long stemmed red roses at Safeway).  These were easier to arrange (fewer thorns), more dramatic (brighter colors), and longer lasting (an arrangement of store-bought tea roses can last up to two weeks). But the saddest part of these new roses, was they had no scent…highly scented roses tended to be more delicate and less sturdy.  So they bred the scent right out of these florist favorites.  As so the old roses were all but forgotten.
But as In Search of Lost Roses tell us, these gently-hued, richly perfumed old roses made a comeback, thanks to the efforts of a crew of eccentric characters who rescued them from back alleys, ramshackle cottages, and overgrown graveyards across the country. Mr. Christopher recounts the fascinating stories of the old roses—how they were created and named—and the unforgettable people who saved them. We go from Texas to California to the American South to visit the interesting people who love and search for lost roses.  It's pure adventure as we join a group of "rose rustlers" as they sneak into secreted walled gardens, tramp through abandoned lots, climb over fences and visit forgotten cemeteries all in an effort to take and propagate cuttings from these old roses.
We meet the famous British old rose experts (Graham Thomas and David Austin*) and learn of how American pioneer wives brought rose cuttings from their far-away homes, lovingly keeping them damp during the journey. Even the rose nomenclature is full of politics, lost loves and secrets.  Mr. Christopher's discussion of rose genetics and propagation was fascinating – well at least to this rose geek. "Heritage' or 'heirloom' roses are defined as those bred before 1867.  No two old roses are alike – they come in all shapes – flattened, quartered petal formation, cupped or "overblown as a crinoline petticoat".  I devoured this book, taking notes,   and reading bits aloud to my husband who just stared at me quizzically.
Turns out a major hub of old rose fanatics is here out west, where old roses came out with the Gold Rush and were planted around the miners shack doorways, in parks and at loved ones gravesides.  When I closed the book I had a list and my mission was clear     must  — have — these —roses.
My first trip was to the Celebration of Old Roses just across the Bay.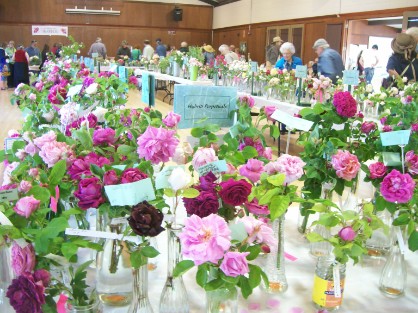 I stopped short, here was a huge room filled with old roses of every color, size, type  — and readers — the scent was intoxicating – my idea of heaven on earth.  Every rose was identified and categorized — China, Moss, Portland — (I could go on but I'll save you the yawns).  I took notes, talked to growers, got advice for my garden (ocean facing, high winds -not great for most roses but with these hardy old roses, I had a chance), and bought my first old rose bush Monsieur Tiller.  I met the celebrities of the old rose world – Miriam Wilkins  and the infamous Barbara Worl invited me to visit her garden in Palo Alto during the coming month. I came home happy, exhausted and full of plans.  My poor husband quietly mentioned, "but I thought we have a drought resistant garden, roses need a lot of water you know"…I turned a deaf ear and secretly vowed to take shorter showers.
My next trip, suggested by Mr. Christopher's book was here.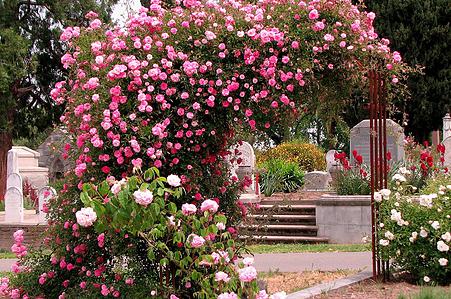 The Sacramento Historic City Center Cemetery.   Leaving home at the crack of dawn (not my finest hour), I joined a rose tour of the cemetery  during which we were allowed to take a few cuttings.  Then a workshop on starting roses from these cuttings -their technique uses zip-lock bags with soil, proper number of days closed and open, then you monitor the root growth …wow sorry — I started to geek-out there.
Soon I was happily starting roses from cuttings "obtained" on our trips. Click on photos to make larger
A climbing rose from an ocean front lodge in Mendocino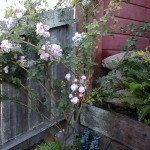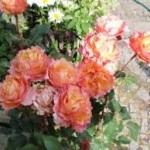 A 'found rose' from a roadside in Croatia.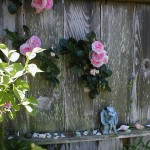 I have many David Austin Roses – here's one of my favorites – James Galway
And like all rose nerds enthusiasts, I mess around for hours arranging my cut roses and then walking by just to smell and admire them.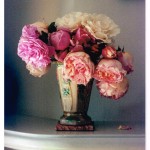 And so the tale is told, this is the little book that started it all 20 years ago.  Both the back and front gardens boast old garden roses and the deck has potted roses struck from cuttings I've rustled.
My name is Book Barmy and I'm a rose nerd.
But all geekiness aside, I dare you to read In Search of Lost Roses and not come away wanting at least one old rose for your garden.
Warning, I have another rose book to share with you at a later date — now that will keep you coming back.
* David Austin has developed a modern collection of old garden roses which are disease resistant, repeat blooming and have divine scents.  I have many of his lovely roses.  For some idea of their beauty click HERE