I Like Big Books — I Can Not Lie
I love me a big ole historical novel, especially if it's steeped in a mystery, set in an old house with an abandoned garden and filled with colorful and compelling characters.  Kate Morton has written four such big, addictive books, of which I've only read two…but don't worry her other two are not far behind on my list.  I read the first book several years ago and just finished the second.
The House at Riverton, by Kate Morton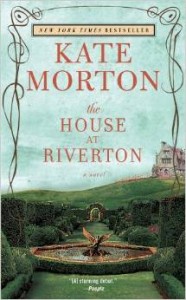 98 year old Grace tells her story to a young film maker documenting an unexplained death at Riverton House where Grace served as a maid 80 years before.  Told in alternating narratives between past and present, I was in this book's clutches after just a few pages.
Grace serves as maid to Hannah and Emmeline, two distinctly different sisters who are creepily close to one another. Grace is drawn into the the spoiled sisters web of deceit and secret games.   And in 1924 Riverton and its inhabitants are shattered with a shocking suicide on the grounds.  All the characters are vibrant and amply developed — there are dysfunctional aristocratic family members with a range of servants, each with their own foibles.  And then there's the glorious manor house of Riverton– a character in itself.
Often flashback narrative can be clunky. This is flashback done brilliantly.  Deaths, affairs, missteps are reminisced by Grace telling her story, then the book seamlessly transports the reader back in time to Riverton and you're there and it's happening now.
Ms. Morton excels at period research and her attention to detail is superb. Other reviewers remarked that her historical detail bogged down the book, but I wholly disagree.  I found the description of the table settings, the details of dressing for dinner, the lavish picnics all added to the richness of the story.
This is a long, sweeping story of class structure and struggle, betrayals, secrets and the devastation of WWI. I was glued throughout its wonderful twists and turns until the gasp-worthy ending.  A big enchanting book to fill many a long winter evening.

###################################
 The Forgotten Garden, by Kate Morton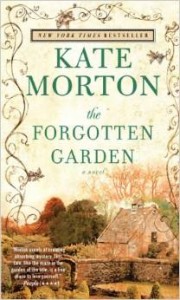 This is a classic fairy tale story:  a little girl is abandoned on a ship bound for Australia.  She hits her head while on the ship and looses her memory.  All she has with her is a suitcase with a few clothes and a book of dark fairy tales written by a woman she remembers as the Authoress . Once in Australia, a dock worker and his wife take her in, name her Nell and raise her.  Once the girl comes of age, she is told of her rightful identity and she returns to England to discover her people and her story.  
Her travels lead her to Blackhurst Manor and she starts to unravel the Mountrachet family's secrets.  She purchases a run down cottage and garden on their property makes it liveable, and carves out a life for herself.  While Nell is still trying to solve the mystery of her past, her distraught daughter shows up, dumping her granddaughter Cassandra on her doorstep–permanently. Two generations later, the granddaughter Cassandra inherits the cottage and tries to discover her secrets.  Sounds trite — Yes and No.
Ms. Morton takes a fairly well-worn story and weaves it into a rich and compelling story which spans generations, and multiple plots wherein secrets are kept and betrayals are just below the surface.  While the English cottage and forgotten garden setting are idyllic (there's even a maze and a Dickensian-like shop in the village) life is more difficult here and this is a darker story complete with poverty, sickness and workhouses.

At first, I was less enthralled with The Forgotten Garden and found it more difficult to keep the three perspectives and three time periods straight…I kept having to go back a few chapters to figure out where I was.  Also Ms. Morton uses very similar names – Blackhurst Estate, Mrs. Blackwell and Mr. Blackwater  (whoa I'm confused…).  Luckily, by the time I'd read 5 or 6 chapters,  things flowed more clearly and I was once again hooked to the end by this marvelous author and her writing.    
In an interview, Ms. Morton admitted to a fondness of 19th century Gothic novels and her novels are indeed reminiscent of Daphne du Maurier, or even perhaps even Upstairs Downstairs and Downton Abbey. 
 Her next two books – The Distant Hours and The Secret Keeper happily await me on my shelf.  Call me fool and shut the door because obviously I'm a fan.