In a Dark, Dark Wood by Ruth Ware
Remember the old, creepy nursery rhyme?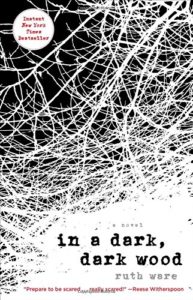 In the dark, dark wood, There was a dark, dark house.
And in the dark, dark house, there was a dark, dark room.
And in the dark, dark room, There was a dark, dark cupboard.
And in the dark, dark cupboard, There was a dark dark shelf.
And on the dark, dark shelf, There was a dark, dark box.
And in the dark, dark box,  there was a big white ghost!
With this rhyme as it's preface, I knew this book was going to be scary and — well — dark.  I saved In a Dark, Dark Wood for the plane home from Europe.   Turns out it was the perfect antidote for the mind-numbing flight.  Here's the blurb from the book:
When reclusive writer Leonora (Nora) is invited to a hen party (British for bachelorette party)  in an eerie glass house deep in the English countryside, she reluctantly agrees to make the trip. But as the first night falls, revelations unfold among friends old and new and a haunting realization creeps in—they are not alone in the woods.
Forty-eight hours later, Nora wakes up in a hospital bed injured but alive, with the knowledge that someone is dead. Wondering not "what happened?" but "what have I done?" she tries to piece together the events of the past weekend. Working to uncover secrets, reveal motives, and find answers, Nora must revisit parts of herself that she would much rather leave buried where they belong: in the past.
Creepy and yes, dark  — this is pure thriller enjoyment — complete with an Agatha Christie-ish limited list of suspects, much Gothic foreshadowing, and a story line that twists and turns.   Like all good mysteries, the reader is challenged to piece together all the elements —  who, what, where, when, how and why. I had figured out some of it, but was surprised by the final tying up of loose ends.

Ms. Ware has crafted a perfectly creepy setting — a cold, modern glass house that looks out a large forest– a "wood" which looms dark, large and menacing throughout.

The characters were engaging and the story moved at a steady, never once bored, pace.  I must admit that I didn't find the book to be the scary read promised —  to me it was just creepy — which is plenty for me.  (I'm still recovering from reading my one and only Stephen King novel back in my teens.)  In a Dark, Dark Wood was an easy read that kept me engaged for hours.

I wasn't a fan of Ms. Ware's other book The Woman in Cabin 10, but this, her first novel published in 2015 — is much better.
Recommended for your summer reading list– especially if you have a long plane journey ahead of you.
And, guess what folks, Reese Witherspoon is developing In a Dark, Dark Wood it into a film.
A digital review copy was kindly provided by Gallery/Scout Press via Netgalley.