In the Dark Streets Shineth by David McCullough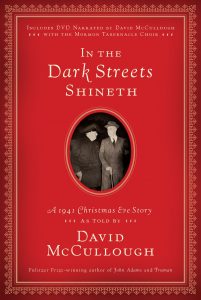 In the Dark Streets Shineth packs alot of Christmas spirit in a very small book.
Written by author and historian David McCullough, it recounts the infamous meeting of Churchill and Roosevelt during Christmas of 1941.
Churchill traveled in great secrecy and at considerable risk across the ocean to meet with President Franklin D. Roosevelt.
Roosevelt poses the question;  How we can celebrate Christmas because of the war?"
And, so they both spoke from the Whitehouse balcony to a crowd at twilight Christmas Eve.  A reporter notes
A crescent moon hung overhead.  To the southward loomed the Washington Monument …as the sun dipped behind the Virginia hills.
Both speeches are in the book so I'll only quote a few lines which moved me.
Our strongest weapon in this war is that conviction of the dignity and brotherhood of man which Christmas Day signifies.                                                     Roosevelt
Therefore we may cast aside for this night at least the cares and dangers which beset us, and make for children an evening of happiness in a world of storm.               Churchill
Christmas morning, Churchill and Roosevelt attended Christmas services together and they sang Oh Little town of Bethlehem, which Churchill had never heard before.
The book has numerous and rare photos from the World War II meeting — photos of the meeting but also of the Roosevelt family celebrating in the Whitehouse.
Here they are on the White  House Balcony…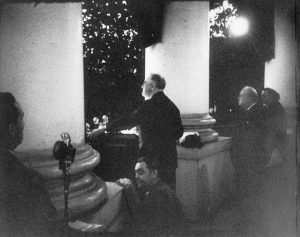 The book goes on to share the stories behind the traditional Christmas carols ~~ Oh Little town of Bethlehem and I'll be Home for Christmas.
There's a DVD included with this book — in it, David McCullough presents the story at the Mormon Tabernacle Choir's 2009 Christmas concert.
See what I mean?  Quite the little book, and well worth adding to your Christmas book collection.