It really should be called the Enormous Book Sale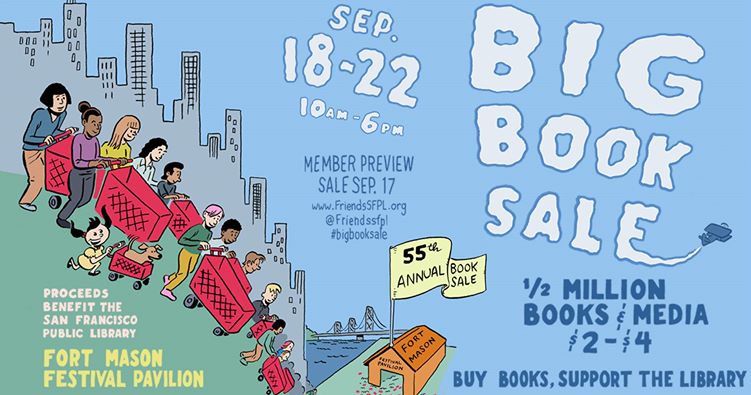 It's that time of year again.
The Big – that's 1/2 million Books – Sale
September 18-22, 2019 10 AM – 6 PM
Friends Member Preview: Tuesday, September 17, 4-8 PM
The Friends of the San Francisco Public Library invite you to the 55th annual big book sale!  Every year the Fort Mason Festival Pavilion overflows with book shoppers at the Big Book Sale, an iconic San Francisco tradition.
The sale opens to the public on Wednesday morning through Sunday. On Sunday, all books will be sold for just $1. All sections will be restocked daily with new and exciting finds; there will be no shortage of great titles.
This sale features over 1/2 a million books priced between$2-$4 and attracts over 10,000 book lovers from the Bay Area and beyond.
Every year, there are amazing stories of people finding exciting books during the sale. One year someone found a hardcover first edition of To Kill a Mockingbird and bought it for just two dollars. You'll never know what you'll find!
No question, I'll be there volunteering and, much to Husband's dismay, book shopping too!