Italian Fever by Valerie Martin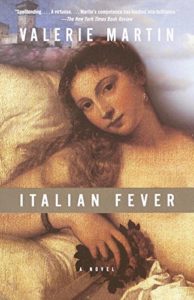 Back in January, I tended my yearly ritual of cleaning out my books.  Not a task for the faint of heart, as it involves days of books stacked on the floors of various rooms, books teetering off my bedside table, and overflowing bags destined for donation to the library.  I always end up with a pile of books on probation ~~ books I want to peruse a bit before deciding their fate.

Italian Fever made its way into this probation pile and I don't remember where I got it, but I did remember why.  It reminded of some of my favorite novels that transported me to the warm and beautiful Italian countryside – Summer's Lease by John Mortimer, The Enchanted April, and of course, A Room With a View.
So one rainy night, I opened Italian Fever to determine its destiny.  While the novel wasn't up to the caliber of the fore-mentioned novels, it did hold my interest and did envelope me in the atmosphere of the hot, sunny Tuscan countryside.

Our main character is Lucy, who is a New York based assistant to the famous US novelist, now based in Italy.   She harbors a deep resentment of DV's success, despite his mediocre writing,  but her role has always been to coddle him along to finished manuscripts.  However, as we learn in the prologue, DV has died while walking at night and Lucy is sent to Italy to settle his affairs — including retrieving his latest potential blockbuster manuscript.

When viewing the photos of his body, Lucy notes signs that he may have been beaten to death.   Near his house in Tuscany she encounters a faintly sinister family of aristocrats: the elegant Antonio, his mother, his fiery but elderly father. Lucy seeks evidence of their involvement in DV's death and the disappearance of his lover Catherine.  The local police are typically holding something back and not aiding in any further investigations.

At first, I thought Ms. Martin was giving us a typical amateur sleuth solving a crime in a foreign land — but no, not really.  There are surprising, but sometimes flimsy tangents in Italian Fever –as it twists from a mystery, into the Gothic, turns romantic adventure, with a bit of art history and, finally, a underlying ghost story.
The setting provides a beautiful backdrop to this unconventional story line, and for a few hours on that rainy night I was vicariously driving round the Tuscan countryside, window shopping in Rome, and gazing at Piero della Francesca's fresco, The Resurrection.
Lucy winds up getting ill and the descriptions of being sick in a foreign country are some of the best passages in the novel. Her fever brings on bad dreams and disorientation which leads her to believe she is hearing ghosts and crimes being plotted.
Upon her recovery, Lucy, who has a sharp sense of humor, but lousy taste in men, allows herself to be taken in by the cliched Italian lover, Massimo — ignoring the much finer Antonio Cini.  There's some hot romance and a stereotypical break up.

Much more is discovered about DV, his death, the missing manuscript, Catherine —  and I kept expecting a thrilling climax but alas, it did not transpire.  Having traveled along the many twisty roads of the plot, I didn't find any depth of drama or suspense. 
As I turned the last page of Italian Fever, I decided that, yes, for a few house, I'd taken a pleasant journey to Italy with some beautiful sights, met some interesting characters, but nothing really memorable happened.