It's Here!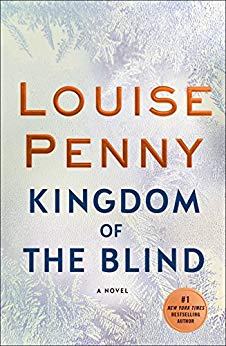 Today's the day – it's finally here.  As in previous years, I advised you to cancel your appointments, call in sick to work and to be at your local bookstore first thing this morning to buy the newest Louise Penny book — Kingdom of the Blind.
Didn't do any of that?  Oh well, you'll just have to swing by your bookstore on your way home.
Let me tell you why I'm being so bossy insistent about this.
Ms. Penny is a mystery writer with a trio of talents – not seen in very many mystery series writers.
First, she has keen sense of humans, their frailties, their emotions, their kindnesses and their dreadfulness.  Her characters are multi-dimensional and fully realized.  Second, Ms. Penny creates an all enveloping sense of place – her settings are always fall-into-the-page realistic — from the cozy bistro in Three Pines to the dirty, drug infested back streets of Montreal.  Combine this with her page-turning, yet complex multi-layered, mysteries, and well you've got one of the best mystery series being published.
While you can read any of her novels as a standalone, I do suggest you try and read them in order as some of the story lines do carry into the next and the characters become more developed and evolved.  You can see her whole series of books in order on her website – HERE
Kingdom of the Blind picks up a few months after the last book (Glass Houses).  Armand Gamache was suspended as head of the Sûreté du Québec having deliberately allowed some seized opioids to slip though his hands in order stop an insidious street drug operation. Amelia Choquet, one of his cadets has just been kicked out of the police academy due to her own drug use and is now thrust back onto to the seedy, drug infested back streets of Montreal.  A coincidence?  We wonder…

Meanwhile, wintry Three Pines remains the idyllic oasis for its residents and friends.  But they have  lost power and are buried in snow:
Reine-Marie, at the bistro:

Why do we live here?  Oh heaven…do you have power?
Non. A generator.
Hooked up to the espresso machine?
And the oven and fridge, said Gabri.
But not the lights?
Priorities, said Olivier. Are you complaining?
Mon Dieu, no, she said.
Comfort foods that rarely fail in their one great task are abundant.

Gamache, psychologist and bookseller Myrna Landers, and a young builder have been called to an abandoned farmhouse just outside Three Pines to meet with a notary.  Once there, they find out they have been named the liquidators (executors) of a mysterious woman's will.  The three adult children, who are the beneficiaries, have no idea why their mother chose these three unknown people to oversee her will.  It turns out there is more to the story than anyone thought — a family story of a lost European inheritance dating back hundreds of years, embezzlement, and murder.

Ms. Penny is a master of plotting and just when you think you know where she's going (and if you're like me, you dumbly believe you have it figured out) the plot twists in an unexpected direction. This had me flipping pages as fast as I could read, and yet I made myself slow down to savor the writing.
All Ms. Penny's novels have a theme woven into her mysteries and this one is about blindness or our blind spots.  How humans see what they want to see.  Masterfully we are given insights into what at first seemed one thing and is reveled to be something else entirely.  A drug wasted transvestite has goodness underneath.  A beloved godfather has a nasty streak.  A trusted financial advisor should, or should not, be trusted.

Don't worry devoted Ms. Penny fans, the cast of characters is still there from Three Pines and there's a smattering of Ruth chuckles — but this installment is especially focused on Gamache and his second in command (and now son-in-law) Beauvoir.  Both are contemplative and confronting major decisions that will inspire life changing events.  One of which is revealed in the last chapter and will have you wanting whatever is up next in this wonderful series.
I'm going to leave it here, no spoilers and I'm really at a loss to review The Kingdom of the Blind in the fashion it deserves, so I will quote one of my favorite professional reviewers, Maureen Corrigan:
Any plot summary of Penny's novels inevitably falls short of conveying the dark magic of this series.  No other writer, no matter what genre they work in, writes like Penny.
Kingdom of the Blind – don't say no — just buy it.
---
Many (many) thanks to Minotaur Books for providing an Advanced Readers Copy.