Less by Andrew Sean Greer
I've decided I need to venture out of my safety zone and read more widely acclaimed books. You know, those books getting media attention, the runners-up, and the actual prize winners.  Don't get me wrong, I often read notable books and have reviewed them here – but the experiences are often checkered.
Less won the Pulitzer Prize for fiction in 2018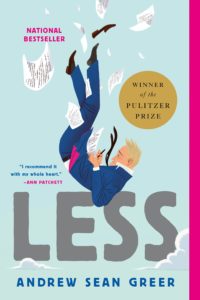 When we meet Arthur Less he is young, his writing talent is still embryonic, and he's bumbling in the gay scene in San Francisco.  We follow him into early middle age, when he faces heartbreak moving from his one long-term relationship into a second one. In the beginning, it's not clear the importance of these two relationships, but with time, it becomes clear they were everything.
As Less struggles with his relationships, he is also struggling as a writer.  He is published but largely unknown, his main claim to fame was his relationship with an older man — a Pulitzer Prize winning poet. 
Aptly named, Less is a man facing middle age who has not quite figured things out — life just seems to catch him off guard, he is often confused, and easily hurt. Going through life not quite paying attention.

Here, all this time, Less thought he was merely a bad writer. A bad lover, a bad friend, a bad son. Apparently the condition is worse; he is bad at being himself.
One day Less receives a wedding invitation — his younger lover from his latest long term relationship is getting married to an equally younger man. He can't go, he just can't, so he books himself on a trip around the world.  He goes through his stack of pleas for his attendance at various writers conferences, teaching assignments, interviews, publicity junkets and cobbles together an exotic itinerary.  These are not big name events, but those offered to middle tier authors — many are unpaid, some will pay only his expenses.  It matters not to Less, he can now legitimately reply to the wedding invitation saying he will be out of the country at the time of the dreaded wedding.
And so off we go with Less to Mexico, Morocco, Berlin, Japan, India – a sort of Eat Pray Love journey filled with typically uncomfortable 'Lessian' travails.   (Side-note:  Less believes he speaks fluent German and his translated conversations had me giggling out loud, knowing that's how I must sound when I speak my long-studied-but-never-mastered French.)
There, I've told you about the basic plot of this slim novel, but wait — wait there's so much more.
You may have to barrel through the first few chapters — this is where Mr. Greer's writing feels a bit uneven and disconnected — I almost gave up, but happy I didn't.  By the time you (and Less) are in Morocco — the writing meshes and starts to soar.
The prose goes from being sharp and insightful ~~
"Strange to be almost fifty, no? I feel like I just understood how to be young." "Yes! It's like the last day in a foreign country. You finally figure out where to get coffee, and drinks, and a good steak. And then you have to leave. And you won't ever be back."
His brain sits before its cash register again, charging him for old shames as if he has not paid before.
~~  to poignant
How can so many things become a bore by middle age — philosophy, radicalism, and other fast foods — but heartbreak keeps its sting?
…the time when any couple has found its balance, and passion has quieted from its early scream, but gratitude is still abundant; what no one realizes are the golden years."
~~ and this gets my nomination for best sentence ever:
He kisses—how do I explain it? Like someone in love. Like he has nothing to lose. Like someone who has just learned a foreign language and can use only the present tense and only the second person. Only now, only you.
Not gay, you say, well neither am I– but no matter who you are, you'll recognize a little (or a lot) of Less in yourself. As he travels he tries to write but instead muses back his life, his loves, his mistakes – all the regrets.   Mr. Greer, himself gay, has written a humorous yet gentle novel all about the all-too-human fear of aging, and discovering that middle-age can bring grace and even love.

I won't give away the ending, but let it be said – I cried…
A digital review copy was kindly provided by Hachette Book Group via NetGalley
—————————————-
As much as I enjoyed Less, I wondered about this slim, comic novel's qualifications to win the Pulitzer and did some research – turns out Pulitzer's guidelines are amazingly loose.
The winning book, be it a novel or short-story collection, must have been written by an American, and should, ideally, be in some way about American life.
HERE'S a list of other Pulitzer prize winning fiction. Still not sure it ranks up there with some of the others I've read, but then again, no one asked me to be a judge.
And, as Less learns it's pronounced PULL-it-sir, not PEW-lit-zer.