Lisa Scottoline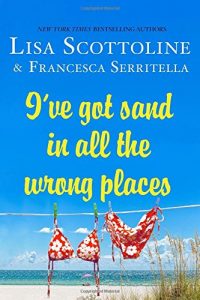 If you're a follower of Book Barmy, you may have surmised I'm not always a high-brow reader.  Yes, I read important books and am working through several classics (Trollope you're killing me, buddy), but some evenings I just want to zone out, with some plain light-hearted fun.
You may know Lisa Scottoline as the Edgar-Award winning author of twenty plus NY Times bestselling crime novels. I've never read any of those, instead I know her for her series of humor books. I've Got Sand In All the Wrong Places marks the seventh in this very funny series.
I find it impressive that Ms. Scottoline can write both page-turning legal thrillers (she practiced as a lawyer before becoming a writer) as well as this series of hilarious and witty books.    The material for these laugh-out-loud books derives from a Sunday column that Ms. Scottoline and her daughter, Francesca write for the Philadelphia Inquirer.  Each short chapter is a column from the paper written separately by either mother or daughter and each year a new book is derived from the year's columns. (Obviously Ms. Scottoline is not only a best-selling writer, she is also a canny business person.)
Ms's.  Scottoline and Serritella are strong, funny women who take on the subjects of daily life: love, dating, sex, no sex, pets, food, clothes, writing, traveling, health, hair, and more. No subject is off limits.
Ms. Scottoline's love of family is apparent on every page and cause for humor as she describes her relationships with her mother, brother, and daughter.  Mother Mary (her dearly departed mother) was often the funniest subject matter.
Mother Mary is out of the hospital, and recovery lies ahead.
For the hospital.
Her honest love of her menagerie of dogs was especially funny in her book Why My Third Husband with be a Dog ~ on her Golden Retrievers:
Here is what the Goldens are like: fun, easy, friendly, happy, and loving, on a continuous loop. You could have three Goldens in the room and not know it. They love to sleep. They love everything. Honestly, I kept adding Goldens because I forgot they were there. You could be sitting in a roomful of Goldens and think to yourself, "You know, we need a dog".
However, I find the best thing about Ms. Scottoline's humor is her normal-ness and self depreciation. Graduating from a top law school with honors, she decided to become a crime novelist and succeeded. Got give that some respect.

Anyway, my head was full of these thoughts the other afternoon, as I was hurrying in a downpour through the streets of New York City, there to take my author photo. I know that sounds glamorous and it would be if I were ten pounds lighter and ten years younger, but take it from me, the best fiction in my books is the author photo.
This latest volume again is both humorous and poignant as it deals with daughter Francesca's life in New York city which includes a brutal assault. But like the other books I found it funny, warm, down to earth, and, at times unpredictable
There's an essay on the holiday season and how in the past, Ms. Scottoline found it all too stressful, and resorted to holiday shopping on-line.  The news of a bookstore closing, has her vowing to shop in actual stores — especially bookstores (hail comrade!) – and that maybe it's supposed to be stressful.
It may be obvious as an abstract matter, but I realized that many other types of stores could go belly-up, if I keep shopping on my butt.  So I taught myself a lesson:  Vote with my feet. If I want to live in a community that has bookstores and all other kinds of stores, as well as local people happily employed in those stores, I have to out and buy stuff.  I'm putting on my coat and going shopping .  I look forward to the cranky shoppers, the waiting in lines, and the fighting over the parking space.  And I'm wishing you and yours a happily stressful holiday.
The terrifying CNN storm predictions for New York City has Ms. Scottoline texting and calling her daughter in a panic:
I became Hurricane Mom.   First thing in the morning, I called her, vaguely hysterical:
"Honey, did you see the TV? There's going to be a big storm!"
"Don't worry, Mom," Francesca answered, too calmly for my taste. "What are you doing?  Did you go food shopping?"                                      "I'm working. I don't need to go food shopping. I have food in the fridge."
"But do you have canned goods?"
"Canned goods?" Francesca asked, chuckling softly. "What are you talking about?"                                                                                                "Canned goods, canned goods!"
Francesca replied, "I think I have a can of beans…
"You need more beans, right away!"
"Why, what are you talking about? Please, you need to calm down."
"I can't! You need canned goods in case of a power outage! It's going to be a giant, epic, historic, emergency, monster blizzard storm!"
"They always say that."
"But they're right! This is CNN talking! Wolf Blitzer!"
"I'm OK."                                                                                                  "No,you're not! You're going to DIE!"
So you know where this is going. Drama ensued. Voices were raised. Things were said. Tears were shed. Mistakes were made.
Bottom line, there was a lot of passive voice happening, which is never a good thing, whether it's a federal government or a mother-daughter relationship.
But it had a happy ending. There was no epic winter monster blizzard storm. I apologized to Francesca for terrorizing her. Francesca apologized, happy that I loved her enough to terrorize her.Meteorologists apologized for their predictions.
As for Wolf Blitzer, we're not speaking to him.
So, there's just a small taste of the Scottoline-Serritella humor.  Their complete list of books can be found
HERE.
I highly recommend having this volume or any of the wonderfully-titled humor books by your bedside to dip into just before going to sleep.
Take it from Book Barmy, go to sleep with a loved one's kiss and, after a few life observations from Lisa and Francesca — with a smile.
A digital review copy was provided by St. Martin's Press via NetGalley.
Save
Save
Save
Save
Save
Save
Save
Save
Save
Save
Save
Save
Save
Save
Save
Save
Save
Save
Save
Save
Save