Mrs. Malory (or is it Mallory?) by Hazel Holt
Once upon a time, there was a bookstore dedicated solely to mysteries ~~ called the San Francisco Mystery Bookstore.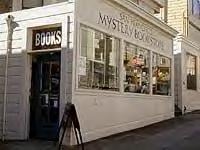 It was a dusty old place, with a chain-smoking, sometimes surly owner who would only glance up from her own reading to give a visiting dog a treat or if you asked a question. Once engaged, she could deftly suggest your next perfect mystery read based on your interests and tastes.  (Good bookstore people share this  skill.)

The bus at our corner would take me directly to the shop, where I would browse away many a foggy afternoon. It had mismatched shelving, small nooks with chairs, a creaky wooden floor, with the books arranged in the owner's unique method.   There were separate sections for historical mysteries, true crime, British crime, and even mysteries set in San Francisco.  In short, it was a local treasure and one of my favorite places.   Sadly this small, independent bookseller closed their doors in 2011, a victim of skyrocketing rent and the demise of small independent bookstores.  (I guess my purchases weren't enough to carry this little store, despite Husband's theories to the contrary.)

It was at this quaint bookshop that I was steered towards the Mrs. Malory series after confessing my love for Agatha Raisin.
Hazel Holt wrote an entire series featuring Sheila Malory, a middle-aged widow, Siamese cat owner, tireless volunteer, and snoop in the sleepy English village of Taviscombe –a modern-day Miss Marple.

This is a veddy veddy British series, filled with English villagers, non-stop teas, old country estates, horses, and gentle humor.  The rich descriptions transport the reader right into the middle of these delightful scenes.  At first, these short little mysteries may seem obvious, but stay on your toes readers, as Ms. Holt cleverly deals out potential culprits, plots that twist around, and the murderer is often a surprise.


The first in the series is Mrs. Malory Investigates and my early 1989 St. Martin's Press edition has the Malory misspelled as "Mallory" throughout the text.   The later edition, published under the title of Gone Away has this content error corrected.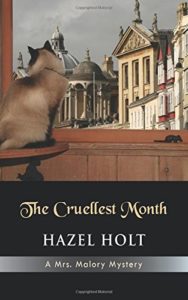 The second in the series The Cruellest Month is set at Oxford's Bodleian Library, where Ms. Holt (no slouch) once taught.
Turns out the author was quite the intellectual and a good friend of Barbara Pym.  Ms. Holt even wrote her biography and completed one of Pym's unfinished novels.  These British authors seemed to run around in the same small circles sharing tea and scones, and probably stealing each other's plot ideas.
Sadly Ms. Holt died in 2015, so the complete series ends after 21 mysteries.   I recommend you seek out these little gems –you'll find yourself happily whiling away an evening, turning the pages.

Click HERE  to find your own little local independent bookstore to try and keep in business.