My Life in France by Julia Child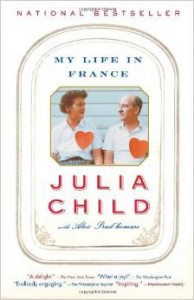 Last night, I happened upon Julie and Julia on HBO. Although I have seen the film several times, I couldn't help watching it again.  It's a fun, but limited portrayal of Julia Child's early years in France.  The sadly departed Nora Ephron based her screenplay on two memoirs — Julie and Julia by Julie Powell and My Life in France by Julia Child.
Skip Julie Powell's memoir (I found it insipid) but if; 1) you adore food and travel, 2) own at least a few cookbooks (maybe one of which is Julia Child's Mastering the Art of French Cooking), or 3) need to escape your own, perhaps routine, life for a more exciting one in post WWII France — then get your winter-weary self to your local bookstore or library and get a copy* of My Life In France.  You'll thank me later.
Julia kept notes and letters, and in the last years of her life, she began to shape this book with her grandnephew Alex Prud'homme.  The result is a brilliant journey with Julia Child — to read this book is to be right with her in France —  tasting the food, smelling the baking bread, walking on the French cobblestones and embracing it all with Julia's delight and gusto. This is an engaging story of Julia's early isolation in a foreign country that at once confused but enthralled her, and she faces these challenges with  self-deprecation and charming self-confidence.
There is, of course, an abundance of French food. But there is also hard work  — from her struggles with learning French to outright chauvinism at the male-dominated Corden Bleu cooking school where Julia finally gains admittance.  You get a wonderful glimpse into the private lives of Julia and Paul and their remarkable marriage.  She tells of "making do" in post war France, of having to initially cook on a hot plate (this will not do!), spotty electrical service and need to shop at individual markets for each meal's provisions.  There is a sober side to her memoir as she and Paul deal with an erroneous McCarthy investigation as a result of his OSS work.
Her struggles during the creation of her infamous two volume cookbook Mastering the Art of French Cooking (which shot to the best seller lists after the release of the Julie and Julia film) are fascinating as Julia painstakingly tests, re-tests and then tests again countless recipes.  The perfectionism in the development of her mayonnaise recipe caused me to crack open my copy of the cookbook just to read the recipe. (I have plans to attempt it one of these days.)  The differences between flour in France versus America causes great concern for an worthy cross-Atlantic baguette recipe.  She tells of the early troubles with the massive two-volume Mastering the Art of French Cooking — from the many titles considered to publisher rejects and her co-authors dramas.
Julia Child embraced all these experiences – good and bad – as part of a remarkable journey and she clearly loved everyone who accompanied her along the way.  This is not just a book about food, this is a book brimming with life — full of passion, wisdom and creation.  One can learn a lot from such a well lived life.  I hang on to my own copy of My Life In France for gloomy times and a quick dip into its chapters restores my faith in life as an exciting adventure.
*Make sure your copy has Paul's photographs throughout – they are a treasure.