Nina Sankovitch
Every so often, a reader can't help but form an instant connection with an author.  Especially when they share a passion for the same things.  That's just what has happened with me and the author Nina Sankovitch. These two books delve into two of my favorite things  — a love of reading and a fascination with old letters.
Imagine the chats we could have over a cup of tea…
Back in 2012, I read Tolstoy and the Purple Chair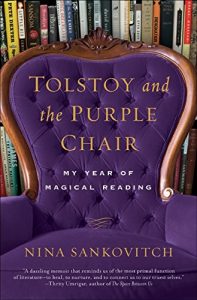 Ms. Sankovitch lost her beloved sister, Ann-Marie, to cancer at age 46.  Reading was a lifelong passion for them both. During Ann-Maire's final months in the hospital, Ms. Sankovitch read aloud to her — spending as much time together as possible during her last days.

After her sister's death and overcome with grief, Nina decides that the same passion that bonded her with her sister and carried her through her life will be her therapy. She will read a book a day for a year. 
A book a day, I wondered?  Even I, a voracious reader, can't compete with a book a day.  These were her rules:

• She would read only one book per author,
• She would not re-read any books she had already read,
• She would limit her choices to books that were no more than one inch thick, ensuring that they would, for the most part, be in the range of 250-300 pages each,
• And she would only read the kind of books she and her sister, Anne-Marie would have enjoyed together.
For those of us who want to read about what someone else is reading, Tolstoy and the Purple Chair takes us on her journey, as she reads from her favorite purple chair. 
She shares her epiphanies and discoveries  — all from the pages of her carefully chosen books.  She intersperses her bookish insights with memories of her sister and of growing up in a bookish immigrant family who instilled in her the belief that books are not a luxury, but a necessity.

Never fear, this is not a grim tale of a painful year, nor is it an instruction manual for grieving.  Ms. Sankovitch gives us a book straight from her heart, full of hope and wisdom.  It's about stopping the merry-go-round of a busy life to read, think and learn.
This book will appeal to any bibliophile, but especially for those of us who turn to books for answers, comfort and wisdom.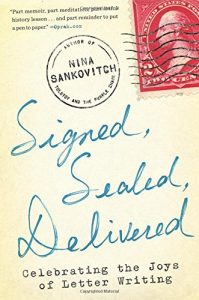 Signed, Sealed, Delivered begins with Ms. Sankovitch's discovery of an old steamer trunk she finds in her backyard which holds hundred year old letters written by a Princeton freshman, James Seligman, to his mother in the early 1900s.
These letters are fascinating, as he reports on an explosion in the J.P. Morgan building, comments on Roosevelt's presidential campaign, and the death of his uncle on the Titanic. His letters are dry and acerbic, but filled with details.

Ms. Sankovitch's book goes on explore the history of letter writing  and we get to read correspondences ranging from the ancient Egyptians, to medieval lovers, to letters exchanged between Samuel Morris Steward, Gertrude Stein and Alice B. Toklas — the latter, some racy and fun reading. 
Her section on the letters President Lincoln received after his son's, Willy's, death, revealed a rare bit of history.  Franklin Pierce and family were in a train crash on their way to Washington DC to take office in 1853. Thrown from the carriage, Pierce and his wife watched helplessly as their son was hit and killed by the still-moving train. Pierce was writing from his own similar experience when he penned his heartfelt condolences to Abraham Lincoln.
Ms. Sankovitch interweaves her own experiences and correspondences with well-researched accounts of other letter writers in history.  I love to read other's correspondence, peeking into their day-to-day lives, hopes, and dreams.
The book is a love story to the lost art of letter writing, a wonderful way to glimpse into history and relationships  — all revealed through letters:
"A written letter is a one-of-a-kind document, a moment in time caught on paper, thoughts recorded and sent on, a single message to a special recipient."
"Sir, more than Kisses, letters mingle souls.  For thus, friends absent speak"  John Donne, "To Sir Henry Wollow"
Ms. Sankovitch's own son is heading off to Harvard, and she hopes that he will write to her, as the Princeton student wrote to his mother and as Nina wrote to hers — but she knows she will have to settle for emails or text messages.
"Yes, I am waiting for an answer to my letter but waiting is not my main activity. To be dependent on e-mail and text is to have access to immediate response — but diminishes the rich opportunities that come from living with delayed gratification. For so much happens in the delay."
This book made me think about future generations.  Somehow, I suspect that no one is saving emails and text messages in old trunks. Without letters — from those who made history, shared their love for each other or, just reported on their routine lives — how will we know those long dead?
Luckily I have boxes of old letters, filled with letters from teenage pen-pals, past loves, from Husband, parents, grandfather and those I wrote to my family when I was away at college.  Some rainy night – I will revisit those.
Thanks to Simon and Shuster for a an advanced readers copy of Signed, Sealed, Delivered
Save
Save
Save
Save
Save
Save
Save
Save
Save
Save
Save
Save
Save
Save