No! I Don't Want to Join a Book Club by Virginia Ironside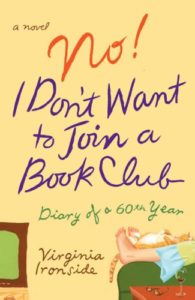 A joke birthday gift from a friend, No! I Don't Want to Join a Book Club languished on my shelf for several years now.  I plucked it out the other evening, needing a break from a serious read.
Virginia Ironside is a British humor writer well known for her writings about getting older.   She's also an agony aunt (British for advice columnist) with a column in the Independent, and once had a one-woman show,'Growing Old Disgracefully'.

In this novel/fictionalized diary, Marie has just turned sixty and decides to chronicle her life. Often funny, sometimes a bit sad, and usually snarky, this book has a cover blurb that calls it an AARP-issued 'Bridget Jones Diary'.  
She has a curmudgeonly outlook on growing old gracefully,
~~ or not:
The thing is: I don't want to join a book group to keep young and stimulated.  I don't want to be young and stimulated anymore.
I've done fascinated, I've done curious.  I want to wind down,  I want to have the blissful relief of not being interested.  Like being able to spend a day doing nothing instead of being obliged to cram it with diversionary activity to avoid guilt and anxiety.
Ms. Ironside uses the diary format to up the humor.  She calls memory lapses CRAFT moments  —  as in 'can't remember a f***ing thing'.  She journals about a party discussion wherein no one can remember an actress's name from a famous film.   Then two days later, this appears as the single entry, 'Glenn Close'.
Here she argues with a friend, who talks about getting older as a time to have adventures and learn new things:  Marie just wants to put her feet up and 'start doing old things'.

That's what's so great about getting old. You no longer have to think about going to university, or go bungee jumping. It's a huge release! I've been feeling guilty about not learning another language for most of my adult life. At last I find that now, being old, I don't have to! There aren't enough years left to speak it. It'd be pointless!
Marie's life is constantly changing and evolving, there's the arrival of a grandson, and the loss of some dear friends.   And, although she hasn't had sex in five years, she doesn't lose sleep over it. She's thinking of giving it up – unless a nice, rich and attractive crush from her childhood can change her mind.
This novel is an honest look at life as we age and, at times, I found it both touching and humorous.

However, half way through, the journal format starts to loose it's charm and her continued grumpy treatises on the same points became tiresome.

Ms. Ironside has much more to say about being old (sorry, older) as there are two other books the Marie series all with equally funny titles:  No I Don't Need Reading Glasses and No Thanks, I'm Quite Happy Standing.
The title cracked me up, but sadly No! I Don't Want to Join a Bookclub got put aside unfinished.  Marie (and the author) would be OK with that, she would understand and give me a high five — it's our age –we don't have to finish a book or go bungee jumping.
N.B.:  While we're on the subject of humorous essays on aging, I found Nora Ephron's "I Feel Bad About my Neck" and "I Remember Nothing" ever so much better, and well worth whatever free time you have when not learning Swahili.