North Wind Manor by T. L. Chasse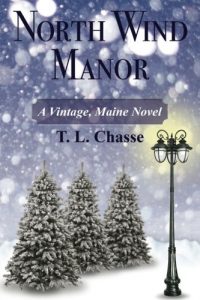 My mother in law hailed from Maine and years ago we read and exchanged a series of books by Elizabeth Ogilive  — romantic mysteries set in the small villages and islands of Maine.  Ever since then, and because she was one of my favorite people, I have a soft spot towards anything set in Maine.
So when North Wind Manor came across my radar — just look at that cover — I broke my own rule and asked the author for a copy of this self-published debut to review here on Book Barmy.  Happily, Ms. Chasse agreed and I closed the last chapter just the other night with a sigh of contentment.
Turns out this was a lovely first read for my holiday reading season.
Katie escapes her abusive step-father, to live with her long-lost grandparents in New Hampshire.  On her way, she gets off the bus at a rest stop and mistakenly gets back on a different bus headed to Maine.  Confused, without any belongings, and sick with flu, she arrives in the village of Vintage, Maine and is rescued by Bobby, who himself was rescued by an elderly man named Harry.
Harry has recently died and left his home, North Wind Manor to Bobby who befriended him.  Bobby now has a large home and opens up a private room and bath to Katie as she recovers her health.
Bobby and Katie form a sweet friendship and Bobby's funny and gentle manner slowly wins Katie's cautious affection. With Katie, we are taken into the comforting arms of small town Vintage, Maine and Bobby's friends and relatives. Once recovered, Katie finds a job at the local diner where she slowly starts to feel part of the village.
Beneath all this happiness, Katie knows she can't stay forever, so she contacts her grandparents in New Hampshire.  Arrangements are made for her to go and stay with them for a bit.  Here the story takes an unexpected turn. I will tell you no more — other than there's a heroic rescue, interesting characters, and some exiting events.
North Wind Manor is a delightful, non-violent story, populated with real characters.  It is a credit to Ms. Chasse's pacing that I found myself turning the pages, just as with a thriller, to be sure everything turned out alright – and you can trust me, everything does.
Some of my favorite bits were the descriptions of the Maine weather and the lovely coziness of being snowed-in (as if snowed in myself, I cuddled up with a cup of cocoa).  I liked the characters and enjoyed their dialogue which is sprinkled with gentle humor and insight. There's a wonderful homage to Beauty and the Beast when Bobby shows Katie his library. But the best thing about North Wind Manor is the storyline — love found, then lost, the value of friends and community — and finding one's real family in an unexpected place.
If there are any editors or publishers reading this, you'll want to keep an eye on Ms. Chasse.  While still a bit raw around the edges, she has excellent pacing and is a natural storyteller.  In my humble opinion, Ms. Chasse and her Vintage, Maine books have the potential of becoming a best-selling series.
Thank you to the author for providing me with a copy of the book in exchange for an honest and non-compensated review.
Packages are mailed, cards sent, and now I'm able to get to my holiday reading, so stay tuned…