Our Souls at Night by Kent Haruf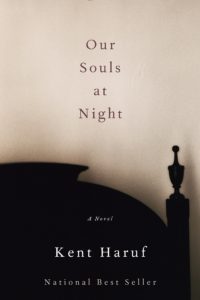 Our Souls at Night is a beautiful, hopeful book – but alas, not everyone's cup of tea. 
Set in a small town in Colorado, Louis and Addie are neighbors, both in their 70's and both widowed.  They know each other, chat when they see each other — just neighbors of the same age.  
The book opens with Addie visiting Louis and proposing they spend their lonely nights together – sleeping in the same bed,  companionship, no sex, also with the hope they will both be able to sleep better.
The characters Louis and Addie unfold naturally through their nightly conversations telling about their lives—the happy and sad moments, their regrets, the unfulfilled dreams. They discuss their late spouses and their children. They talk about life. But most of all, they find comfort in each other's company.  They are achingly human in their loneliness and need for companionship and they ignore what the townspeople have to say about their arrangement.

When Addie's troubled grandson comes for the summer, their relationship deepens (yes, that's just what it means) as they give the little boy a special summer filled with softball games, overnight camping, and the responsibility of his first dog.
Many readers are put off by Mr. Haruf's spare writing style – his lack of quotation marks and sometimes clipped dialogue. But I admire his deceptively simple language which conveys complicated relationships, heartbreak, and humor.  Every word is essential. There is nothing extra. Our Souls at Night uses elegant, almost poetic, prose to move the story forward quickly — it can be read in one evening — yet there's a leisurely sense of time.

The ending is sad and, for me, a bit unsettling as Addie is portrayed as a capable woman who isn't afraid to make her own choices, yet she conceded to her controlling son, and gave up a relationship that was bringing joy to her life.  But then again, Our Souls at Night is all about humans, their frailties, and the way life really is. 
All Mr. Haruf's books are worth reading and re-reading on so many levels, for their simplicity and accessibility — but especially their literary qualities, an unfortunately rare combination. You know you have read "literature" when you have read Haruf, but the experience is effortless.
Netflix made a film based on this novel starring Jane Fonda and Robert Redford, and after you've read the book it's well worth watching — these two actors do a wonderful job of capturing the characters and their relationship.

Trailer HERE
Sadly, this was Mr. Haruf's last book as he passed away in 2014.