Paris By the Book by Liam Callanan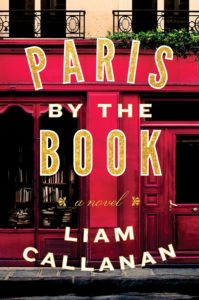 I am truly hopeless.  Despite a house full of books, I'm nonetheless tempted by the librarian recommendation shelf at my branch library.  Often there are gems that haven't received much publicity.  Paris by the Book seemed like just such a gem.  The cover called my name and the description reached out to shake my hand.  A setting in Paris, a cozy bookstore and a family mystery. Then there was the first sentence: "Once a week, I chase men who are not my husband."  
I had it checked out and under my arm in no time.
Milwaukee novelist Robert Eady is gone, but his wife, Leah and daughters aren't too concerned. They've become accustomed to his 'write-aways' — when Robert, an author of children's books, leaves for a few days of writing, and then returns. He always left a note saying when he'd be home again, and he always came back.
But this time he doesn't leave his usual note but instead leaves his wife and daughters plane tickets to Paris.  So to Paris they go and one of their leads takes them to a small, floundering English-language bookstore whose aging proprietor is eager to sell the shop.
So what do they do? They buy the shop and decide to live in Paris.  Okay I really like these people. Especially Leah our narrator, who is usually hapless but always funny, honest, and snarky.
The daughters, who are mature beyond their years, integrate themselves easily into Parisian life and their new school — all while they continue to search for their father.  But, we soon learn from Leah's story  that her marriage had its issues, and past hurts reveal themselves to her daughters:
We should have stayed in Milwaukee. Or we should have moved to the desert. Jupiter. Some place he'd never find us. Some place we'd never find him.

So the reader is drawn into the mystery — Robert may or may not be dead.  Is Leah abandoned or widowed? Does she really want him back?
We learn about Paris through two of the couple's favorite Paris things. Robert admired the Madeleine books and their fanciful  depiction of Paris.  Leah, on the other hand, adores the film The Red Balloon and its realistic version of the city just after the war.

Some parts of the story are nonsensical, but Paris by the Book is a fast-paced read and I didn't bother to ponder the logic of the story line.  I got caught up in Mr. Callanan's depictions of Paris which are breathtaking and his unique characters who aren't always likeable, but compelling in their own right

I didn't love this book, but I certainly enjoyed it.  Paris by the Book is a clever concoction — a rickety marriage, a faulty mother, a family mystery — all stirred up with books, bookshops and the stunning beauties of Paris as a backdrop. 
---
I'll leave you with this photo from the top of Notre Dame before the fire.