Peter Mayle 1939-2018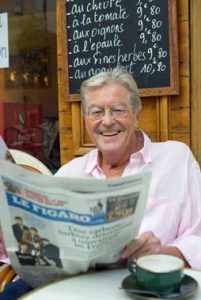 Sadly, Peter Mayle, best known for  A Year in Provence, his 1989 best seller about relocating to Provence, died recently at a hospital near his home there. He was 78.
Mr. Mayle and his wife, Jennie, moved to Provence in 1987, with Mr. Mayle intending to write a novel.  But with renovations to the 18th-century stone farmhouse they had bought in full swing, he kept getting distracted.  Instead he turned his daily journal of the exploits of the local builders, French lawyers, truffle hunters, local boar hunters and the marvelous food into A Year In Provence.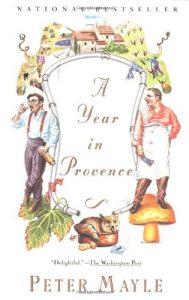 The book became an instant bestseller and was such a phenom, that fans searched out his home.

There was soon a surge in British folks relocating to villages in France and buying and renovating old French houses.
The Telegraph attributed this to Mr. Mayle:
"[He] somehow tapped deep into a slumbering, latent, hitherto unknown British desire for sunshine and fine wine, for peeling shutters and croissants, for distressed armoires and saucisson and the good life in the French countryside."
Husband and I did a home exchange with such a British couple.  They admitted they had fallen under Mr. Mayle's spell.  Their house was wonderful, but fairly remote, located in French farm country.  The couple worked for years on the renovations, learned fluent french, but later sold up and moved to Australia– they'd lived their dream.
We got to stay in this — their lovely 'mazet'.
But I digress..
Mr. Mayle went on to write many other books and, while many criticized his writing and his stereotypical casting of French locals, I found many of his books a treat.  They reflect his his love of fine food, wine, culture and a little bit (okay a great deal of) of tongue-in-cheek fun with the locals.
My favorites were his later issues, in which his beloved Southern France became the setting for many a crazy caper. Recommended: Hotel Pastis.
Now, for those of you stuck in frigid climes, I suggest you make yourself a nice café au lait and escape to sunny, lavender-filled Provence with Mr. Mayle  It's fairly easy to find his books at the library or a used book store.  A list of his publications can be found HERE.
Meanwhile, still shaken from now cancelled Tsunami warnings*, I may grab one of his books and escape myself — I have this one on my shelves, as yet unread…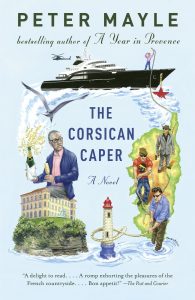 *We live just up the hill from the Pacific Ocean.  Warning sirens are installed down on the beach, but they never went off.  So actually not as scary as the morning news made it sound.