The Unlikely Pilgrimage of Harold Fry, by Rachel Joyce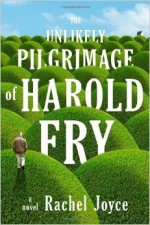 This charming novel starts with a small premise; recently retired, very ordinary Harold steps out his front door to mail a condolence note to a dying ex-coworker, only to turn away from the post box and decide to walk from his home in Northern England, 600 miles to her hospice.
Why? Because, he believes, as long as he walks, Queenie Hennessey will live.
As the walk progresses, his story emerges –a dull life, a lost son, a wife who finds him extremely irritating and the co-worker Queenie who, alone, stuck up for him during a difficult work situation. Harold reflects on the waste and failure of his life. Sounds depressing – but read on – this is actually a bright, uplifting tale.
Harold has no appropriate walking gear, cell phone, or money which adds a very real (ouch – his poor feet) story line to his musings. As any hiker knows, it's all about the feet. So we sympathize with his pain but also revel in his courage to carry on and on – just walking.
Harold meets quirky people along the way – the story shines with a cast of sympathetic characters. Moved on by their kindness he starts to look at his life differently, which resolves in a bitter-sweet but charming ending.
Favorite Quote: "Maybe it's what the world needs. A little less sense, and a little more faith."