Prague ~ a little train that could
Early on, when planning this trip I discovered the Live Like a Local website…well worth visiting before you go anywhere.  One of the Prague locals posted about a historic two car train that runs only on weekends and goes out into the suburbs and through some forests in the outskirts of the city.  Called Prazsky Semmering.  Here's the official photo: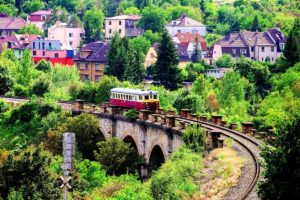 On Saturday, having already done our Old Town walking tour and the Castle hill, we decided to flee the weekend crowds and try this little train.  Turned out to be one of those confusing, not quite what we expected,  yet somehow still fun excursions.
First up was finding the platform at a lesser used and somewhat seedy rail station in Prague.  Through sign language and a bit of English-Czech we bought a ticket and following the ticket agent's pointed directions to walk over the main rail tracks (via a bridge) then down in the back — well beyond the regular trains.  As you can see, it was a bit disconcerting – we seemed to be in a rail maintenance yard.
There was a solitary cute, woman station agent in a red hat…who didn't speak any English, but dutifully marched us to the exact spot where we needed to be and then pointed which way the little train would come. No seats, no station — just a cement walkway between train tracks.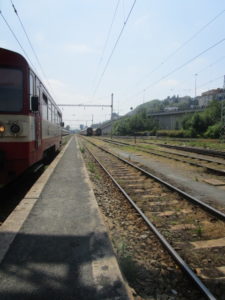 But the fun wasn't the scenery, as much as the experience.  We were all by ourselves, except for two young families taking the little ones for a train ride.  An hour long, pleasant little ride that  went through the city, then through some of the more sketchy outskirts, through business/tech parks (just like home), and then through forests and some countryside.
This little train finally stopped at a long ago closed station, with just a bench.  We were told to get off  for 10 minutes.  We gamely got off with the others, watched the little ones run around, and then climbed back on and headed back on the same track. The train itself was quite old and nicely restored.  Here's the photos, inside and outside.
When we got back to Prague we exited the train station only to stumble into an old car show…where Husband took many pictures to share with my Dad – his comrade in the love of old cars.  I'll save you the boredom and only share a few photos.  Me posing with a 1953 MGTD (Dad has a 1952 red one).  Don't worry Dad, all the other photos are saved to share with you later.
After looking over (every one of) the antique cars and motorcycles, one of us insisted on (by now) a late lunch.  Our usual practice is to cut down a side lane and find an out of the way café.  Bingo, a wonderful sunlit filled airy little place.  We went native and let ourselves linger over a long, leisurely lunch.
On the way back it started to shower.  We ducked under a cover in a little city park —  just across the river from our building – the yellow one.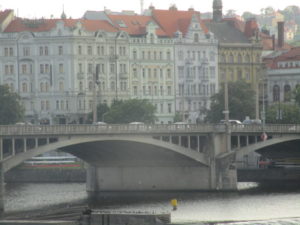 And this, the 'dancing building' is right at the end of the bridge over to our building, turns out to be a great landmark.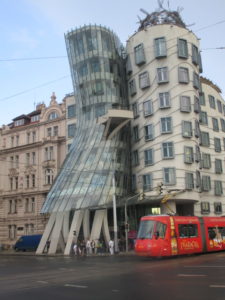 Back at said apartment we watched the royal wedding recap with some late evening cheese bits left over from a previous dinner before finally going to bed.
A nice day.