Prague Day 2, in which I geek out
First a correction on yesterday's post, both Prague's Old and New Towns are located on the East side of the Vltava river. (This is why Husband is in charge of navigation.)
Today we explored the West side of the river – the Castle quarter – the area of the famous castle which dominates the Prague skyline.  In an effort to save our feet and leg muscles, we took the tram to the top of the hilly quarter, resulting in lovely downhill treks for the day.
We started up at the Strahov Monastery and its library (one of the world's famous libraries and on my bucket list).  And oh my, dear readers, what a library (warning, this is where I loose my mind a bit…).
Strahov was a medieval monastery that functioned not only as a place of worship and learning, but also as a world famous brewery.  The beer hall and brewery are still in full function today. Couldn't find a happier place for BookBarmy and Husband.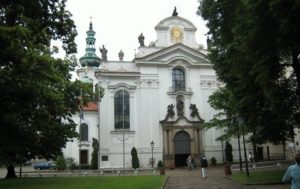 First we'll visit the library with an official photo (cause you just have see it photographed by a professional), then my attempts from the doorway.  You have to stay in the hallway and crane your neck to peer in at the 10-17th century books all basking under elaborately painted ceilings. (Only my fear of international arrest and a Hague trial prevented me from jumping over the barricades to run through this glorious space.)
First the publicity shot, then my photos…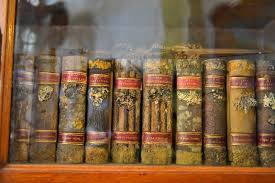 This last photo are xylotéka, a collection of 68 "tree books" made by Karel of Hinterlagen around 1825. Fascinating — each "volume" is really a box documenting one European tree. The box cover is made from the wood of the tree and covered with its bark and any lichen that grew on that specific tree. Inside each box, are different parts of that tree – a root, a twig, a leaf, a dried piece of its fruit, even its insects, such a beetles.  The boxes are protected behind glass though, so you can only see them from the outside. This Strahov xylotéka is one of only two such collections in Europe.  (I warned you I would geek out.)  There were other specimen books, holy books, and a gold locked case at the far end of the library, which contained libri prohibiti — books by Copernicus, Rousseau, and (mon deau) the French encyclopedia.
Walking a bit above the ground and well past lunch time, I was gently led over to the Monastery brewery. We considered eating in one of the many beer halls which go on forever – room after room of long tables in dark stone halls.  (Turns out this is a revenue enterprise today hosting bachelor parties and drunken corporate events.) We chose instead to eat outside, given such a lovely day. Met some lovely ladies with beautiful dogs – the dogs communicated for us over our language differences.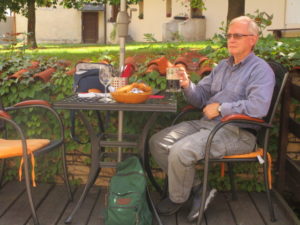 Husband reluctantly posing — but trust me he was smiling over his beer.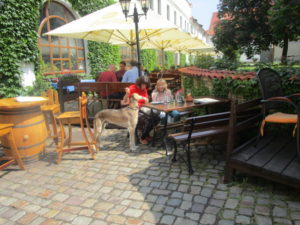 Sorry folks, but the rest of Day 2 in Prague will have to wait as sleep calls.